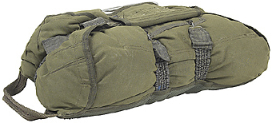 (contains $900,000 in cash)
The Curious Case of Sheldon Player was first brought to Leasing News readers May 2, 2007 as an Alert about Sheldon Players past involving Greyhound Leasing fraud conviction which appeared to be "Déjà vu" all over again.
Sheldon Player was sent to jail from the 1985 conviction for fraud involved in Greyhound Leasing, basically leasing equipment that did not exist. Leasing News also did an interview with him about what happened, according to his side of the story (1). It appears he did the same with Equipment Acquisition Resources, Palatine, Illinois, then got involved in Jackson Hole, Wyoming bottled water franchise offering, many casino debts paid by his company, it is claimed by the bankruptcy trustee, $900,000 in a duffle bag caught by the FBI when he landed in Denver-claiming casino winnings, yet he remains scott free as the leasing companies have put their cases on hold against the officer's personally as it appears Sheldon Player and his estranged wife Donna Malone have reportedly filed personal bankruptcy (another curious case as on all documents she does not sign as "Player," but he and everyone calls her his wife.) It should also be noted the records of the bankruptcy were not able to be located on line.
The latest are instructions to go ahead with the E.A.R. Bankruptcy plan of July 15, 2010, as it appears all the matters have been met, meaning all assets sold, creditors tallied, and IRS settlement, so it is time to proceed. It does not involve the officers, and seems it will not if the bankruptcy filings are correct. There won't be much left over to be divided, let alone pay for the leasing company's attorneys time and work on the case.
Whether the FBI is going to take action is another curious element.
These are the result of the leasing companies ( the ones who filed against the company and officers):
ICON EAR, LLC and ICON EAR II, LLC for $21.500.653.30 was dismissed without prejudice to the defendants Donna Malone and Mark Anstett on January 8, 2010. It should be noted the collateral was put up for auction, and having no buyers, ICON purchased for the demand price to settle matters to not be included in the corporate bankruptcy, it appears.
Leasing One Corporation on January 14, 2010 received a default judgment for $295,593 against Defendant Sheldon Player and Donna Malone in the principal amount of $2,248,253.05, including the legal interest rate until paid.
Home Federal Savings Bank for $3,208,000 was dismissed without prejudice May 10, 2010.
The case brought by Comerica Leasing, a division of Comerica bank for $9,999,000 was dismissed as to defendants' Sheldon Player and Donna Malone without prejudice on August 27, 2010.
The cased brought by Lyon Financial Services, Inc. d/b/a a U.S. Bancorp Manifest Funding Services for $9,999,000 was "stayed" on March 29, 2011 "as Defendants Sheldon Player and Machine Tools Direct, Inc. have filed a notice of their bankruptcy proceedings under Chapter 7 of the U.S. Bankruptcy Code filed in the Eastern District of Pennsylvania. In light of the automatic stay occasioned by their bankruptcy filing, the case is stayed as to them. Because the case is now stayed as to all defendants, all of whom have filed for bankruptcy, the clerk is directed to place this case on the court's suspense docket. If developments warrant, either of the parties may filed a properly noticed petition to lift the stay and move this case back to the court's active docket."
Leasing News was unable to find the bankruptcy filings of either Sheldon Player or Donna Malone.
Leasing News did locate a Chapter 7 filing for Machine Tools Direct, Inc., 1521 Commerce Drive, Carlisle, PA. 17015, the vendor of several E.A.R. transactions.
(1) Sheldon Player, Greyhound Leasing, Déjà vu?
http://www.leasingnews.org/archives/May%202007/05-04-07.htm#deja
 
Latest Ruling to Proceed with Bankruptcy:
http://www.leasingnews.org/PDF/EAR_bankruptcy_to_proceed.pdf
Sheldon Player articles:
http://www.leasingnews.org/Conscious-Top%20Stories/Sheldon_Player.htm