By Aarti Kanjani and Robert Clark, SNL Financial

The most active failed-bank bidder award goes to Bank of the Ozarks, a unit of Little Rock, Ark.-based Bank of the Ozarks Inc. The bank submitted 61 disclosed bids to the FDIC between Jan. 1, 2009, and April 26, including bids on 19 of the 51 failed-bank deals in 2012. Only seven of the bank's 61 bids were winning bids, while another seven represented runner-up bids. Also of note, Bank of the Ozarks was not disclosed in any bid summary form as submitting multiple bids for a transaction.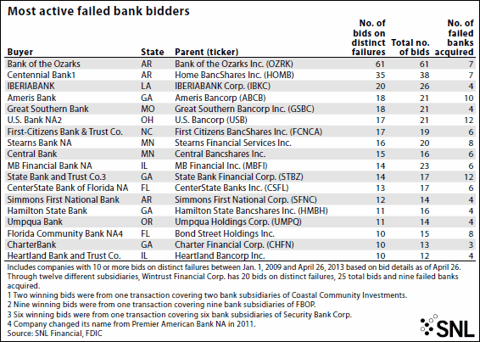 Conway, Ark.-based Home BancShares Inc. unit Centennial Bank wins the silver medal for most active failed-bank bidder with 35 bids on distinct failures and 38 total bids. Centennial Bank has completed seven failed-bank deals and was the runner-up bidder in another six transactions.
The most active runner-up bidder was IBERIABANK, a unit of Lafayette, La.-based IBERIABANK Corp., with 10 runner-up bids. The company has put in a bid for 20 separate failed banks and submitted a total of 26 bids on its way to acquiring four failed institutions since 2009.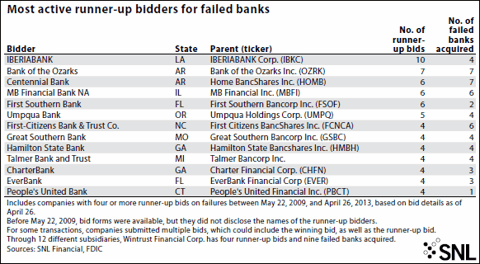 Great Southern Bank, a unit of Springfield, Mo.-based Great Southern Bancorp Inc., submitted 18 bids on distinct failures and 21 total bids. Despite the high number of bids, like IBERIABANK, it completed only four FDIC-assisted transactions during the cycle.
Another active bidder during the period was Chicago-based MB Financial Inc. unit MB Financial Bank NA. A high percentage of the bank's bids proved to be competitive on pricing, with six first-place bids and six second-place bids. It submitted 14 bids on distinct failures and 23 total bids.
The buyers of the most failed banks since the beginning of 2009 were Minneapolis-based U.S. Bancorp unit U.S. Bank NA, and Atlanta-based State Bank Financial Corp. unit State Bank and Trust Co., with 12 each. They were followed by Ameris Bank, a unit of Moultrie, Ga.-based Ameris Bancorp, which acquired 10 failed banks.
Through 12 different banking subsidiaries, Wintrust Financial Corp. has acquired nine failed banks, while submitting 25 total bids, 20 bids on distinct failures and four runner-up bids.

Disclosure: I have no positions in any stocks mentioned, and no plans to initiate any positions within the next 72 hours.