By Andrew Wolcott and Lindsey White, SNL Financial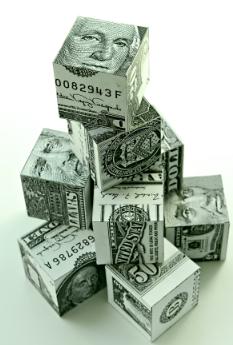 Community banks across the nation experienced an uptick in lending during the first quarter: New England saw the strongest growth, and commercial and industrial lending emerged as a bright spot in every part of the U.S.
Nationwide, SNL Financial found that banks under $10 billion in assets experienced nearly 2% median loan growth compared to the first quarter of 2012. The picture was somewhat less rosy compared to the fourth quarter of 2012, as banks under $10 billion saw a median linked-quarter drop in nearly every loan category except residential construction. But as Sterne Agee & Leach Inc. analyst Peyton Green noted, the first quarter tends to be seasonally slow.
Banks experienced median, year-over-year loan growth in every region of the U.S. except the Southeast. "The Southeast being more development oriented and more growth oriented coming into the downturn certainly could cause it to take a little longer to come out of the recession," Green said.
Green said that some small banks in the Southeast are bucking the lending trend. "The numbers may not have been great this year, but they're much better than they were a year ago," he said, pointing to names like Little Rock, Ark.-based Bank of the Ozarks Inc.; Tupelo, Miss.-based Renasant Corp.; and Nashville, Tenn.-based Pinnacle Financial Partners Inc. "All reported loan growth in the first quarter this year which was up [compared to] last year," he said.
The New England region experienced the strongest overall growth - nearly 6% - followed by the Southwest and then the Mid-Atlantic.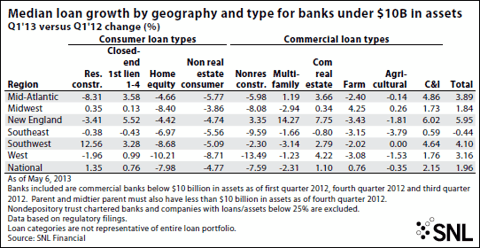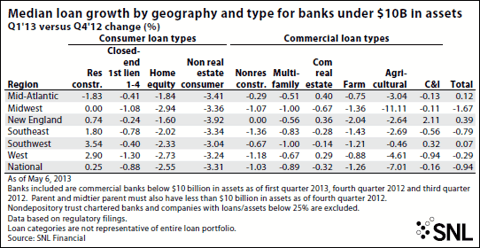 Note: Geographical loan growth is based on company headquarters.
Every area of the U.S. saw C&I lending rise from year-ago levels. "The C&I recovery has been on for over a year," Green told SNL. "It was the first part of the commercial sector to go through the recession and the first part to heal."
Gray Medlin, managing director and head of the San Francisco office at Monroe Financial Partners, said the trend makes sense: Banks moved away from real estate loans after real estate got a bad name during the recession. But he does not believe the current emphasis on C&I lending is sustainable.
"The bread and butter of community banks always has been good real estate lending, because good real estate is good collateral: Dirt doesn't get up and walk away," Medlin said. Real estate took a serious hit during the recession, but in a normal environment, he said, local real estate loans are the best credits for community banks.
Medlin also expects that construction and development loans will make a comeback as the economy continues to improve. "Community banks, they're set up to do good construction and development lending with reliable, well-capitalized builders and developers, and they can make lots of money at it," he said.
"My prediction is, to get loan growth back, the community banks will have to begin shifting back towards real estate, and I think they should. It's a natural for them."
Medlin's predictions may already be coming true, at least in the commercial real estate category. Banks under $10 billion saw year-over-year CRE loan growth in every part of the U.S. but the Southeast.
Lending may be stagnant for community banks in the Southeast, but the same is not necessarily true for their larger counterparts. William Schwartz, senior vice president of the U.S. financial institutions group at DBRS, said he has recently spoken to some big-bank management teams in the Southeast who "all seem to be pretty pleased with what's going on." Even bankers in areas that were especially challenged during the recession, like Florida and Atlanta, are now more confident, he said.
Winston-Salem, N.C.-based BB&T Corp. certainly experienced strong year-over-year loan growth during the quarter, as did many of the nation's biggest banks. Capital One NA grew loans by a whopping 73.95%, thanks in part to acquisitions. In November 2012, ING Bank FSB was consolidated into the Capital One Financial Corp. unit. Capital One also acquired card and retail services from HSBC Holdings Plc in May 2012.
JPMorgan Chase Bank NA grew loans by 3.23% year over year, while Bank of America NA's loans increased by 4.51% and Wells Fargo Bank NA's grew by 5.25%.
Compared to its big-bank peers, Citibank NA saw some of the weakest year-over-year growth, as lending climbed by just 0.42%. Citi took the biggest hit in the residential construction category, where loans fell by nearly 68%.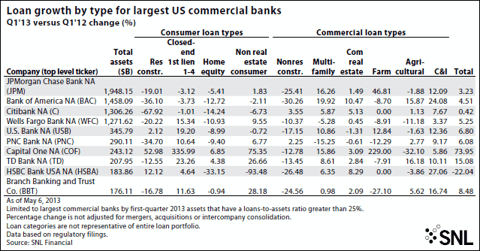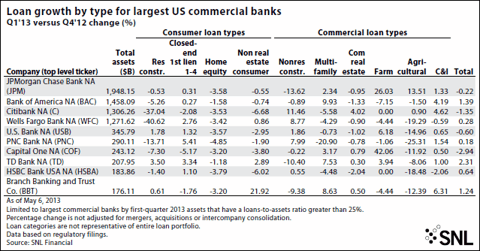 Perhaps unsurprisingly, it was the smallest banks that saw the smallest amount of loan growth during the first quarter. Those with less than $100 million in assets posted median loan growth of 0.77%, while those with between $1 billion and $10 billion grew loans by 5.67%.
Medlin said size matters when it comes to lending. "One of the first things you talk about when I meet a community banker is, how big is big enough to remain competitive, to remain relevant?" he said. "They're finding out that if they were bigger, if they had more capital, if their legal lending limit was bigger, they could compete for that good loan."
Observers agree that competition for lending remains tough - as Schwartz put it: "Everybody and his brother is competing for asset generation and asset growth."
Medlin made a similar point. "There is certainly a growth in loan demand but the competition for good credit is fierce," he said. "The bigger banks have come downstream and are bothering with smaller deals that historically they might not have. They can afford to offer really long terms and low fixed rates, and that's giving community bankers heartburn in a lot of cases."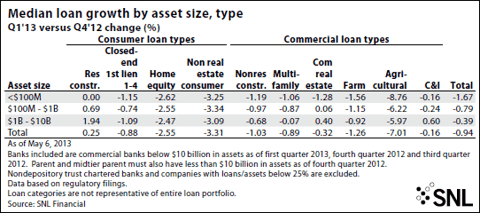 Disclosure: I have no positions in any stocks mentioned, and no plans to initiate any positions within the next 72 hours.