by Christopher Menkin

While the corporation Allied Health Care Services has filed bankruptcy and there are not many assets, while the founder Charles Schultz also has filed personal bankruptcy and awaits sentencing after pleading guilty, there are other cases going on involving brokers who sent the deal to banks, banks who sent the deal to banks (First Premier Capital November, 2010 was ordered to pay $5.62 million in a "representation and warranty" ), May, 2011 First Premier Capital filing $30 million against the CPA firm and individuals regarding personal and business audited statements that obviously mislead them, a law suit by De Lage Landen against the vendor of equipment that never existed--- no question about it--- and the latest comes from Farmers Exchange Bank against QuikTrak for its site inspection, the insurance companies who guaranteed equipment and the transaction, and more---so while the original parties have no assets, it appears those who "participated" are being called to come up with some money for their "due diligence" or "lack thereof."
Leasing News requested a statement from QuikTrak, but did not receive one. In its investigating the story after posting an alert to warn readers February 19, 2010, Leasing News arranged for a site inspection for a pending $1 million lease the beginning of this year. No one believed the research on the actual value of the used equipment, so for further development of the situation, a site inspection was ordered. At the time, Allied Health Care Services had more than five applications in the field for over $5 million in leases (each were for $1 million and were told if they could do this amount, they had more coming), and all the leasing companies and brokers who had received the applications were working with Leasing News to learn what was going on, as were many banks who had leases themselves and were quite concerned. It was a group effort. Their identities kept confidential as per our agreeemnt.
As with all the other site inspections, it was done at the office of Allied Health Care Services, as explained by Schultz: HIPPA would not allow at the sub-lessee location.
The invoice was also strange, as it was way too simple, no full description and many of machines were in serial number sequence, such as 170402-170407 on the invoice.
The equipment was questioned by Leasing News.
 
Here is part of the QuikTrak Report Summary:

Note the inspector says the equipment is "in new condition."
Photo's were taken by the inspector: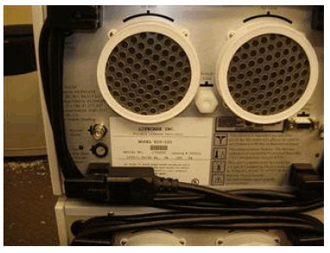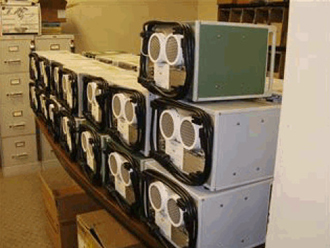 The case filed by Farmers Exchange Bank is CV-2011-900015.00, Circuit Court of Barbour County, Alabama on May 4, 2011. Named are National Bank of Commerce f/k/a Red Mountain Bank, Erik Dickinson, QuikTrak, Travelers Indemnity, Mercury Insurance, Paul Fire Insurance, and fictious defendants from A-S.
Erik Dickinson worked at Red Mountain Bank and approached Farmers Exchange Bank, according to the complaint, and sold leases from Allied Health Care three separate times which resulted in Farmers Exchange Bank "....losing over $1,600,000. Defendants Red Mountain, Dickinson, and Quiktrak failed to conduct proper due diligence in connection with these transactions. In particular they failed to take appropriate actions to verify the accuracy of documents relating to these transactions as it was their duty to do. The action or inaction of these defendants constituted negligence or wantonness."
  - page 6
 
"33. The Defendants Travelers and the St. Paul Defendants issued a policy of insurance to the Plaintiff that provided coverage, in part, for fraud on the part of the Plaintiff's creditors.
34. The Plaintiff timely made all premium payments on the Travelers/St. Paul's insurance policy.
35. The Plaintiff timely and promptly notified Travelers/St. Paul's of the fraudulent acts set forth above that gave rise to the loan default in an amount over $1,300,000.
36. Upon receipt of the claim, Travelers and St. Paul's failed to pay the claim in a timely manner.
37. All of the Defendants failed to conduct proper due diligence in connection with these transactions. In particular they failed to take appropriate actions to verify the accuracy of documents relating to these transactions as it was their duty to do. The action or inaction of these defendants constituted negligence or wantonness."
   - page 7
Farmers Exchange Bank Complaint (15 pages):
http://www.leasingnews.org/PDF/FarmersExchangeBank.pdf
Allied Health Care Services stories:
http://www.leasingnews.org/Conscious-Top%20Stories/allied_health.html