Reprinted with permission from Optirate-
Strategy Consultants to Banks & Credit Unions)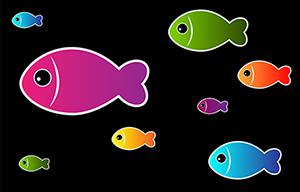 "Res Ipsa Loquitur" - Let the Facts Speak For Themselves.
Numerous news stories and common folklore continues to tell us that Community Banks are the lifeline of financial support for small business. The Independent Community Bankers of America tells us that Community Banks provide 60% of all Small Business Loans.
A recent article in "Bank Investment Consultant" publication stated that Community Banks are "making hefty commitments" to Small Business Lending and quoted a Community Bank executive stating that "Small-business lending is a rounding error at big banks" but a "livelihood" for Community Banks.
Truth be told, on the surface this seems plausible. Yet, we decided to do a bit of fact-checking, and you will not be surprised that certain industry organizations, publications and executives have been taking "poetic license" to describe reality.
According to FDIC, 37% of Small Business Lending is provided by Community Banks. As the chart below shows, Community Banks (those with assets of less than $1 billion) dominate Farmland and Agricultural Lending categories, but taken together these categories total less than $70 million. Community Banks were responsible for just 25% of total commitments of Small Business Commercial & Industrial loans and 40% of Small Business Nonfarm/Non-Residential Loans.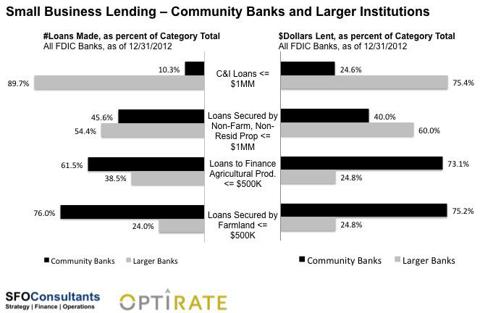 The chart below compares the total Number of Loans Made with the Total Amounts Lent by subcategory of Small Business Lending.
For Commercial & Industrial Loans, Community Banks were responsible for 25% of all dollars lent but accounted for just ~ 10% of Loans by volume. This suggests that Community Banks, on average, made much larger Commercial & Industrial Loans than Larger Banks, which of course, is contrary to the commonly held belief that Community Banks are willing to make smaller loans to accommodate Small Business borrowers.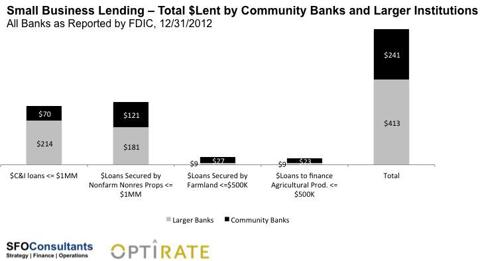 Disclosure: I have no positions in any stocks mentioned, and no plans to initiate any positions within the next 72 hours.