By Harish Mali and Kiah Lau Haslett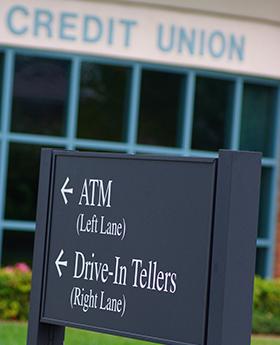 The credit union industry saw impressive membership growth by adding 677,000 members during the first quarter of 2013
The nonprofit institutions have increased the total number of members to 95.7 million as of March 31, an increase of 2.11% from 93.8 million one year ago. The industry reported quarterly increase of more than 600,000 members in four of the last five quarters. Credit unions have added 2.7 million members in the last five quarters, which is greater than the combined total of previous 11 quarters.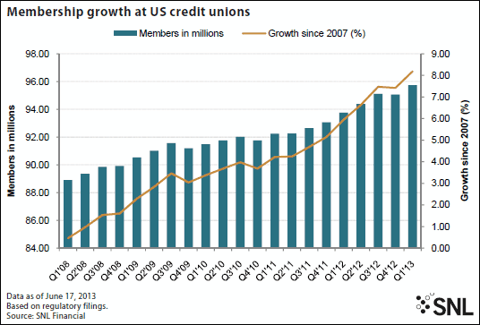 Anthony Demangone, Senior Vice President and COO of the National Association of Federal Credit Unions (NAFCU), claimed the credit union industry still basks in the benefit of National Bank Transfer Day and a discontent with large money-center banks. Activity ahead of the October 2010 grassroots movement nearly broke the servers of the NAFCU's credit union locator website, he said.
Total membership growth had been less than 1% at federal credit unions prior to the October 2010 grassroots movement; he said it now remains more than 2%. The representative association for federal credit unions also made promotional videos available to members and continues "a not new" push on strategic growth discussions at annual conferences. The push, while technically not a recently implemented effort, may finally be sinking in with credit union conference attendees.
The trickle-down of banking and imaging technology has also played a role in keeping credit unions, which generally tend to be focused in membership and modest in asset size, competitive with larger financial institutions. Many credit unions belong to nationwide ATM networks, and many also offer Internet and mobile banking, complete with remote deposit capture capability.
"Your members can reach you now five or six different ways that they never could before," said Demangone. "It really has allowed the Davids to get in there and mix it in with the Goliaths."
Demangone also said more credit unions are focusing on onboarding new members, borrowing a word typically associated with new hires and employment. New members who may have only joined for a specific product such as a car loan are oriented and introduced to other features of the institution, as early as 90 days to six months of membership. The orientation efforts are intended to grow the financial relationships with the new members in hopes of gaining more wallet-share and deposits.
SNL Financial picked out top credit unions with the highest membership growth in both percentage terms and total number during the twelve months ended March 31, 2013. The list of the credit unions with the highest percentage growth is limited to those with at least 10,000 members at March 31, 2013. Almost all saw positive effect of membership growth on their loans and deposits.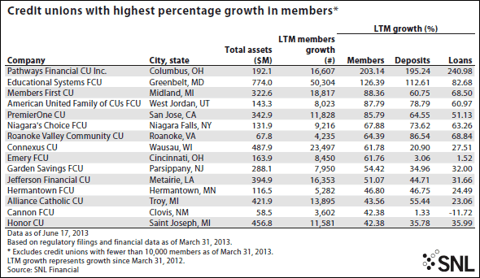 The largest credit union in the country, Vienna, Va.-based Navy Federal Credit Union tops the list with the highest increase in number of members. The institution grew its members by 10.15% or 0.4 million to 4.3 million at March 31, 2013 from 3.9 million a year ago. Navy FCU was also able to transform that increase into more business. During the same period, it recorded double-digit growth rates in its loans and deposits of 11.33% and 11.19%, respectively.
Navy FCU is more than double in size than its closest rival, Raleigh, N.C.-based State Employees' Credit Union. This second largest credit union also appeared on the list in the fourth spot by adding 67,080 members during the year ended March 31, 2013. The credit union faced rough water last year due to the confusion stemming from an NCUA official's comment about its health, but it soon after that cleared the air. The institution launched SECU Life Insurance Company this year.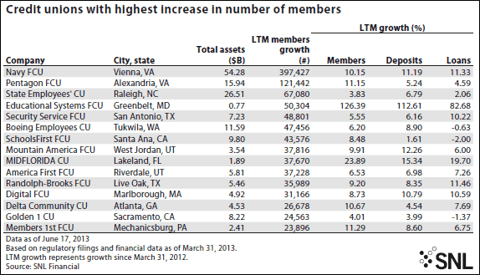 Greenbelt, Md.-based Educational Systems Federal Credit Union chose to grow non-organically by combining with Derwood, Md.-based Montgomery County Teachers FCU. The deal more than doubled its members to 90,104 at March 31, compared to 39,800 one year ago. It stood fourth on the list of highest increase in number of members and second highest in terms of percentage growth.
Another non-organic grower, Columbus, Ohio-based Pathways Financial Credit Union Inc. recorded the highest percentage growth in members during the year ended March 31, 2013. Erstwhile Powerco Credit Union was christened as Pathways Financial CU after an uncommon three-way merger with Columbus, Ohio-based Members First Credit Union and Columbus, Ohio-based Western Credit Union Inc. in September 2012. The new institution subsequently finished two more acquisitions soon after, acquiring Columbus, Ohio-based Burgess & Niple Employees Credit Union and Marysville, Ohio-based WECU Credit Union.
All of the credit unions, save one, on the list of the highest percentage growth in members were between $50 million to $500 million in size and almost all of them saw growth in lending during the twelve months ended March 31, 2013.

Disclosure: I have no positions in any stocks mentioned, and no plans to initiate any positions within the next 72 hours.