PacWest reported second quarter income of $4.3 million, a decrease of $9.2 million from net earnings for the first quarter of 2013 of $13.5 million; net income for second quarter of 2012 was $15.6 million.
Matt Wagner, Chief Executive Officer, commented, "We completed the acquisition of First California on May 31, 2013, and welcome our new employees to the Pacific Western family. Our integration of First California was completed on Saturday, June 15 when we converted the information systems and the branches opened the following Monday as full-service offices of Pacific Western Bank. The FCAL transaction has expanded our market presence in Los Angeles and Ventura counties, and its retained operations are expected to enhance our efficiency and net earnings."
11/06/2012: PacWest Bancorp and First California Financial Group, Inc. Agree to Merger
8/09/2012: Pacific Western Bank and Opus Bank Sign Definitive Agreement to Sell 10 Branch Offices to Opus Bank
4/30/2012:Pacific Western Bank Signs Definitive Agreement to Acquire American Perspective Bank for $58.1 Million
Mr. Wagner continued, "Although loan growth continues to be challenging, we experienced a marked increase in activity in the second quarter. Bank originations were at $125 million in the second quarter compared to $51 million in the first quarter. Although our asset financing segment's loan and lease originations declined to $45 million in the second quarter from $67 million in the first, its origination activity was quite substantial as first quarter originations included one lease deal for $42 million.
"The regional pipelines are robust and we are working to convert commitments to fundings. We will continue our focus on improving profitability, making and renewing quality and profitable loans with customers and new relationships, and taking advantage of growth opportunities as they arise."
NYSE Tuesday Close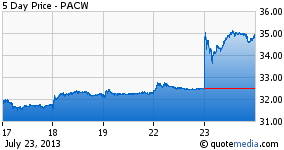 34.77 Up 2.29 (7.05%)
Prev Close: 32.48
Open: 34.64
Bid:19.00 x 500
Day's Range: 33.65 - 35.18
52wk Range: 21.50 - 35.18
Volume: 5,541,277
Avg Vol (3m): 214,310
PacWest Second Quarter of 2013 Press Release
http://www.leasingnews.org/PDF/PacWest_2Qtr_72013.pdf
Disclosure: I have no positions in any stocks mentioned, and no plans to initiate any positions within the next 72 hours.