Capital Source reported a Second quarter reported net income of $29 million compared to a $40 million net income in 2012, same period.
"Net Income was $30 million, a decline of $5 million from the prior quarter, due to increased provision for loan loss related primarily to loan growth and non-interest expenses returning to a more normalized level.
Loans and Leases increased $404 million or 6.8%, including $58 million of loans purchased from the Parent.
New funded loan and lease production was $710 million, excluding the Parent loan purchase, compared to $575 million in the prior quarter.
Total loans and leases were $6.4 billion at quarter end, an increase of 20% from one year ago.
PacWest reported second quarter income of $4.3 million, a decrease of $9.2 million from net earnings for the first quarter of 2013 of $13.5 million; net income for second quarter of 2012 was $15.6 million.
NYSE Tuesday Close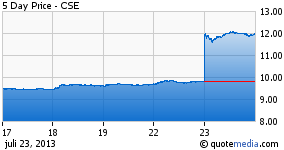 11.97 Up 2.14 (21.77%)
Prev Close: 9.83
Open:11.94
Bid:11.92 x 1200
Ask:12.02 x 100
1y Target Est: 9.73
Day's Range: 11.59 - 12.09
52wk Range: 6.22 - 12.09
Volume: 30,319,637
Avg Vol (3m):1,370,130
CapitalSource Second Quarter Results Press Release
http://www.leasingnews.org/PDF/CapitalSource_2Qtr_72013.pdf
Disclosure: I have no positions in any stocks mentioned, and no plans to initiate any positions within the next 72 hours.