by Kit Menkin

It should not come to a surprise to Leasing News readers and other insiders that CapitalSource has merged with PacWest Bancorp.
August 1, 2012 it was noted "CapitalSource has quietly moved its headquarters to Los Angeles...
"CapitalSource, traditionally a specialty finance company, got into the banking business in 2008 when it acquired the assets of a troubled California bank, which it renamed CapitalSource Bank. Since then, the bank has become the dominant business, and the company is transferring all of its activities to its bank subsidiary. It's CEO is now based there, too."
www.bizjournals.com/washington/blog/2012....html
(Sent by a reader)
CapitalSource has been backing out of leasing, as evidenced by the closing of the private practice leasing group on May 23, 2013. This group provided practice acquisition funding and refinances for dentist, physicians, and vets as the primary function.
It was also reported that the leasing portfolio was for sale:.
"Capital source is all done!!! The whole portfolio is for sale.
"I heard it was about 20 or so people.....ALOT of the same people who worked at the GE healthcare division before it was shut down."
"Capital source is all done!!! The whole portfolio is for sale.
A reader sent in this information:
His name is Dan and after GE laid everyone off Dan actually put together a business plan showing what would happen if a company hired these folks and opened a Practice Finance division. Capitol Source went head over heels over the business plan and hired the group and within no time thanks to an experienced field sales team and credit and back room folks Capital Source was funding practice Finance business. Sadly as the story goes the contact at Capitol Source that shepherded the deal was either transferred or recruited not long after they hired everyone and the new PF division didn't get the support it needed from whoever ended it with it as their project.
"As of today I believe Dan may still be showing the business plan to folks in hopes of keeping the group together. Just think there is an opportunity to hire a group of absolute professionals, fully trained with a waiting book of business. All they need is a desk, internal support and funding capabilities."
It should be noted now Los Angeles-based CapitalSource, which reportedly still has around 175 employees at its Chevy Chase, Md. office, was founded in 2000 by John K. Delaney, an entrepreneur now a Democratic member of Congress from Maryland. Things did change after he left. His company was originally a finance/leasing company and he bought a California based bank having difficulty in order to have access to deposits and a lower cost of money.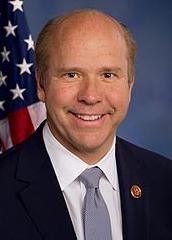 John Delaney
Member of the U.S. House of Representatives
from Maryland's 6th District (Democrat)
He is the 6th wealthiest member of congress
His minimum net worth is $46,886,140 and
his maximum net worth is $231,164,999
en.wikipedia.org/wiki/John_K._Delaney
According to a press release announcing the merger of: "PacWest and CapitalSource will merge in a transaction valued at approximately $2.3 billion. The combined company will be called PacWest Bancorp and the combined subsidiary bank will be called Pacific Western Bank. The CapitalSource national lending operation will continue to do business under the name CapitalSource as a division of Pacific Western Bank.
"CapitalSource Inc., headquartered in Los Angeles, California, is the parent of CapitalSource Bank, a California Industrial Bank with approximately $8.7 billion in assets at June 30, 2013 and 21 branches located in southern and central California. In connection with the transaction, CapitalSource Bank will be merged into Pacific Western Bank, the Los Angeles-based wholly-owned subsidiary of PacWest Bancorp. Pacific Western Bank had $6.7 billion in assets at June 30, 2013 and 75 branches across ten California counties."
"The transaction, currently expected to close in the first quarter of 2014, is subject to customary conditions, including the approval of bank regulatory authorities and the stockholders of both companies. Certain stockholders of CapitalSource and PacWest, including all current directors, have agreed to vote in favor of the transaction."
PacWest and Capital Source Agree to Merger Press Release
PDF/PacWest%20Bancorp_%20CapitalSource.pdf.pdf
Disclosure: I have no positions in any stocks mentioned, and no plans to initiate any positions within the next 72 hours.