By Andy Pierce and Lindsey White
A Special Report from SNL Financial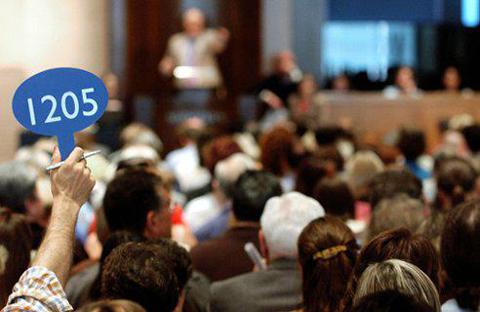 The U.S. Treasury took the biggest hit to date in its 19th round of TARP auctions, led by a sizable loss on a Missouri bank's securities.
After scoring a premium in the past few auctions, the Treasury sold its TARP positions in five financial institutions for an aggregate discount of 60.29%. Prior to this, the Treasury's biggest hit was in auction 12, when it sold its TARP securities at an aggregate discount just shy of 36%.
In auction 19, the Treasury lost $195.93 million on the principal amount of the securities auctioned, before factoring in dividends. This is by far the largest loss in any of the auctions. The government lost $184 million on the principal of First Banks Inc.'s class C cumulative perpetual preferred stock alone - by far the highest loss on a single security in the auctions.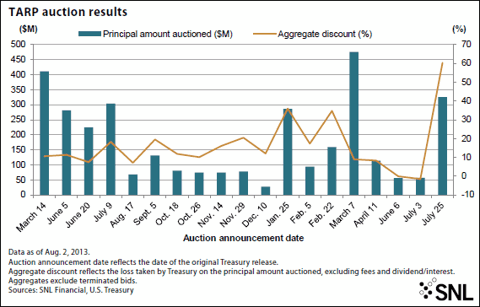 The government only sold about 96% of Clayton, Mo.-based First Banks' class C stock in the auction, due to the fact that it did not receive sufficient bids above the minimum price. "Treasury set a minimum price for each security as part of the auctions in order to protect taxpayer interests," the Treasury said in a news release.
This is not the first time the Treasury has failed to sell all of a bank's securities at auction. In round 14, the Treasury only sold about 96% of the series B preferred stock it held in Aurora, Ill.-based Old Second Bancorp Inc., at a 64.75% discount. In the following auction, the government sold the remaining 4% of Old Second Bancorp's TARP preferred securities at a discount of 62.3%.
Hildene Capital Management portfolio manager Michael Nichol noted that regulators limit the amount of shares any single bidder can purchase of companies where TARP makes up a large percentage of overall equity. In the case of First Banks, that limit was around 99,000 shares per bidder. "I think that was a big reason why this traded at the minimum, because it's going to be tough for the Treasury to get enough bidders in there to bid at that level," Nichol said.
There were also limits on the amount of Community Pride Bank Corp. stock a bidder could purchase in auction 19, Nichol said. Despite such limits, Community Pride was the only bank in the auction to fetch a premium.
Both series of Universal Bancorp's fixed-rate cumulative perpetual preferred stock in the auction sold at a small discount. President and CEO William McNeely said the results came as no surprise. He noted that Bloomfield, Ind.-based Bloomfield State Bank's performance has improved significantly. Although the bank operates under a consent order, holding company Universal Bancorp has never missed a TARP dividend payment.
"We've been in compliance for better than a year now; the trends are all in the right direction; we think that hopefully after our next safety and soundness examination we'll be released from it. But that's not in my hands to determine, unfortunately," McNeely told SNL.
Universal Bancorp used EJF Capital as a designated bidder in the auction. According to McNeely, EJF Capital successfully bid on portions of the bank's series A and B stock.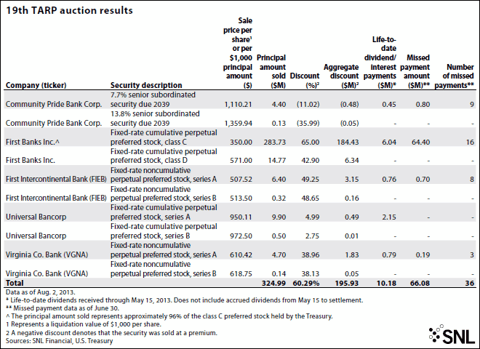 EJF Capital also bid on shares of Newport News, Va.-based Virginia Co. Bank, according to the bank's president and CEO, Mark Hanna. Hanna told SNL that Virginia Co. Bank's designated bidder, an investor group that included EJF Capital, successfully bid on the bank's shares. "A group of investors won the bid, and we have the opportunity to perhaps repurchase those assets from those investors at a later date," he said.
Both series of Virginia Co. Bank's preferred stock sold at a discount north of 38%. "Our shares are noncumulative, which means essentially, if we miss a dividend we don't have to go back and repay it. And we've got a relatively small issuance," Hanna said. "So we didn't think that it was the most desirable investment type. A lot of the institutional investors weren't interested in the noncumulative shares, so that probably held us down a little bit."
The other bank in the auction with noncumulative shares on the block also sold at a steep discount. Securities of Doraville, Ga.-based First Intercontinental Bank sold about 49% below par.
Hanna described the auction process as a lengthy one. Starting around August 2012, the company tried several times to opt out of the Treasury's pooled auction process. "We weren't successful until this recent one, and then of course our assets went to the auction," he said. At that point, he said, everything ran smoothly. "We're excited at the way it took place and excited about the opportunity that's in front of us," he said.
With the auctions out of the way, Hanna said, Virginia Co. Bank is working on a capital raise. "It would come in the form of selling common shares," he said, adding that these plans are still being worked on in the boardroom. If the capital raise is successful, Hanna believes the company could redeem the TARP shares "at a fairly substantial discount."
Universal Bancorp's McNeely said the Treasury was "very helpful" during the auction process. "I'm not surprised that the government wanted to get out of the business," he said. "[TARP] served a purpose, and our debt is now in the hands of another person. That's fine, and we intend to take care of it and make sure they get paid."

Disclosure: I have no positions in any stocks mentioned, and no plans to initiate any positions within the next 72 hours.