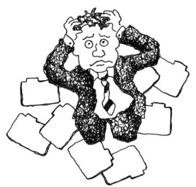 Bank of Wausau, Wausau, Wisconsin, was closed with Nicolet National Bank, Green Bay, Wisconsin, to assume all of the deposits. Founded May 25, 1999, the bank had 13 full time employees as of March 31, 2013. End of year 2006, there were 24 full time employees.
Tier 1 risk-based capital ratio 0.0046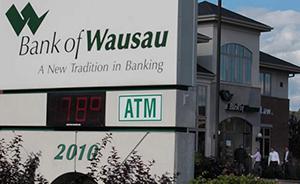 (photo: wausaudailyherald.com)
The FDIC said it first notified the bank that it was undercapitalized in November 2011 and the bank submitted two restoration plans that failed to meet the requirements of federal law.
"The bank's condition continues to deteriorate," according to the FDIC directive. "The bank's management has not demonstrated the ability to return the bank to a safe and sound condition."
Bank of Wausau President Nancy Quinlisk did not immediately return a telephone message Tuesday.
www.waow.com/story/21856358/2013/04/02/f...-undercapitalized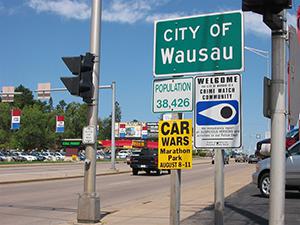 'Founded by French fur traders in the mid-1800's looking to settle on the mighty Wisconsin River, Wausau is located near the center of Wisconsin's large northern forests. Getting its name from the Ojibwe language for 'a faraway place.' Wausau is the core city for many of the small towns founded in and around Rib Mountain."
wausau.wisconsin.com/
2010 census shows 39,114: Mostly German ancestry but 11% Asian, mostly Hmong ("Hmong immigrants started to arrive in Wausau in the late 1970's after the Fall of Saigon and the end of the Vietnam War. The Hmong are originally from Laos and assisted the American CIA in covert operations against the Pathet Lao and the Vietcong. Catholic and Lutheran church members assisted in the assimilation of the Hmong population in Wausau.")
en.wikipedia.org/wiki/Wausau,_Wisconsin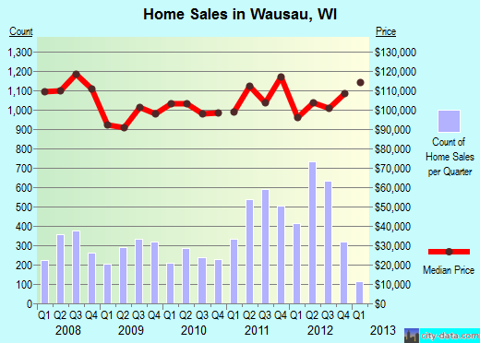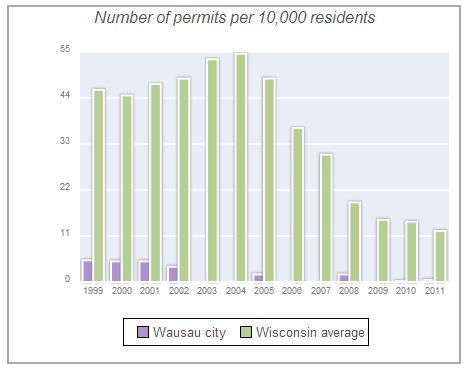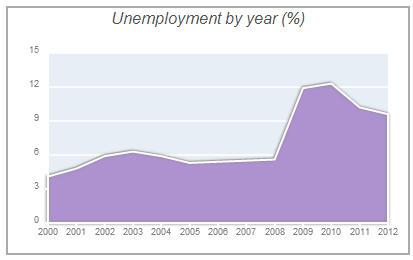 "Wausau has 12 banks with 41 branch locations, three trust companies and three holding companies in the metropolitan area. There are also 13 open membership credit unions with 18 branch locations."
en.wikipedia.org/wiki/Wausau,_Wisconsin
It appears from a random sampling of banks in Wausau, that the smaller banks were having much more trouble with lack of access to capital to manage survival.
(Note: Integrity and River Valley are Hq. in Wausau. River Valley has 258 full time employees at 16 locations. Integrity has 17 full time employees, thus it is compared to Bank of Wausau.
(Nicolet Hq. is in Green Bay, 168 full time employees, and is the purchaser of Bank of Wausau. Abby Hq. is in Abbosford, 73 full time employees, and Woodtrust in Wisconsin Rapids,90 full time employees. Employment numbers are as of 3/31: This is a random sampling and not "scientific.")
(In millions, unless otherwise)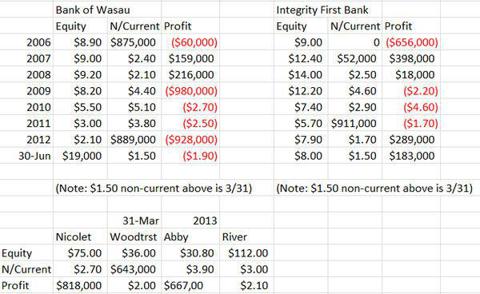 Charge Offs at Bank of Wausau
2006 $16,000 ( $17,000 1-4 family, $5,000 indiv.,$3,000 cards, -$4 commercial, -$2,000 consumer)
2007 $29,000 ( $21,000 1-4 family, $7,000 commercial, $1,000indiv.,$1,000 credit cards)
2008 $304,000 ($187,000 nonfarm/nonres.,$97,000 1-4 family, $13,000 indiv., $12,000 credit cards, $7,000 commercial/Ind.)
2009 $748,000 ( $252,000 commercial/ind.,$191,000 individuals, $167,000 1-4 family, $123,000 nonfarm/nonr.res, $11,000 credit cards
2010 $1.2 ( $759,000 nonfarm/nonres.,$380,000 1-4 family, $71,000 const./land, $26,000 consumer, $13,000 commercial, industrial
2011 $1.4 ($1.0 construction/land, $567,000 multifamily, $479,000 nonfarm/nonres., $374,000 commercial/industrial, $9,000 individual, $7,000 credit c.)
2012 $501,000 ( $402,000 nonfarm/nonres., $63,000 1-4 family, $28,000 commercial/Industrial, $8,000 individuals, $8,000 credit cards)
6/30 $108,000 ($85,000 nonfarm/nonres.,$18,000 1-4 family, $5,000 other loans)
Construction and Land, 1-4 family multiple residential, Multiple Family Residential, Non-Farm Non-Residential loans.
(All financial numbers from FDIC.gov)
As of June 30, 2013, Bank of Wausau had approximately $43.6 million in total assets and $40.7 million in total deposits. In addition to assuming all of the deposits of the failed bank, Nicolet National Bank agreed to purchase approximately $29.9 million of the failed bank's assets. The FDIC will retain the remaining assets for later disposition.
The FDIC estimates that the cost to the Deposit Insurance Fund (DIF) will be $13.5 million.
List of Bank Failures:
http://www.fdic.gov/bank/individual/failed/banklist.html
Bank Beat:

http://www.leasingnews.org/Conscious-Top%20Stories/Bank_Beat.htm
Disclosure: I have no positions in any stocks mentioned, and no plans to initiate any positions within the next 72 hours.