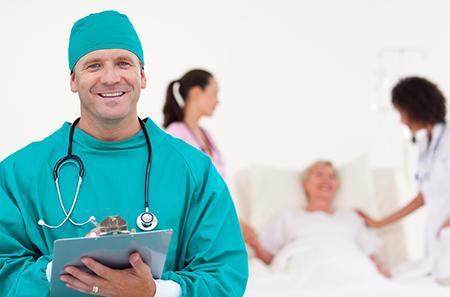 While FDIC insured institutions earned $42.2 billion in the second quarter, up $7.8 billion or 22.6%, the business primarily came from large enterprises. On the down side, banks continued to be squeezed as the average net interest margin - the difference between the average yield banks earn on loans and other investments and the average cost of funding those investments - fell to 3.26 percent, its lowest level since 2006, when 3.20 percent was reported in the fourth quarter.
Banking is improving with less charge-offs and delinquencies, perhaps because the banks have been dropping more real estate and construction loans and not lending to small businesses, unless they were at the point of this cartoon: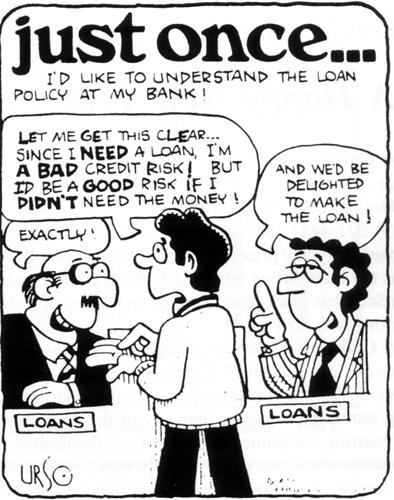 According to the FDIC second quarter report, "Loan balances increased by $73.8 billion (1.8 percent) in the three months ending June 30, as commercial and industrial loan balances rose by $30.4 billion (2 percent). Balances also increased in real estate loans secured by nonfarm nonresidential properties (up $11.1 billion or 1 percent), credit cards (up $10.1 billion or 1.5 percent), and auto loans (up $10 billion or 3.1 percent)."
"Balances declined in home equity loans (down $9.8 billion or 1.8 percent) and other loans secured by 1-4 family residential real estate (down $22.1 billion or 1.2 percent). For the 12 months through June 30, total loan and lease balances were up by $219.4 billion (2.9 percent)."
Profits also came from less uncollectible loans and charge offs. FDIC insured banks and thrifts charged off $14.2 billion in uncollectible loans during the quarter, down $6.3 billion (30.7 percent) from a year earlier. The amount of noncurrent loans and leases (those 90 days or more past due or in nonaccrual status) fell by $21.7 billion (8.3 percent) during the quarter, and the percentage of loans and leases that were noncurrent declined to 3.09 percent, the lowest level since the 2.97 percent posted at the end of 2008.
There continues to be a divided between the "haves" and the "haves not" in the search for loans, primarily divided between larger companies and smaller companies. To understand this there are "roughly 200,000 middle-market businesses in the country---companies with $10 million to $1 billion revenues. These companies comprise about three percent of the total population of companies in the United States, yet they deliver 1/3 of the economic input, " according to Mike Pilot, Chief Commercial Office, GE Capital, Monitor, July/August, 2013.
In the same Monitor issue, it is noted that 10 top banks in the leasing industry account for 74.1% of the leasing business compared to the 25.9% of the remaining companies.
| | | |
| --- | --- | --- |
|   |   | in millions |
| Top Ten Banks | 74.10% | $138,829.80 |
| Next 40 Large Banks | 25.90% | $48,424.30 |
According to The Family Business Review, "There are approximately 17 million sole-proprietorships in the US. It can be argued that a sole-proprietorship (an unincorporated business owned by a single person) is a type of family business" and "there are 22 million small businesses (fewer than 500 employees) in the US and approximately 14,000 big businesses." The report notes that small businesses created the most new jobs in communities.
United States business size definition, according to the Wikipedia:
Minute/Micro 1-6
Small <250
Medium <500
Large <1000
Enterprise >1,000
Then by definition, 97 percent of all independent businesses in the country employ fewer than 500 people. These small businesses account for 52 percent of all U.S. workers, according to the U.S. Small Business administration (SBA). Some 19.6 million Americans work for companies employing fewer than 20 workers, 18.4 million work for firms employing between 20 and 99 workers, and 14.6 million work for firms with 100 to 499 workers. By contrast, 47.7 million Americans work for firms with 500 or more employees. (1)
Viewing the two statistics, one from FDIC in loan growth, and the number of small businesses, the growth in loans by banks continues in the large companies with ability to secure credit as well as accumulate cash as smaller companies. It also indicates how small business creates the most employment and with lack of credit, means less employees hired or companies to hire them.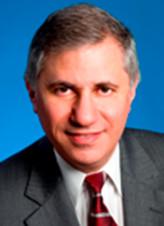 FDIC Chairman Martin J. Gruenberg said, "The trends we have seen in recent quarters continued in the second quarter. Asset quality continues to recover, loan balances are trending up, fewer institutions are unprofitable, the number of problem banks is down, and the number of failures is significantly below levels of a year ago.
"However, industry revenue growth remains weak, reflecting narrow margins and modest loan growth. And the current interest rate environment creates an incentive for institutions to reach for yield, which is a matter of ongoing supervisory attention. Nonetheless, overall these results show a continuation of the recovery in the banking industry."
Bond Market is a concern: As interest rates soared in the second quarter the value of long term bonds held by banks plunged in value by the largest amount since banks started reporting this data in 1994. This does not affect the bank earnings, but can reduce the book value of a bank. Under the Basel III capital, it can affect regulatory capital, according to problembanklist.com; "Banks had record breaking earnings this quarter but if interest rates continue to increase, the huge losses on long term bonds in bank portfolios will at some point start to negatively impact earnings."(2)
The FDIC report states, "Higher interest rates led to a decline in market values of securities portfolios. Insured institutions reported a $51.1 billion (89.1 percent) decline in unrealized gains in their holdings of available-for-sale securities during the quarter. This decline was due primarily to rising medium- and long-term interest rates, which eroded market values of fixed-rate securities. Unrealized gains and losses on available-for-sale securities do not affect current earnings, but they do have implications for future earnings if the securities are sold."
The good news for the market place is the proportion of banks that were unprofitable fell to 8.2 percent, from 11.3 percent a year earlier.
The number of problem banks continued to decline. The number of banks on the FDIC's "Problem List" declined from 612 to 553 during the quarter. The number of "problem" banks is down nearly 40 percent from the recent high of 888 institutions at the end of first quarter 2011. Twelve FDIC-insured institutions failed in the second quarter of 2013, up from four failures in the first quarter. Thus far in 2013, there have been 20 failures, compared to 40 during the same period in 2012.
The Deposit Insurance Fund (DIF) balance continued to increase. The DIF balance - the net worth of the fund - rose to $37.9 billion as of June 30, from $35.7 billion as of March 31.
The complete Quarterly Banking Profile is available at
http://www2.fdic.gov/qbp on the FDIC Web site.
(1) http://economics.about.com/od/smallbigbusiness/a/us_business.htm
(2) http://problembanklist.com/banking-industry-losses-of-billion-on-bond-investments-wipes-out-second-quarter-profits-0635/
Disclosure: I have no positions in any stocks mentioned, and no plans to initiate any positions within the next 72 hours.