By Rodger Nayak and Vipra Vora, SNF Financial
A SNL Feature Story
Daily average revenue trades ["DARTs"] at online brokers showed strong increases year over year in August, as client assets continued to show double-digit gains.
TD Ameritrade Holding Corp. saw DARTs climb 26.07% year over year in August to 382,000. E*TRADE Financial Corp. reported an increase in DARTs of 21.34% to 147,500.
Interactive Brokers Group Inc., which is geared mostly toward professional traders, reported an increase in DARTs year over year of 32.30% to 471,000.
TradeStation Group Inc.'s DARTs climbed 13.89% to 172,200.
Charles Schwab Corp., which does not report DARTs on a monthly basis, reported an increase in DARTs in the second quarter of 6% year over year to 301,500.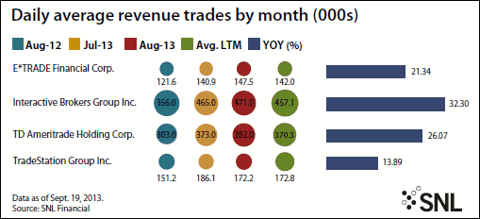 Interactive Brokers reported the highest increase in monthly total client assets, at 30.59%. Charles Schwab saw the smallest increase, at 12.12%.
Sandler O'Neill analyst Richard Repetto in a Sept. 10 note said the typical summer slowdown in DARTs was not seen at TD Ameritrade, which saw trading rise sequentially. Only TradeStation, SNL data show, saw activity decline between August and July.
Interactive Brokers saw DARTs that exceeded Repetto's estimates, he said in a Sept. 3 note. Still, its DARTs on a sequential basis lagged the gains seen at other online brokers, likely because volatility declined substantially, and its active trading base stayed more subdued as a result, he said.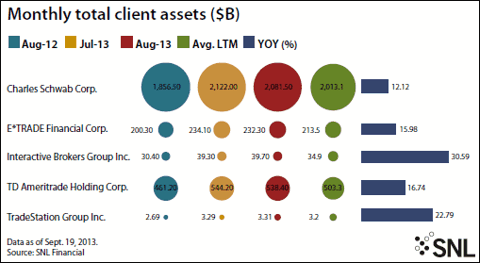 Disclosure: I have no positions in any stocks mentioned, and no plans to initiate any positions within the next 72 hours.