27% New, 67% Refinance, 6% Home Improvement
by Sam Carr and Zach Fox, SNL Financial
---A SNF Financial Exclusive Report---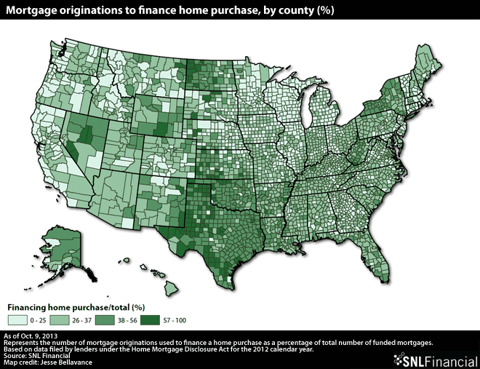 With interest rates at historically low levels throughout 2012, mortgage lending activity favored refinances over purchases as homeowners locked in low rates.
Across the country, home purchase loans accounted for just 26.82% of all lending activity while refinancing accounted for 67.41%. Those figures differed significantly from a 32.31% home purchase share and 61.67% refinancing share in 2011. Figures for home improvement and multifamily dwellings were relatively similar year over year.
The refinancing share was the highest over the last five years. In 2009, the dynamic was close with 66.87% of all lending activity dedicated to refinancing, a figure that declined in 2010 and 2011 before jumping last year.
By geography, California and Wisconsin appeared to be the refinance leaders and Texas the purchase leader.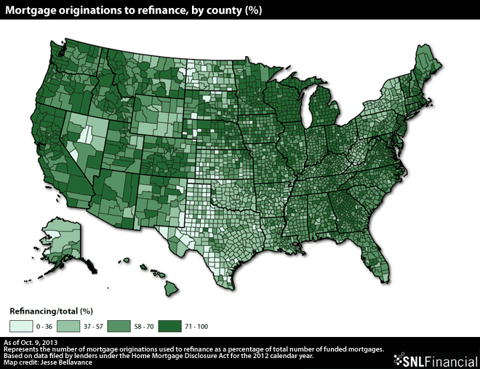 Generally, California leading refinance share and Texas topping purchase share fits long-running themes of affordability and economic strength, respectively. The average listing price in California was $728,877, as of the week ended Oct. 9, compared to an average listing of $290,780 in Texas, according to data from Trulia. And California's unemployment rate clocked in at 8.8% in August, well above Texas' rate of 6.3% the same month. Further, California has long been constrained by tight supply.
"Inventory has just been super tight in this state in those years, and I would say particularly in the San Francisco and San Jose areas. … So a lot of the activity is bound to be refinance," said Dustin Hobbs, spokesman for the California Mortgage Bankers Association. With 83.18% of all loans being "refinancing" in 2012, the San Jose-Sunnyvale-Santa Clara, CA MSA area led all metros in refinance share. Of the top 10 metros by refinance share, four were in California and five were in Wisconsin.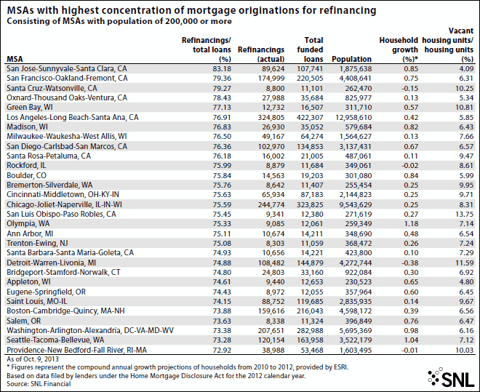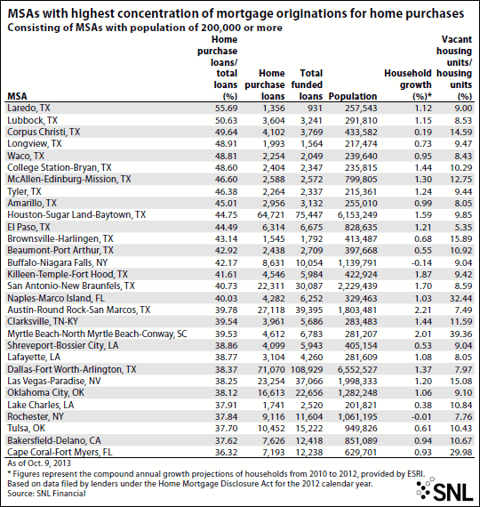 Full SNL Financial Exclusive Story Here:
http://www.snl.com/InteractiveX/Article.aspx?cdid=A-25387534-12330
Disclosure: I have no positions in any stocks mentioned, and no plans to initiate any positions within the next 72 hours.