by Christopher Menkin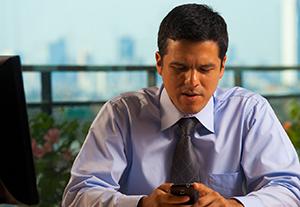 Insiders tell Leasing News that George D. Pelose leaving as Executive Vice President, General Counsel and Secretary of Marlin Business Services was not a decision by CEO Dan Dyer or the board of directors. Leasing News was told by two well-informed sources that Marlin was about to be sold to Mitsubishi Bank, which of course would allow Mr. Pelose to cash out and become a multi-millionaire, but the bank pulled out at the very last moment -- just as a press release was to go out.
None of the insiders "off the record" believed the deal fell apart due to Mr. Pelose. Another insider said Dyer's right hand man was looking for a chance to break free, and when the deal fell apart, he thought it was the best time for him to leave; that it was a sudden decision. Many of those who Leasing News spoke to said they believe he left because he "just had it."
Page 50 of the third quarter SEC filing may further indicate this was a sudden decision: "In connection with his retirement his employment agreement with the Company was amended. Pursuant to the amended employment agreement, the retirement will be treated as a termination 'without cause' or a resignation "for good reason" for purposes of determining the severance benefits payable. The Company anticipates a fourth quarter 2013 after-tax charge of approximately $1.3 million due to the amended employment agreement related to his departure."
January, 2007 was the last time Leasing News communicated with George D. Pelose. He basically wrote by email: "As a public company subject to Regulation FD, we have determined that the best course of action is to release material news through the methods set forth in the securities laws, such as the Form 8-K."
This was the time period he was put in charge:
"George Pelose, who is also the Company's General Counsel, has been an integral part of the senior management team since joining Marlin in 1999 and has played important roles in many aspects of the Company's business. As Marlin's COO, Mr. Pelose will add the leasing Sales and Credit functions to his existing reporting lines, which include Collections, Customer Service, Asset Management, Insurance and Legal."
12/21/2006 Marlin Business Service Press Release
And in this time period, these key performers either left or were let go:
Gary Shivers, former president of Marlin.
Gary Kester, former VP of credit services.
Mike Bennie, former VP in charge of broker services.
Mark King, former director of credit.
Brian Cornell, former director of sales.
John Forsyth, former jack of all trades. (Sales, syndications, major accounts, etc.)
Marcel Gilbert, former VP of IT (considered one of the best in the business)
Dominic Janney, former VP in charge of retail sales.
Tom Mancini, former VP in charge of copier sales and residuals.
When Gary R. Shivers "resigned" as president and as director of Marlin Business Service in December, 2006, he really was not "resigning" as it appears George D. Pelose is not "retiring" at age 48. In my opinion, the announcement by Marlin was just too long and didn't mention anything about stock or agreement not to compete, as did Shivers (2) nor did it refer to the Page 50 of the third quarter SEC information.
The press release and quotes from Chairman Dyer were classic. (3)
Certainly stock played a big issue, as the following past articles:
(High pay)
http://leasingnews.org/archives/Nov2011/11_07.htm#pay
(Continued Stock Options)
http://www.leasingnews.org/archives/February%202006/02-10-06.htm#marlin
http://leasingnews.org/archives/Oct2011/10_19.htm#stock
Certainly the company has been profitable and stock doing well, but as reported in many stories, much of the net profit can be attributed to Evergreen clauses, and primarily copiers, as outlined in the many SEC filings and other articles by Leasing News (4)
There may be other issues regarding Marlin Bank, but certainly there are indications of a major change that was to about happen, and indication of events:
Page 47 of the Marlin SEC third quarter filing notes "$75.0 million, three-year committed loan facility with the Lender Finance division of Wells Fargo Capital Finance. The facility is secured by a lien on MRC's assets and is supported by guaranties from Marlin Business Services Corp. and Marlin Leasing Corporation...was extended from October 9, 2012 to October 9, 2015.... An event of default, such as non-payment of amounts when due under the loan agreement or a breach of covenants, may accelerate the maturity date of the facility. However, there is no amount outstanding under the facility at September 30, 2013.
"On September 24, 2010, the Company's subsidiary, MLR XIII, closed on a $50.0 million three-year committed loan facility with Key Equipment Finance Inc. The facility was secured by a lien on MLR XIII's assets. Advances under the facility were made pursuant to a borrowing base formula, and the proceeds were used to fund lease originations. The maturity date of the facility was September 23, 2013. On March 15, 2013, the Company elected to exercise its option to repay the remaining $1.3 million of the facility."
"Financial Covenants
Our secured borrowing arrangement contains numerous covenants, restrictions and default provisions that we must comply with in order to obtain funding through the facility and to avoid an event of default. A change in the Chief Executive Officer, Chief Operating Officer or Chief Financial Officer is an event of default under our long-term loan facility, unless we hire a replacement acceptable to our lenders within 120 days."
George D. Pelose email
http://www.leasingnews.org/PDF/Pelose_email_2013.pdf
Shivers Resigns from Marlin
www.leasingnews.org/archives/December%20....htm
(a) Dyer Press Release Pelose "Retires"http://leasingnews.org/archives/Nov2013/11_07.htm#retirement

(b) Bio and Current Stock Informationhttp://leasingnews.org/archives/Nov2013/11_07.htm#pelose

Marlin Past Stories:
http://www.leasingnews.org/Conscious-Top%20Stories/Marlin_Leasing_2008.htm
10Q Third Quarter SEC Filing (56 pages):
http://www.leasingnews.org/PDF/Form10-QMarlinBusiness_2013.pdf
Disclosure: I have no positions in any stocks mentioned, and no plans to initiate any positions within the next 72 hours.