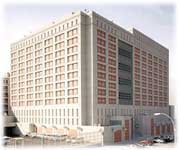 Charles K. Schwartz, 58, Allied Health Care Service Founder and President Charles K. Schwartz sentenced 16 years and three months in prison, plus three years of supervised release, and ordered Schwartz to pay $80 million in restitution for fraud, as wells to forfeit $75 million ( he filed bankruptcy before pleading guilty). According to U.S. Attorney records, he had executed over $135 million phony leases that caused losses of more than $80 million, not counting court and collection costs by more than 50 financial institutions that he was found guilty of stealing by using phony invoices for equipment that do not exist to lessees that did not exist. Leasing News issued its first alert regarding Allied Health Care Services on February 19, 2010 and told by the many lessors and brokers he was an "excellent account."
Schwartz admitted that in advance of expected inspections by financial institutions, he directed others to alter serial numbers or create fraudulent serial numbers on existing ventilators (actually no longer manufacture red) that he used over and over again to match fraudulent invoices he had supplied to the various financial institutions. At times, when financial institutions sought to review documentation regarding Allied's leasing of the ventilators to its customers, Schwartz falsely told the financial institutions that the information was protected by Health Insurance Portability and Accountability Act regulations. At one point during an August 2010 conversation between Schwartz and the "supplier," Schwartz commented that the financial institutions had fallen "hook, line and sinker" for the false explanation given to bank examiners who asked why the purported supplier used his home address on certain invoices. No one ever investigated the collateral being "out of date" and no longer being manufactured, worth very little in the used equipment marketplace, which was Leasing News first alert to the situation.
Arrested September 2, 2010 by the FBI, after much exposure in Leasing News, as well as the many court cases eventually filed against Schwartz, the vendor Bruce Donner (awaiting sentencing after pleading guilty), Schwartz was sent to Essex County Correction, New Jersey, where bail was set at $2 million (cash), pleaded guilty on April 13, 2011, then sentenced on November 22, 2011, and now moved to The Metropolitan Detention Center in Brooklyn, New York, which is an administrative facility that house male and female inmates. For those familiar with the area, MDC Brooklyn is located near the Gowanus Bay, between 2nd and 3rd Avenue on 29th Street. A handbook describes for pre-trial and holdover inmates (1), commissary charges (2), a more detailed visitor rules and regulation (3).
Schwartz is under Medium Security:

"Medium security FCIs (and USPs designated to house medium security inmates) have strengthened perimeters (often double fences with electronic detection systems), mostly cell-type housing, a wide variety of work and treatment programs, an even higher staff-to-inmate ratio than low security FCIs, and even greater internal controls."
He could be out in seven years with good behavior, and there are other inducements that could shave it down to five to six years (these numbers include his time in Essex).
The issue of the false IRS deductions take for equipment that did not exist has not been addressed.
General Handbook
leasingnews.org/PDF/MDC_handbook.pdf
Commissary Charges:
leasingnews.org/PDF/Commissary_charges.pdf
Visitor Rules and Regulations complete
leasingnews.org/PDF/BRO_visit_hours.pdf
Previous articles:
http://www.leasingnews.org/Conscious-Top%20Stories/allied_health.html