By Divya Lulla and Zuhaib Gull
SNL Financial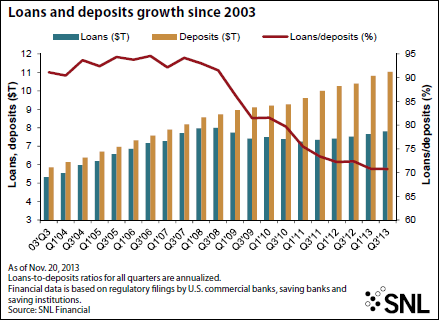 Banks' deposits again grew at a quicker pace than loans during the third quarter. U.S. banks and thrifts saw deposits increase an aggregate 2.30% from the linked quarter to $11.028 trillion, while loans increased by 0.76% to $7.802 trillion.
According to SNL Financial data, the aggregate loan-to-deposit ratio for the U.S. banking industry fell to 70.75% at Sept. 30, down 0.98% from the second quarter and a decline of 1.62% from the year-ago quarter. The third-quarter figure is well off the 10-year peak of 94.59% in the third quarter of 2006. (Could this by a direct result of Dodd-Frank and other financial industry regulation passed in the wake of the collapses of Merrill Lynch, Bear Stearns, Lehman, Washington Mutual, etc, ? -Editor)
Similar to the second quarter, most of the biggest U.S. bank holding companies ended the third quarter with growth in both loans and deposits. Among the nation's largest 15 banks by assets, TD Bank US Holding Co. posted the highest annualized growth in its loan portfolio, at 8.5%. A surge in real estate loans and commercial and industrial lending contributed to the growth during the quarter.
W. Edmund Clark, group president & CEO of Toronto-Dominion Bank, noted during an investor call in October that the company is looking to market mortgages to existing clients in the U.S. "So we know we have millions of customers that bank with us that don't have their mortgage with us. And that's a long process of cross-selling those customers and announcing to them, because three years ago, we weren't in the mortgage business," he said.
Bank of America Corp. had the second-largest increase in loans, at an annualized 4.87%. The company also increased its deposits by 10.72%.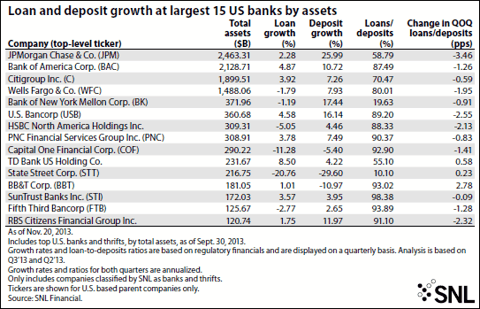 Among the top 15 banks by assets, only BB&T Corp., Capital One Financial Corp. and State Street Corp. saw deposits fall quarter over quarter.
"While average total deposits were lower this quarter, noninterest-bearing deposits grew 8% annualized consistent with our mix improvement goals," BB&T Chairman, President and CEO Kelly King noted in the company's third-quarter earnings release.
During the company's earnings conference call in October, Capital One CFO Stephen Crawford cited a decrease in earning assets during the third quarter as a prominent factor leading to a drop in the company's interest-bearing deposits. "We have ample deposit funding in a period of relatively low overall loan growth, so we've throttled back on growth in some legacy Capital One deposit businesses," Capital One Chairman, President and CEO Richard Fairbank said on the call. "We continued to see growth in checking accounts across our digital and branch deposit franchises."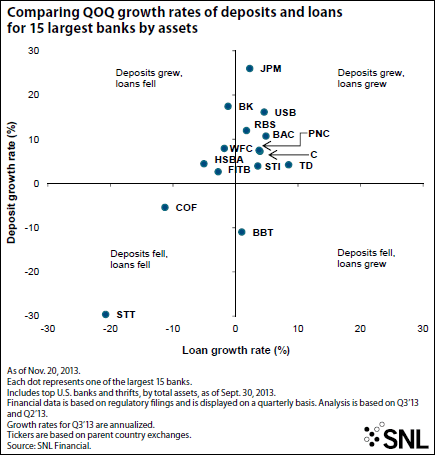 State Street Corp. saw annualized declines of 20.76% in loans and 29.60% in deposits - the largest drop among the top 15 in both categories. The company's loan portfolio shrunk in part due to a drop in securities lending. During an October earnings conference call, executives pointed to seasonality as a driver of the contraction in State Street's third-quarter deposits.
"State Street's loan portfolio primarily consists of credit that we extend to our institutional client base," a spokesperson for the company noted. "As it relates to deposits, a better indicator of underlying trends is the average deposit balance over the course of the quarter versus quarter end, which often reflects client volatility."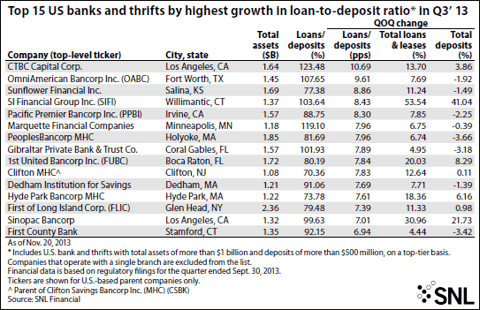 The loan-to-deposit ratio at Los Angeles-based CTBC Capital Corp. increased by 10.69 percentage points, marking the largest quarter-over-quarter gain among banks with more than $1 billion in assets and more than $500 million in deposits. CTBC's loans jumped by 13.7% in the third quarter, to $1.25 billion.
Fort Worth, Texas-based OmniAmerican Bancorp Inc. was second on the list with a 9.61% increase in its loan-to-deposit ratio. The company experienced a 1.92% decline in deposits alongside a 7.69% increase in loans and leases in the third quarter. OmniAmerican recently decided to exit the indirect auto lending business in order to devote resources to commercial, mortgage, and retail banking.
Willimantic, Conn.-based SI Financial Group Inc. increased its loans by 53.54% in the quarter to $1.04 billion, up from $677.2 million in the second quarter. The increase was primarily the result of the company's acquisition of Newport Bancorp Inc. in September.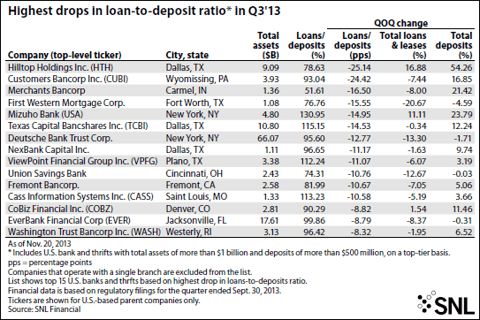 Dallas-based Hilltop Holdings Inc.'s 25.14 % decline in its loan-to-deposit ratio was the largest drop among banks with more than $1 billion in assets and more than $500 million in deposits. The company increased its loans by 16.88%, but deposits grew by 54.26%, helped by Hilltop's acquisition of failed Edinburg, Texas-based First National Bank on Sept. 13.
The second-highest drop in loan-to-deposit ratio belonged to Customers Bancorp Inc., which experienced a 7.44% decline in loans and a 16.85% increase in deposits in the quarter. The company's overall loan-to-deposit ratio fell by 24.42 % in the third quarter. The decline in loans was mainly attributable to a contraction in domestic close ended one-to-four family loans during the quarter. Domestic close ended one-to-four family lending contributed $281.6 million at the end of third quarter, down from $525.3 million at the end of the second quarter.

Disclosure: I have no positions in any stocks mentioned, and no plans to initiate any positions within the next 72 hours.