By Maria Tor and Salman Aleem Khan
An SNL Financial Exclusive Article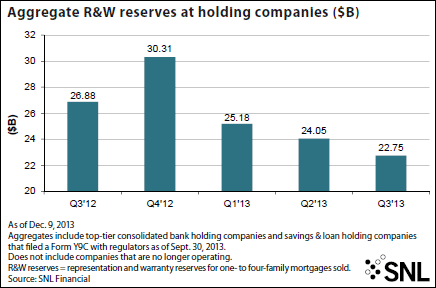 Banks' reserves for representation-and-warranty claims on one- to four-family mortgages fell in the third quarter, as outstanding repurchase demands on loans sold before the financial crisis continue to wind down.
Among currently operating holding companies that file the Form Y-9C with regulators, rep-and-warranty reserves fell to $22.75 billion at the end of September from $24.05 billion at the end of June. The drop was driven by lower reserves at Wells Fargo & Co., Citigroup Inc. and JPMorgan Chase & Co.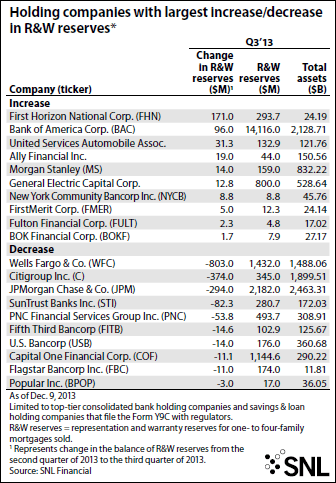 R&W claims are just one part of the mortgage-related disputes that banks have resolved or are working to resolve. For instance, of the $13 billion settlement struck between JPMorgan and regulators in November, $1.1 billion resolved Fannie Mae's and Freddie Mac's repurchase claims associated with whole-loan purchases from 2000 to 2008. Separately from the $13 billion settlement, JPMorgan also agreed to pay $4.5 billion to 21 private investors resolving all representation-and-warranty claims and servicing claims on all trusts issued by JPMorgan Chase and Bear Stearns between 2005 and 2008. JPMorgan said it was fully reserved for the settlements. At Sept. 30, it held $2.18 billion of rep-and-warranty reserves for one- to four-family mortgages sold, according to its Form Y-9C.
JPMorgan has not yet resolved rep-and-warranty claims related to loans sold by Washington Mutual Inc. to private investors. JPMorgan acquired Bear Stearns Cos. LLC and Washington Mutual Bank in 2008.
The largest re-and-warranty reserves continue to be held by Bank of America Corp. The bank reported $14.12 billion in reserves at the end of September, a slight increase from $14.02 billion held at the end of June.
Bank of America recently entered an agreement with Freddie Mac that concluded the resolution of all of its outstanding and potential representations-and-warranties claims on whole loans sold by legacy Bank of America and Countrywide to Fannie Mae and Freddie Mac. Bank of America acquired Countrywide Financial Corp. in 2008. The bank said Dec. 2 it would pay $404 million to resolve claims with Freddie Mac. This is in addition to a $10.2 billion agreement in January to settle claims with Fannie Mae. Bank of America has not yet resolved all of its outstanding repurchase claims from private investors.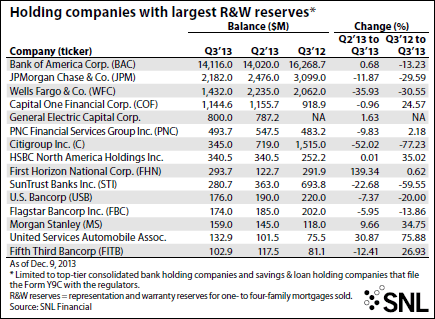 Five companies disclosed new rep-and-warranty reserves at Sept. 30 after reporting no reserves as of June 30: Louisville, Ky.-based Republic Bancorp Inc.; Greenville, S.C.-based Southern First Bancshares Inc.; Fargo, N.D.-based State Bankshares Inc.; Vineland, N.J.-based Sun Bancorp Inc.; and Morrisville, Vt.-based Union Bankshares Inc.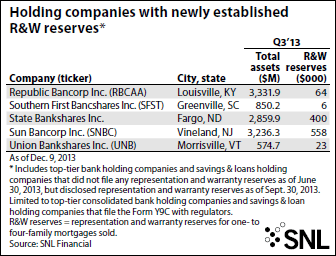 Disclosure: I have no positions in any stocks mentioned, and no plans to initiate any positions within the next 72 hours.