The Honorable Donald S. Black, a Fresno County Superior Court judge issued a decision holding Kathleen Otto, the wife of the CEO of HL Leasing, Inc. (John Otto), liable for the $114.5 million dollar verdict against HL Leasing, Inc., Manufacturers Acceptance Corporation dba Heritage Pacific Leasing and Air Fred LLC. The Court had entered a verdict against these three corporate entities on August 2, 2011. This is in addition to the jury verdict of $47.22 million against the top two senior officers of HL Leasing, Inc., Dan Ramirez and Andy Fernandez, for their involvement in a Ponzi scheme. Over 800 victims of the scheme were from California, many of them residents of the Fresno area where HL Leasing, Inc. operated from. The trial team was led by Ara Jabagchourian of Cotchett, Pitre & McCarthy, LLP, Burlingame, California. Jabagchourian is a Fresno native.
In its Statement of Decision, the Court found that John Otto was the alter ego of HL Leasing, Inc., Heritage Pacific Leasing and Air Fred. The Court reasoned that since Kathleen Otto obtained the benefits from her deceased husband's fraud, who committed suicide in May of 2009, she stood in the shoes of her husband for purposes of the lawsuit.
Back in August of 2011, the jury found that the two top senior officers played an integral part in the Ponzi scheme which ruined the lives of hundreds. Dan Ramirez was found guilty of fraudulent concealment and aiding and abetting the fraud and Andy Fernandez was found guilty of aiding and abetting the fraud.
The individual defendants in this case were Dan Ramirez, the former president of HL Leasing, Inc., Andy Fernandez, the company's former chief financial officer, and Kathleen Otto, the alleged co-owner of HL Leasing, Inc. and the wife of John Otto. John Otto operated the $137 million HL Leasing Ponzi scheme before he committed suicide in 2009 after the Ponzi scheme collapsed. Dan Ramirez, Andy Fernandez and Kathleen Otto are alleged to have been integral parts of the Ponzi scheme, collectively taking millions of dollars of HL Leasing money for their own personal benefit. Although the individual defendants claim no knowledge of the fraud, John Otto himself said before he died that no one can pull off a Ponzi scheme alone with one person, it requires lots of people.
The plaintiffs were represented by Ara Jabagchourian and Aron K. Liang of Cotchett, Pitre & McCarthy, LLP and Donald Fischbach of Dowling, Aaron & Keeler, Inc.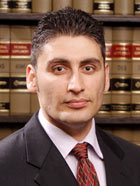 Ara Jabagchourian
Jabagchourian said of the verdict, "This Ponzi scheme has destroyed the lives of many individuals in California including hundreds in Fresno, many of whom lost their entire life savings. Now with this decision by the Court finding Kathleen Otto liable for the fraudulent scheme, the victims can rest assured that justice has been done and they can begin the process of being made as whole as possible from the losses they have suffered."
The FBI had no comment on the case, which they consider "open."
Many of the victims have not been able to file for loses as they claim it has not been determined a Ponzi scheme, although others on the blog say they have filed losses, one stated: and received "... over a 550K lost I received approximately $123K back from the IRS. It did take them a long time to finally send a check but I did get it with no further documents required."
There are those who lost their house, their retirement, and have gone back to work, moved in with their children, and others whose lives have been changed as dramatically due to the money they invested and appear will never see again.
It appears the Otto home and many assets are held in a family trust, and other investments seem to have been liquidity as having more debt than assets, such as the Air Fred, the private plane company. A discovery perhaps will determine what assets are available, as well as an appeal may be in the works regarding Judge Black's decision.
Previous Stories:
http://www.leasingnews.org/Conscious-Top%20Stories/heritage_leasing.htm