Key Corp earnings more than doubled, reaching $813 compared with $390 million in all of 2010, but fourth-quarter earnings fell by 30% to $194 million from $279 million in the previous year. Key noted its fourth-quarter results were hurt by a $24 million charge resulting from Visa's late fourth-quarter announcement of a planned litigation escrow deposit.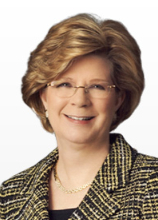 Beth Mooney
Chairman/CEO Key Corp.
Once one of the leading lease financing entities, similar to US Bank Manifest (1), the direction of the Key has obviously changed as the numbers divulge; and as per Beth Mooney, Chairman and CEO, said November 20, 2010 in the announcement becoming CEO of Key Bank, replacing Chairman and CEO Henry Meyer, who was retiring, she said among her goals was to make sure that Key remains focused on being a "relationship-based, community bank." She said Key wants to grow and potentially have more branches and do business in more cities. The bank has been moving in that direction. (2)
January 12, 2011 CEO Mooney announced acquire 37 retail banking branches currently owned by HSBC Bank NA, ("HSBC") in Buffalo and Rochester, NY. This transaction will strengthen Key's ability to grow its presence, acquire customers and provide exceptional service to consumer, business banking and wealth.
Ironically more community banks are reportedly becoming interested in the lease financing product; the regional and super regional banks like Key and US Bank seem less interested.
Charles B. Wendel notes in the December Equipment Leasing and Finance Foundation report "Community Banks and Equipment Finance---What it Takes to be a Success" (b), community banks, in particular, appear to be "rediscovering" the attractiveness of leasing. In some cases it can be the lead product that results in a fuller relationship. (3)
Perhaps the key is maintaining control of the credit, due delligence, and portfolio with the larger the size, the more people involved, the more the actual quality meteorites as the goal is to "beat the last quarter." Community Banks can maintain better control over quality from learning the mistakes of the past and going back to the basic good banking credit decisions. They can also pick up depositors and new general loan customers, too.
| | | |
| --- | --- | --- |
| Key Commercial Lease Financing | (dollars in billions) |   |
| Fourth Quarter, 2011 | $5,982 |   |
| Third Quarter, 2011 | $6,045 | $6,157* |
| Fourth Quarter, 2010 | $6,484 |   |
Nonperforming Assets from Continuing Operations
| | |
| --- | --- |
| Commercial Leasing Financing | (in millions) |
| 4Q11 | 27 |
| 3Q11 | 31 |
| 2Q11 | 41 |
| 1Q11 | 42 |
| 4Q10 | 64 |
 
FDIC Filing Charge Offs
Lease Financing Receivables
(millions)

Average Balance Sheet
Commercial Lease Financing
(billions)

December 31, 2010
$63,489
6,754
December 31, 2009
$106,556
8,220
December 31, 2008
$62,452
9,642
December 31, 2007
$28,827
10,252
December 31, 2006
$12,420
9,773
December 31, 2005
$130,252
10,122
December 31, 2004
$42,246
8,269
December 31, 2003
$56,528
7,961
December 31, 2002
$101,897
7,263
December 31, 2001
$67,547
7,049
*http://leasingnews.org/archives/Oct2011/10_21.htm#key
(1) U.S. Bancorp Loan Products Up, but Not Lease Financing
http://leasingnews.org/archives/Jan2012/1_19.htm#bancorp
(2) New CEO
http://www.cleveland.com/business/index.ssf/2010/11/a_new_ceo_for_key_means_the_ba.html
(3) Report is available for $300 or free to a contributor to the Equipment Leasing and Finance Foundation:
http://www.store.leasefoundation.org/cgi-bin/msascartdll.dll/ProductInfo?productcd=CommBanks2011\
Key Bank Fourth Quarter:
Key Bank 8K PDF