by Kit Menkin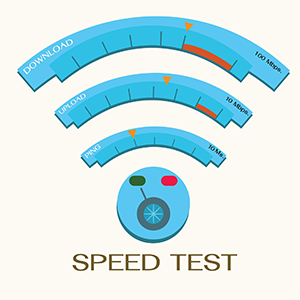 There are many free programs that check your internet speed. It is a very good idea to do often to learn the wired and wireless speed of the computer or device you are using.
First, you learn if you are getting the speed you are paying for. It is important to understand that higher usage (Peak Times) of those in your "node" will slow down your speed. Thus if at a hotel and you are paying for premium, you may not be receiving it and the only way to find out and have internet provider improve your speed is to check the actual speed you are receiving. I always do this when traveling as I have found the provider's techs always try to be helpful.
A side benefit, if you are using the network connection at home, you may learn the better peak times during weeknights and weekdays.
Second, you learn the difference of wireless speed connections, especially realizing you can change your wireless signal provider, depending on your location. You also can get your internet provider to increase your speed by realizing what you are receiving.
Third, you can consider if it is time to improve your connection speed by going to the next tier or considering moving to a new provider.
Fourth, it may not be the carrier that is slowing down the speed, but the settings on your computer or hand held device. Often an IT person can discover and correct these settings, which can be other programs running, actual drive connections, or a hardware such as modem or route or processor or another software problem or improvement.
Consulting a professional may be very beneficial for faster connections, better graphics, as well as better overall performance. This can be done at a computer store, your location, and there are "on line" services who can do this remotely.
I recommend:
www.speedtest.net
There are many free programs to check speed. Many will give you the connection location to choose. I always choose the closest. I think that gives you the true numbers. The further the location, the slower the connection will be. Remember this, so you don't compare going to San Francisco time as the same time as going to Denver or Chicago. Also, when speaking to the internet provider tech, you know the speed and city, so it is not just an opinion, it is a fact.
The main thing is by testing your speed often you were learn more about how to improve your computer or hand held device performance.
Disclosure: I have no positions in any stocks mentioned, and no plans to initiate any positions within the next 72 hours.