By Hina Nawaz and J. Daniel Young
A SNL Financial Feature Article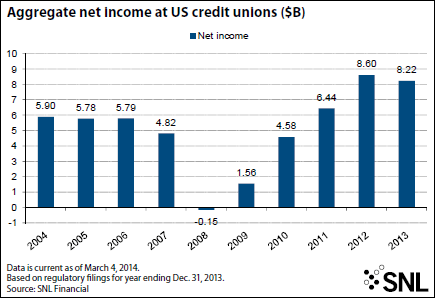 After several years of growth, the nation's credit unions saw the first drop in aggregate net income since 2008. Despite the heightened regulatory burdens facing the industry, credit unions continued to grow assets, loans and leases, and shares and deposits in 2013.
Aggregate net income at the nation's credit unions dropped to $8.22 billion in 2013 from $8.60 billion in 2012, according to SNL data. The credit union industry as a whole grew assets an aggregate 3.91% and grew loans and leases an aggregate 7.90% in 2013. At the same time, the 50 largest U.S. credit unions grew assets a median 3.29% and grew loans and leases a median 7.65%. Shares and deposits increased a median 3.53% at the top 50 and an aggregate 3.65% across all credit unions.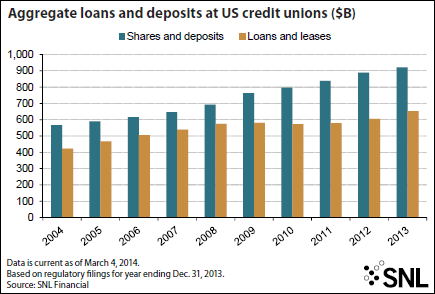 As credit unions look for growth, they must also contend with new regulations related to stress testing and capital, and continued fallout from the Dodd-Frank Act. State Employees' Credit Union CFO Mike Lord said there has been a "torrent" of regulations over the last few years that will impact the entire credit union industry. SECU is the nation's second-largest credit union, with $27.11 billion in assets in 2013.
A proposal that the NCUA released in 2013 would require credit unions with assets exceeding $10 billion to perform annual stress testing, similar to that of large banks. NCUA Board Chairman Debbie Matz said stress testing would be part of NCUA's "coordinated approach" to supervision of a changing industry with asset growth concentrated in large credit unions.
Even though credit unions are not subject to stress testing yet, SECU is taking a proactive approach to the proposed regulation. "We've done the stress testing over the years," Lord said. He said that SECU worked with the assumptions that the Federal Reserve laid out for banks.
Lord said SECU is also stress testing its data protection system. "We've spent a tremendous amount of time, effort and money to put people, processes and software into place to protect our member data," he said.
Only four credit unions had more than $10 billion in assets at year-end 2013. Navy Federal Credit Union is the largest, with $55.50 billion in assets in 2013. A Navy Federal representative told SNL via email that the credit union is monitoring the progress of the NCUA's stress testing proposal.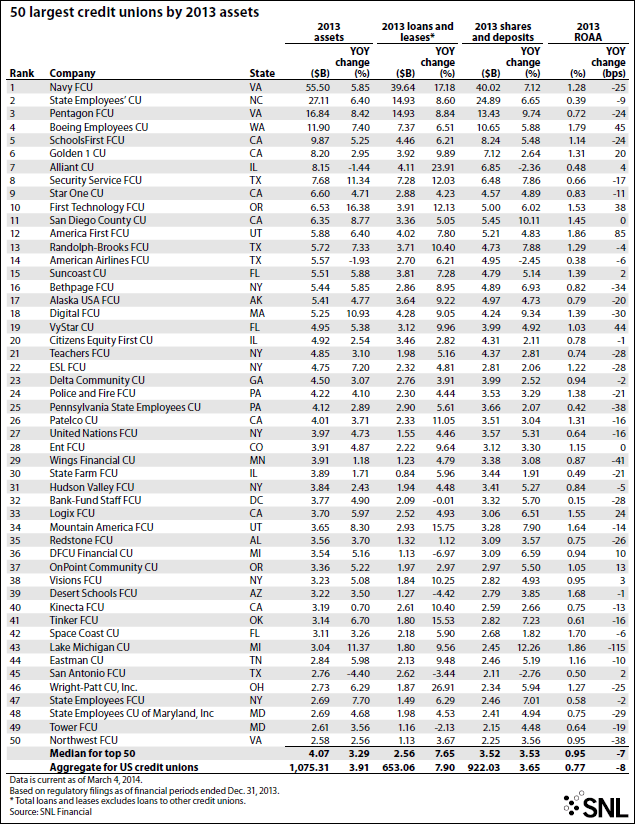 John Fairbanks, public affairs specialist at NCUA, told SNL that the NCUA board has yet to vote on the proposal. The proposal is not on the board's agenda but could be voted on as early as the March 20 meeting.
Boeing Employees Credit Union is the nation's fourth-largest credit union, with $11.90 billion in assets in 2013. BECU passed the $10 billion mark in June 2013, but the credit union's senior vice president of member strategies, Tom Berquist, told SNL that it started preparing to cross that threshold after the Dodd-Frank Act passed. BECU wanted to mitigate the financial impact of the Durbin Amendment by focusing on areas that would allow it to recoup that loss and replace the income without directly charging members. The credit union looked to other avenues, such as building an infrastructure that would allow it to support opportunities in small business banking.
"We realize that, yes, this income is going away," Berquist told SNL, "but we also think there is an opportunity to grow our business in a way that we can recoup that."
New regulations are also impacting credit unions below the $10 billion threshold. In January, the NCUA proposed a rule that would require riskier credit unions with more than $50 million in assets to hold more capital. The proposal would revise the risk weights for many of the NCUA's current asset classifications, with several items featuring weightings in excess of 100%.
"Under the proposed formula, 94 percent of credit unions would still be considered well-capitalized," Matz said in a statement. "The proposed rule is designed to ensure that credit unions taking excessively high risks will either reduce their risks or hold more capital to offset those risks."
In a Feb. 11 release, the National Association of Federal Credit Unions estimated that credit unions with assets between $50 million and $100 million will need to hold a total of $192 million more in additional reserves, while institutions with assets between $500 million and $1 billion will need to hold a total of $1.28 billion more in additional reserves. Credit unions with more than $1 billion in assets would need to hold an additional $3.47 billion. For all affected credit unions, it adds up to an estimated $6.3 billion in additional reserves, according to NAFCU.
"This rule as proposed will have unpredictable consequences for loan and share growth, as individual credit unions will need to adjust their balance sheets to meet the new requirements," David Carrier, chief economist and research director at NAFCU, said in the release. "Because credit unions cannot just raise capital from the open market, this cost will undoubtedly be passed on to credit union members."
Lord made a similar point, warning that if credit unions are required to raise more capital, it will come out of members' pockets. "That impacts our bottom line and credit unions don't go to the capital markets and sell stock to raise capital the way a bank does," he said.
A representative for Navy Federal said the credit union remains "well-capitalized, safe and sound" under the proposed risk-based capital rule. "Given our strong capital position, the changes do not affect our current business operations, nor do we anticipate them constraining our ability to serve our members in the foreseeable future. We will monitor the progress of this proposal while staying focused on serving our members," the representative said.

Disclosure: I have no positions in any stocks mentioned, and no plans to initiate any positions within the next 72 hours.