SNL Financial: Top 100 Best Performing Community Banks
Charlottesville VA, At the 3rd Annual Community Bankers Conference in Dallas, Texas, SNL Financial released its annual ranking of 2013's top 100 best performing banks in two categories: community banks with assets between $500 million and $5 billion and community banks with assets less than $500 million.
Of the companies with assets between $500M and $5B, Grafton, ND-based Choice Financial Holdings Inc. earned the top place. Coming in as first and second runners-up, respectively, were Saint Cloud, MN-based Stearns Financial Services Inc. and Corsicana, TX-based Community National Bank & Trust of Texas, a unit of Community Bank Holdings of Texas Inc. Stearns Financial Services climbed from number 4 in the 2012 ranking.
For banks with under $500 million in assets, the state of Oklahoma boasted 10 of the nation's top 100 performing community banks, including the No. 1 and No. 2 place finishers, Farmers Exchange Bank and Bank 7, respectively.
Both banks have benefitted from the booming Oklahoma economy, which some experts believe fared much better during the downturn compared to most states. California-based Capital Bank, rose significantly in the under $500M category ranking this year, reaching the third place spot after falling short of the top 100 the previous three years. The top 10 in the category of banks with assets under $500 million was not without familiar faces though, with Amerasia Bank and Hershey State Bank returning to the top 10 again this year, after placing fifth and seventh, respectively, last year.
Best Performing community banks of 2013 $500M to $5B in Assets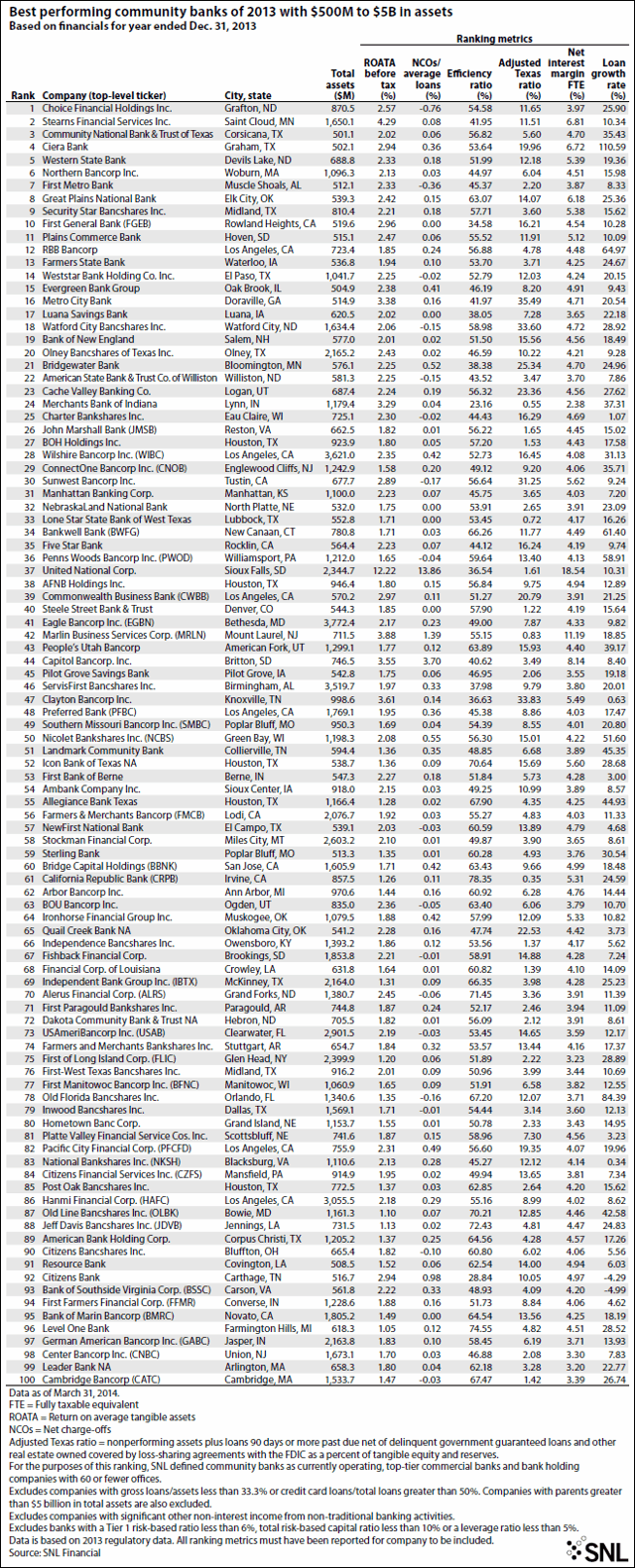 Best Performing community banks with less than $500M in assets

##### Press Release ############################
Disclosure: I have no positions in any stocks mentioned, and no plans to initiate any positions within the next 72 hours.