by Christopher Menkin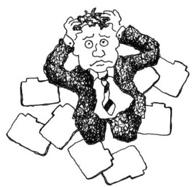 Beth Mooney, Chairman and CEO, said November 20, 2010 in the announcement becoming CEO of Key Bank, replacing Chairman and CEO Henry Meyer, who was retiring, she said among her goals was to make sure that Key remains focused on being a "relationship-based, community bank." She said Key wants to grow and potentially have more branches and do business in more cities. The bank has been moving in that direction. (1)
January 12, 2011 CEO Mooney announced acquire 37 retail banking branches currently owned by HSBC Bank NA, ("HSBC") in Buffalo and Rochester, NY.
January 27, 2011 US Bank acquired the ten branches from the failed bank of BankEast, Knoxville, Tennessee.
This brought the total to 47, adding to the 38 government assisted branches in 2011

There were 90 government-assisted deals for 626 branches in 2011, down from 147 deals for 1,168 branches in 2010 as there were less problem banks last year and supposedly a much lower number this year, according to SNL Financial.
Escaped notice is not only the purchase of deposits and prices paid, but the re-selling of the branches, almost as if flipping the purchase of a house in a short term basis.
First Niagara Financial let the group of banks last year with the announcement it would acquire 195 branches from HSBC Bank. At the time they announced they would pay about $1 billion for $15 billion in deposits based on May 31, 2011 financial statement, considered a 5.67% deposit premium. In November, 2011 they did not acquire 26 of the branches, according to an agreement with the U.S. Department of Justice, primarily in Western counties of Erie, Niagara, and Orleans.
First Niagara then sold 37 branches to KeyBank, who paid almost $110 million premium on deposits, picking up $2.4 billion in deposits and $400 million in loans. First Niagara then began divesting of 19 branches to Community Bank, eight branches to Five Start Bank.
Community Bank's 19 branches include 16 HSBC branches and three legacy First Niagara branches while Five Star's eight branches are split evenly between HSBC branches and legacy First Niagara branches.
Community Bank will pick up $218 million in loans and $955 million in deposits paying a blended deposit premium of 3.22% according Community Bank's merger press release.
Five Star Bank will assume $400 million in deposits and $95 million in loans for a 4.0% deposit premium per First Niagara's merger First Niagara stated that it has reached its branch divestitures target related to the HSBC deal and expects to bring on no more than $11 billion in new deposits.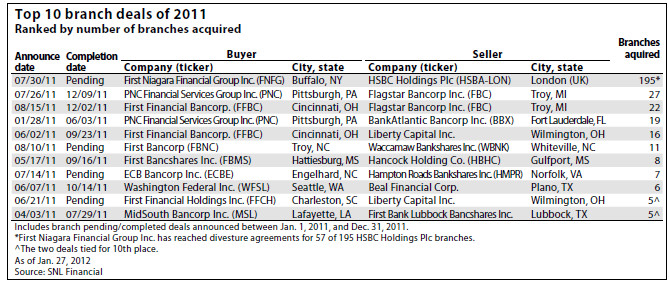 The OCC and Federal Reserve have approved the acquisition of RBC Bank from the Royal Bank of Canada to PNC Bank with its 424 branches, expected to take place this march. It was reported PNC would be letting go 621 RBC employees in North Carolina.
PNC Bank also from Flagstar Bancorp. 27 Georgia branches and 19 Florida branches from BankAtlantic Bancorp.
SNL Financial reports there were 157 whole company deals for 1,631 branches announced in 2011 that have either been completed or are still pending as of January 27, 2011.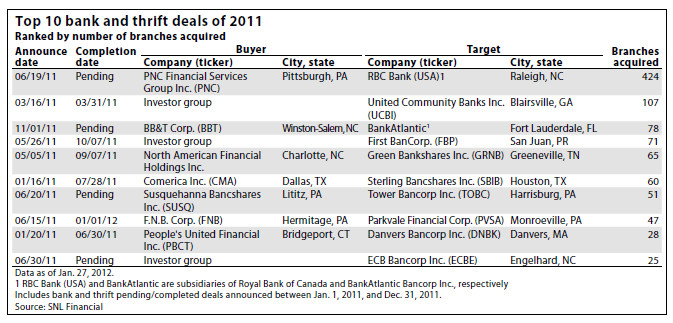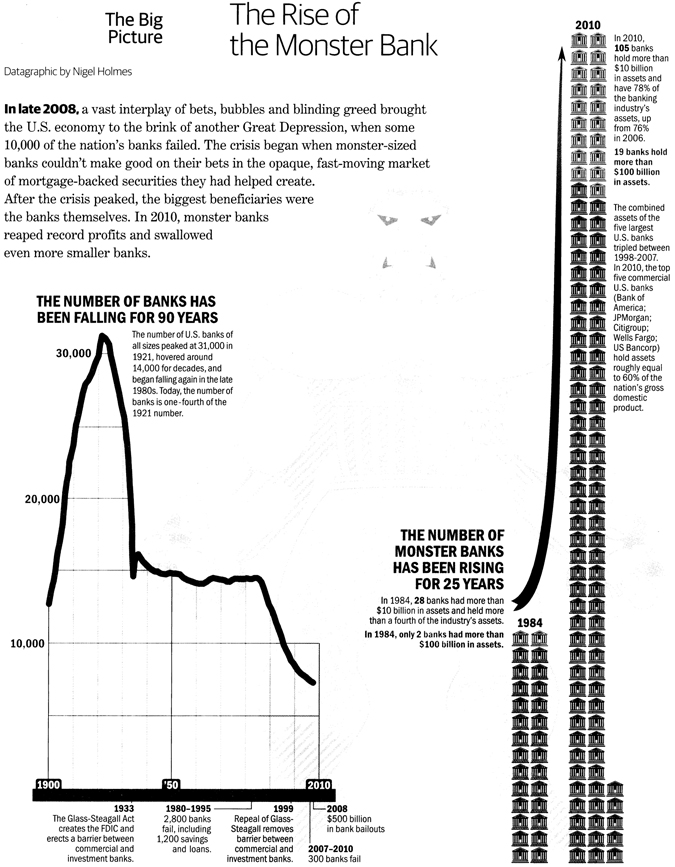 From: American History Magazine
Subscribe:
www.historynet.com/magazines/american_history
(1) New CEO
http://www.cleveland.com/business/index.ssf/2010/11/a_new_ceo_for_key_means_the_ba.html