By Kevin Dobbs and Robin Majumdar
SNL Financial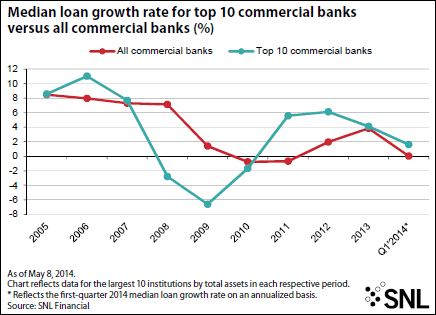 After a challenging final quarter of 2013, meaningful loan growth remained difficult for large banks to generate during the first quarter, as a brutal winter crimped economic activity and minimized demand for credit.
Lending declined during the first quarter at four of 10 major banks analyzed by SNL Financial. Among the remaining six, all grew lending less than 2% during the first three months of the year.
U.S. GDP came to a near standstill during the first quarter. The U.S. Department of Commerce, in an initial estimate, pegged growth at just 0.1%.
But as winter thawed and activity resumed in March, bankers reported during earnings season, the economy appeared to bounce back and provide reason to believe loan demand will pick up along with it.
"While economic growth during the first quarter was uneven, economic activity improved later in the quarter, including national auto sales, which reached a seven-year high in March," Wells Fargo & Co. Chairman, President and CEO John Stumpf told analysts after posting a first-quarter profit in April. Wells reported single-digit loan growth during the quarter. "Employment also increased in March for the 42nd consecutive month, one of the longest periods of sustained growth ever, and consumer confidence hit a six-year high."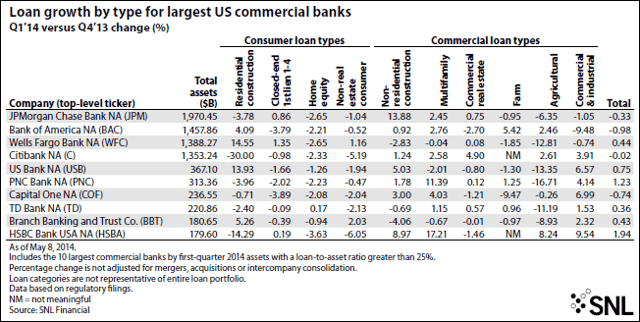 Sales of new U.S. autos slowed early in 2014 amid the winter-induced crawl, but they did in fact spring back in March and then increased more than 8% in April when compared with a year earlier, according to Autodata Corp. Sales ran at an annual rate of more than 16 million in April, well ahead of actual sales of 15.6 million in 2013.
The American job market bounced back in the spring, too, with nonfarm employment in April growing by a seasonally adjusted 288,000 jobs, the largest monthly gain in more than two years, according to the U.S. Department of Labor. Officials also estimated job growth topped 200,000 in February and March, following much weaker advances in January and in December 2013.
"You do see some growth coming back," Jefferson Harralson, a bank analyst at Keefe Bruyette & Woods Inc., told SNL. "I do think the slowdown we saw was seasonal - because of the weather."
Wells' Stumpf also noted what he views as strong economic underpinnings that could help propel growth as momentum builds - notably including lower debt levels that provide Americans with plenty of room to borrow and invest.
"I'm optimistic about future economic growth, because consumers and businesses have continued to improve their financial conditions," he said. "Households have reduced their leverage to the lowest level since 2001, and the burden of their financial obligations is lower than at any time since the mid-1980s. Also, businesses are well-positioned to hire and invest with ample supplies of cash."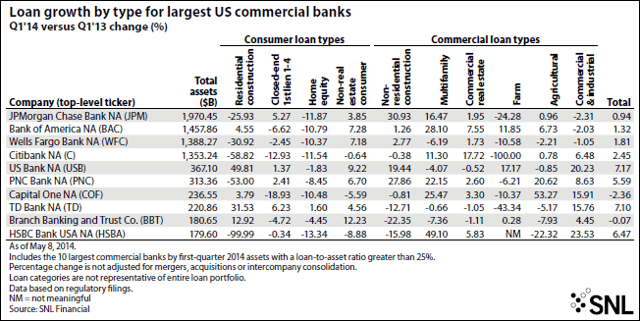 U.S. Bancorp Chairman, President and CEO Richard Davis also was generally upbeat during earnings season. After reporting in April a first-quarter profit, he told analysts that, while the company's overall loan growth hovered in the low single digits during the first three months of 2014, credit demand was notable across several business lines.
He cited particular strength in autos and credit cards on the consumer side, and he noted advances across a range of commercial segments, including small-business lending.
"This quarter, we had strong loan production in small businesses, up almost 30% over last year's first quarter," Davis said. "That's all types of small business, particularly for those under $250,000."
The Federal Reserve said its latest survey of senior loan officers showed that banks overall "eased their lending policies" for commercial-and-industrial and commercial real estate loans amid "stronger demand" for both types of loans in the first quarter. The Fed also said banks relaxed standards on credit card and auto loans.
Analysts said the data suggests banks are eager to grow their loan books. Evercore analysts said in a note that the survey results were "consistent" with recent commentary from bank executives who have noted increased loan demand but also "tighter spreads."
That latter part is of some concern, analysts say.
With short-term interest rates still low, and competition for loans heated, banks that are responding to more demand find themselves vying for customers amid an increasingly crowded field of lenders, analysts say. As such, even as loan books expand, interest income could continue to be difficult to propel, as banks are often competing by lowering prices, and this impacts the spread between the interest banks earn on loans and what they pay out on deposits.
Harralson said there has indeed been "greater intensity" in pricing competition over the past year. He said it likely will "take higher rates, really, to ease the competition."
Either that, or more banks "will pull away" and "say loan growth is just too expensive to get right now," he said. "I think this makes each bank step back and decide just how aggressively they want to participate."
This decision-making, he said, could play out over the course of 2014, as the Fed has indicated it is not likely to boost rates until next year.
And a Fed move in 2015 is dependent upon an increasingly strong economy this year, with ongoing improvement in the job market a key factor.
While the employment picture brightened significantly in April, the job market is not yet robust, economists say.
As Raymond James Chief Economist Scott Brown noted to SNL after the April jobs report was released, unemployment remains high and labor force participation is weak.
The jobless rate in April fell to 6.3% from 6.7% the previous month, but it was still well above the 4% to 5% level of the early 2000s. And the rate dropped last month in large part because the labor force participation rate declined from 63.2% to 62.8%, around a three-decade low.
"So that means a lot of people have given up on looking for work, and so they are not counted in the unemployment rate," Brown said. "That suggests we still have quite a ways to go. … But having said that, I do think things are on the right track now, with the weather improved, and I think we can continue to grow."

Disclosure: I have no positions in any stocks mentioned, and no plans to initiate any positions within the next 72 hours.