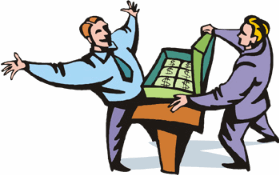 In data analyzed by SNL Financial for 319 major banks and thrifts, 71% reported an earnings per share year-over-year increase. 45% saw earnings per share increase over the third quarter.
The 17 largest reported a decline, and as noted in many were buying distressed banks and their branches, while others still had high problem mortgages.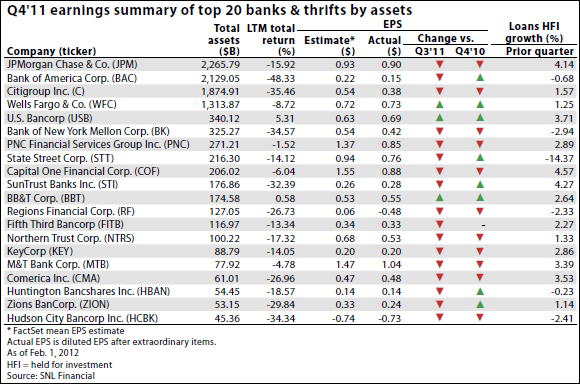 SNL Financial reported, "U.S. Bancorp, BB&T Corp. and Wells Fargo & Co. were the only banks in the top 20 to grow EPS from the prior quarter. Earnings per share increased 5 cents, 3 cents and 1 cent, respectively.
"Despite earnings being poorer than prior quarters for most of the largest 20 banks and thrifts, 14 were able to grow loan portfolios. Capital One Financial Corp., JPMorgan Chase & Co. and SunTrust Banks Inc. all posted strong quarterly growth of more than 4%. Capital One mentioned in its earnings release that most of its growth occurred in the last few weeks of the year. Of banks and thrifts with at least $10 billion in assets, 71% saw loan growth from the prior quarter. Only 59% of midsize and 44% of small banks were able to grow loans in the fourth quarter of 2011."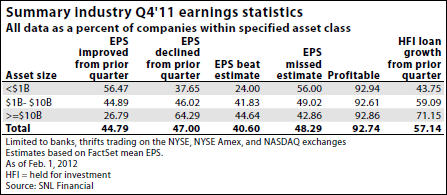 "Earning trends looked more impressive for banks with assets less than $1 billion. Of these banks, 56% saw their EPS increase over the third quarter of 2011," according to SNL Financial. "Less than half of banks between $1 billion and $10 billion in assets grew earnings per share from the prior quarter. To date, about 93% of companies have been profitable."
Profit in Buying Bank Branches & Flipping Them
http://leasingnews.org/archives/Feb2012/2_06.htm#bank_beat