By Tom McCurnin
Leasing News Legal News Editor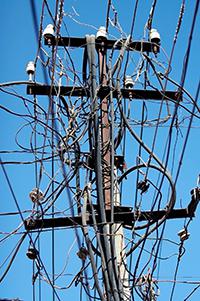 Bank's Mistaken Destruction of Phone Calls Records Results in the Burden of Proof Being Shifted to the Bank to Prove Consent.
If You're Recording Phone Calls, Make Sure Your IT Department Saves Them
Fanning v HSBC., 12:00885 (USDC Central District California)
The IT Departments at Banks march to the beat of their own drum, and almost without exception, have no risk management background to guide them. So, it is not surprising to me that after the Bank received a pre-litigation demand letter threatening suit over recording phone calls without permission, some genius in the Bank's IT Department destroyed all the recordings which would enable the plaintiff to prove its case--- or which would enable the Bank to defend the case. The Court held that the Bank would have to prove that the callers provided consent, a fact almost insurmountable to prove, without the recordings. The facts follow.
Terry Fanning made and received phone calls from HSBC in connection with his credit card account. Apparently, no one provided him with notice, and an opportunity to opt out, so Fanning filed suit in 2012. But prior to suit, Fanning's counsel sent the Bank a pre-suit demand letter on March 7, 2012. The Bank destroyed about 150,000 recordings during the applicable time period, going back to 2008. Plaintiff filed his suit on June 4, 2012. It ascertained that the Bank destroyed virtually all the evidence earlier this year, and the Plaintiff brought a motion for sanctions against the Bank.
While the Court did not order sanctions, it did order that the burden of proving consent would be reversed, and would be placed on the Bank.
The Bank argued that only one out of 18,000 calls is actually recorded, so it is no big deal. The Court disagreed. Thus, the burden of proof would be switched, with the Bank being required to prove that the hundreds of thousands of calls were all consented to and authorized-an impossible task
What are the lessons for equipment lessors here?
First, if you record your calls, and you should be recording the delivery and acceptance telephonic audits, retain them for at least the length of the lease, plus an appropriate period of time after lease expiration, perhaps up to two years after the fact.
Second, instruct your IT Department that this is a legal issue and that the calls must be preserved.
The bottom line to this case is that mistakes happen, but it's always better if they happen to the other guy. Your IT Department needs to be supervised.
HSBC Case
www.leasingnews.org/PDF/HSBCCase_52014.pdf
Tom McCurnin is a partner at Barton, Klugman & Oetting in Los Angeles, California.

Tom McCurnin
Barton, Klugman & Oetting
350 South Grand Ave.
Suite 2200
Los Angeles, CA 90071
Direct Phone: (213) 617-6129
Cell (213) 268-8291
Email: tmccurnin@bkolaw.com
Visit our web site at bkolaw.com
Previous Tom McCurnin Articles:
http://www.leasingnews.org/Conscious-Top%20Stories/leasing_cases.html
Disclosure: I have no positions in any stocks mentioned, and no plans to initiate any positions within the next 72 hours.