By Kevin Dobbs
SNL Financial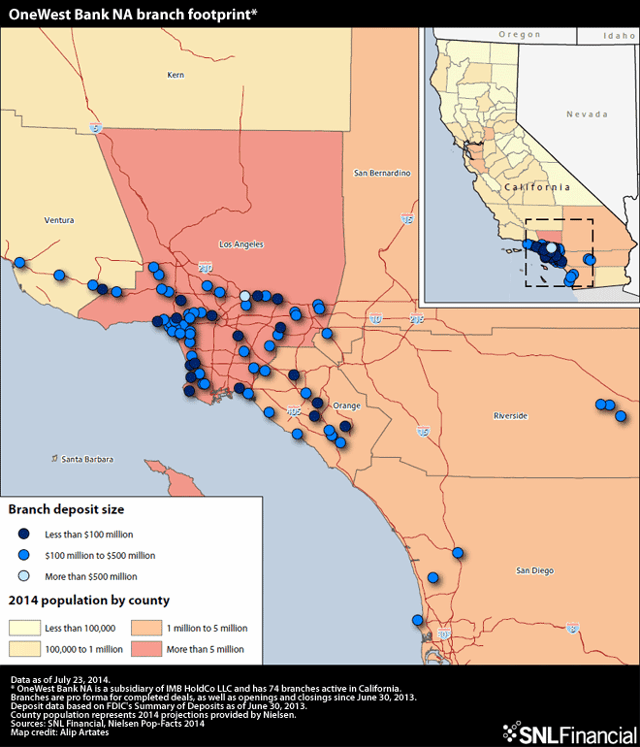 CIT Group Inc.'s $3.4 billion deal to acquire Pasadena, Calif.-based IMB HoldCo LLC and its OneWest Bank NA, a lender with 73 retail branches in Southern California and $23 billion in assets, ranks as one of the largest bank acquisitions announced this decade and may be on the front end of a gradual build-up in sizeable M&A in the banking sector, observers say.
"There's still a lot of capital throughout the industry, and even with the better loan growth we are finally seeing, that is not nearly enough to eat up the capital out there," James Bradshaw, an analyst at Bridge City Capital LLC, told SNL. "So healthy banks are motivated to put capital to work" via compelling acquisitions, "and I'm expecting we will see more deals and more deals of this kind of size."
Bradshaw noted that so far in second-quarter earnings season, several banks on the West Coast and nationally have reported solid loan growth from a year earlier and many management teams have struck optimistic tones about their pipelines for the remainder of 2014. While a welcomed development after years of sluggish expansion, the analyst said, overall loan demand is still short of robust and may not prove strong enough to drive the high levels of growth that bank investors have eagerly awaited.
As such, M&A is sure to remain an important lever for growth-minded banks to consider pulling. He noted that in the aftermath of the 2008 financial crisis and ensuing recession, strong banks built up and maintained lofty capital levels. Now, with the credit books cleaned up and the economy years removed from the downturn, bankers are increasingly eager to put excess capital to work.
With widespread concerns about national banks such as JPMorgan Chase & Co. and Bank of America Corp. being too big to fail, Bradshaw doubts the nation's biggest banks would pursue - or be allowed by regulators to pursue - multi-billion-dollar bank deals. But, based on asset size, he said banks outside the group of the top 10 largest lenders are likely interested and could be encouraged by the CIT-IMB HoldCo announcement to get serious about going after a large target.
"There's always a pregnant pause after something like [the CIT-OneWest deal] happens, but I think down the road a bit, if you asked me a year from now, I'd be surprised if we didn't have at least a couple more deals of this size to talk about," Bradshaw said.
He added that banks just outside the top 10 in terms of asset size all the way up to those around 100 in the rankings could all have eyes on M&A in coming months and years. "Either they could eat somebody or get eaten themselves," Bradshaw said. "I think almost anyone in that category could go either way."
New York-based CIT Group ($44.15 billion) said July 22 that it agreed to buy IMB HoldCo and its bank in a cash-and-stock deal that the buyer expects will be 20% accretive to earnings per share in 2016. The combined bank, assuming the deal closes late in 2014 or early the following year as planned, will have assets of about $67 billion and deposits of about $28 billion, CIT said.
This marks the largest bank deal involving a target in California since the start of 2010, and the fifth-largest bank acquisition nationally in the same period, according to SNL data.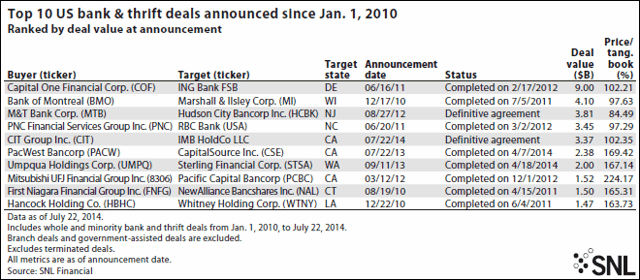 The deal brings together a pair of once-struggling institutions. CIT was required in 2009 to reorganize in a bankruptcy, while the target grew from the ashes of IndyMac, the Southern California thrift that failed amid the housing market bust of the past decade. OneWest was built up by prominent investors. It is currently privately held and run by Chairman Steven Mnuchin.
Mnuchin plans to join the combined company as a vice chairman, while CIT Chairman and CEO John Thain will retain both of his titles following closing of the deal, according to the companies.
To be sure, CIT is somewhat unique. Among other things, the company had made it known that it was on the prowl for a large deal at a time when other companies of its size have played their M&A cards close to the vest; large would-be buyers have been leery of deals because of concerns about regulators getting in the way. Industry insiders say regulators have heavily examined banks' big moves in recent years, including deals, and this has slowed down strategic plays and increased the cost of getting acquisitions done in some cases.
Most notably, M&T Bank Corp.'s long-planned acquisition of Hudson City Bancorp Inc., announced in August 2012, has been delayed multiple times in the face of regulatory scrutiny. The companies agreed to extend the $3.7 billion deal's completion date to Dec. 31 of this year. That such a prominent and large deal has dragged out and still appears uncertain to close has served as a cloud over large-target M&A.
In the CIT-IMB HoldCo deal, each party sought an additional layer of advisement to address the anticipated regulatory focus on big bank deals. Sullivan & Cromwell is serving as joint regulatory counsel for both sides.
What is more, CIT, which has specialized in lending to small and midsize businesses, was looking for a retail branch network and the deposits that come with it to broaden its reach and gain a stable source of funding. Most other sizable regional banks that would have the wherewithal to do large bank deals are already flush with deposits, as bank customers largely have been conservative in recent years and have parked their money.
All of that noted, Lamont Black, a former Federal Reserve economist and current finance professor at DePaul University, told SNL that while certain larger deals have dragged out longer than buyers initially planned, he does not think regulators, as a rule, are opposed to sizeable bank deals or that they are currently interested in delaying them simply to add new regulatory hurdles. "I don't see that as being a major sticking point right now," he said, speaking of M&A generally.
Based on his conversations with former Fed colleagues and banking contacts, he said regulators appear concerned about buyers having proven management teams, strong financials and clear plans for deal integrations. "But I don't get the sense they are averse to this type of M&A," he said, referring to deals involving larger targets such as IMB HoldCo.
Thomas Rudkin, an investment banker and principal at FIG Partners LLC, agreed with Bradshaw that larger acquisitions likely loom for the banking industry. He said a pick-up in M&A - in terms of volume and the size of deals - depends in part on buyers gaining confidence in the health of targets and in the economy. And he said with many banks' credit troubles dating to the recession now largely addressed and the economy finally showing some momentum this summer, buyers' confidence is getting better.
At the same time, he told SNL, competition for good loans remains fierce and regulatory burdens, while most acute for the smallest banks, are a headache for all lenders. Gaining size to more aggressively compete in more parts of the country holds appeal for many banks, Rudkin said, as does the prospect of using greater size to more easily absorb regulatory costs.
"The banking environment today versus 10 or 15 years ago is dramatically changed and it is a lot harder to make money now," Rudkin said. Regulations added as part of the ongoing rollout of the 2010 Dodd-Frank financial reform legislation "are extremely expensive … and it's not just that but also intense competition."
He said the pace of movement on the large-deal front is difficult to predict given the complexity of the current environment and potential regulatory hurdles. But he said the CIT-IMB HoldCo deal shows that a prominent buyer is confident that such a deal can get done, and he thinks more sizable deals are likely to emerge in coming quarters.
"I don't think I can say there will be a lot of them, but I do think we will see more deals of this size," Rudkin said. "I think there is more confidence now among buyers and more will step up."

Disclosure: The author has no positions in any stocks mentioned, and no plans to initiate any positions within the next 72 hours.