by Christopher Menkin

Marlin Business Services, Mount Laurel, New Jersey, (Nasdaq:MRLN) with new competition from Ascentium Capital, CIT, Direct Capital, Element Financial, Financial Pacific, Navitas, RLC Funding, among many others, reports net income of $4.9 million for the second quarter of 2014, compared to $4.5 million in 2013. While business was up compared to the first quarter, competition saw Marlin's lease volume down at $88,928 for second quarter of 2014, compared to $91,448 in 2013 (dollars in thousands.) Number of leases were also down: 6,423 in 2014; 6,931 in 2013.
A press release brought out the gain over the first quarter, where
Marlin's CEO Daniel P. Dyer blamed severe winter for the temporary impact (1), "Origination volume was $88.9 million, compared to $74.0 million for the quarter ended March 31, 2014, representing an increase of 20% over the first quarter of 2014… "
The other news also reflected the new competition:
"Net interest and fee margin of 12.66% is down 39 basis points from the first quarter of 2014 and is down 70 basis points from the second quarter of 2013. The reduction from first quarter 2014 was driven by fee income and interest income. Fee income as a percentage of average total finance receivables is 2.30% for the quarter ended June 2014, compared to 2.50% in the first quarter of 2014 and 2.38% a year ago, and is due to lower late fee billings. Interest income as a percentage of average finance receivables is 11.17% for the second quarter ended June 2014 compared to 11.35% in the first quarter of 2014 and 11.86% a year ago. The decrease in interest income is primarily due to the competitive low interest rate environment and its impact on origination yields in 2014.
"The Company's cost of funds remained stable at 81 basis points, compared to 80 basis points for the first quarter of 2014, and improved 7 basis points from the second quarter of 2013. The improvement resulted from the Company's use of lower-cost insured deposits issued by the Company's subsidiary, Marlin Business Bank, its primary funding source.
"The allowance for credit losses as a percentage of total finance receivables was 1.26% at June 30, 2014, and represents 218% of total 60+ day delinquencies.
(Please note the more current numbers are on the right, not the left; a nice trick to throw reading them correctly. Editor)
(Dollars in thousands)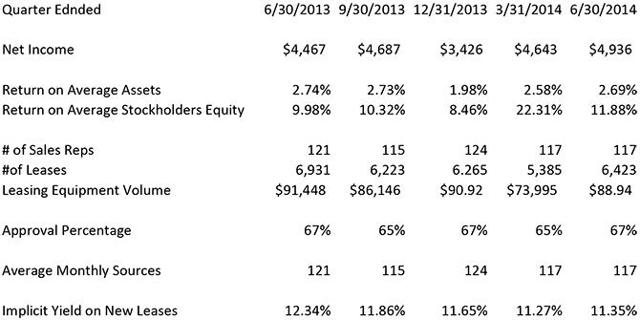 The issue of how many brokers (third party originators) was not revealed, although Marlin is back into this source of business. They evidently do not want to broadcast this to investors or those that view their financial statements.
"Evergreen Clauses" and residuals were not in the press release. Perhaps it will be in the 8K when that is released. This has been one of their main profits as well as fees and insurance income.
All legal, except Evergreen in four states where lessor must notify the lessee regarding the expiration of the original lease, which I am sure Marlin does notify. Bulletin Board complaints note they do not, especially with copiers.
Marlin's CEO Blames Severe Winter for Temporary Impact
http://leasingnews.org/archives/May2014/5_02.htm#marlin
Copy of Press Release with Financial Statement:
http://www.snl.com/Cache/24637359.pdf
Disclosure: The author has no positions in any stocks mentioned, and no plans to initiate any positions within the next 72 hours.