By Rabia Arif and Maria Tor
SNL Financial Report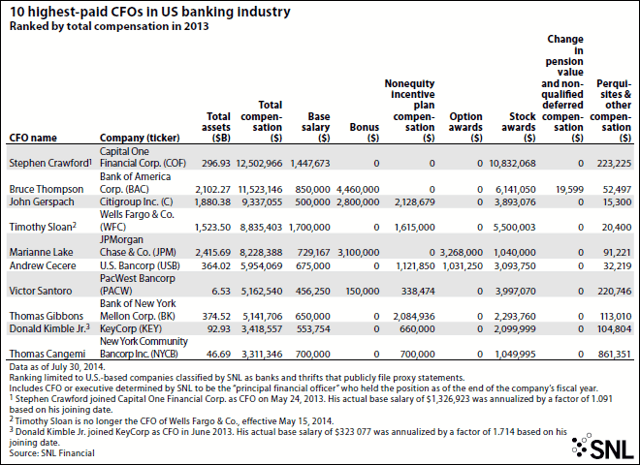 The U.S. banking industry's top-paid CFOs in 2013 were Capital One Financial Corp.'s Stephen Crawford, Bank of America Corp.'s Bruce Thompson and Citigroup Inc.'s John Gerspach.
Crawford's total compensation in 2013 was $12.5 million, compared to Thompson's $11.5 million earned at Bank of America and Gerspach's $9.3 million at Citigroup. Crawford takes the top spot after joining Capital One in May 2013. He was previously a partner at Centerview Partners LLC, an independent banking and advisory firm he co-founded in 2006. Seen as a possible successor to Capital One CEO Richard Fairbank, Crawford had previously served as CFO of Morgan Stanley. Capital One's CFO before Crawford also earned a large pay package. Gary Perlin, who retired as CFO in May 2013, was the sixth-highest-paid CFO among U.S. banks and thrifts in 2012.
KeyCorp CFO Donald Kimble Jr. entered the 2013 ranking at No. 9 after he was poached from competitor Columbus, Ohio-based Huntington Bancshares Inc. KeyCorp compensated Kimble with a total of $3.4 million, including an annualized salary of $553,754 in 2013, compared to his 2012 total compensation at Huntington of $2.7 million. Kimble's compensation at Huntington was not high enough to place him in SNL's 2012 ranking of top paid CFOs.
Full Report Here:
http://www.snl.com/InteractiveX/Article.aspx?cdid=A-28747083-10033
Disclosure: The author has no positions in any stocks mentioned, and no plans to initiate any positions within the next 72 hours.