SNL Financial Report
By Bhaumik Baxi and Hina Nawaz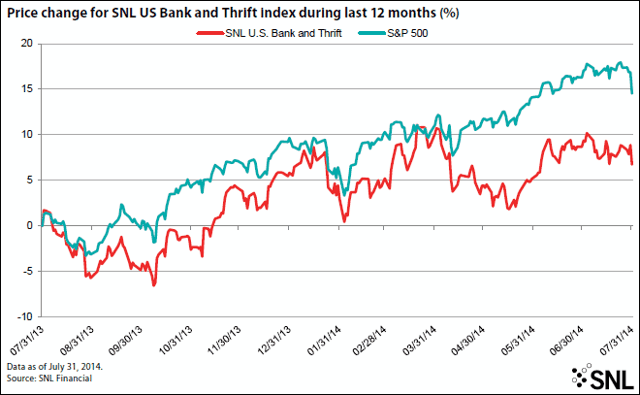 Slightly more than half of the public U.S. banks and thrifts in an SNL Financial analysis outperformed analysts' year-ago stock price targets at the end of July. Of the 157 companies included in the analysis, 81 outperformed mean stock price targets set a year ago, while 76 underperformed.
For the purpose of this analysis, SNL tracked U.S.-listed bank and thrift companies with four or more analyst estimates available through FactSet as of July 31, 2013. To determine "outperformance" or "underperformance," SNL then compared the mean price target for each company, based on available one-year price target estimates as of July 31, 2013, to each company's actual closing price on July 31, 2014.
As of July 31, the stock of San Diego-based BofI Holding Inc. was 43.44% above the mean one-year price target from July 2013. This marked the largest outperformance of any of the companies in SNL's analysis. While BofI's stock surpassed analyst expectations, it has dropped considerably since earlier in 2014. BofI's stock closed as high as $105.55 in March, and the company was named the best-performing public thrift of 2013 by SNL. But shares have since sold off and as of July 31 were trading below $80 with elevated short interest. On July 22, the company announced the completion of a $50.0 million at-the-market common stock offering initially commenced in March 2013, and launched a second offering of the same size.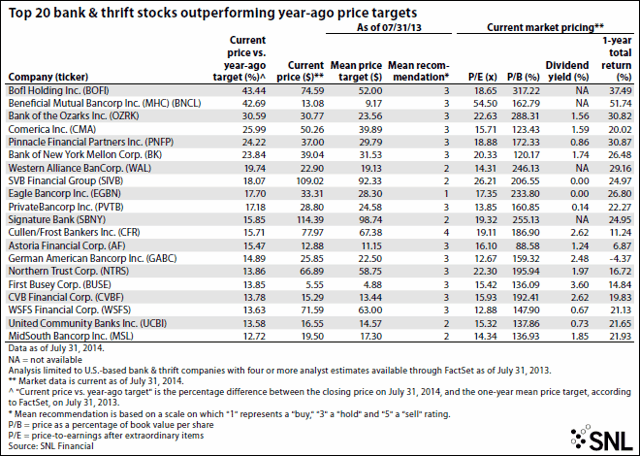 The second-highest outperforming stock, Philadelphia-based Beneficial Mutual Bancorp Inc. (NYSEARCA:MHC), outstripped its year-ago mean analyst price target by 42.69%. Boenning & Scattergood Inc. analyst Rick Weiss raised his rating on the company to "outperform" in May and increased its price target to $15, with anticipation of a second-stage conversion in the near future.
Bank of New York Mellon Corp., the largest bank by assets among the 20 greatest outperformers, beat analysts' year-ago mean price estimate by 23.84%.
While none of the 'Big Four' U.S. banks made an appearance in the top 20 outperformers, Wells Fargo & Co. and Bank of America Corp. did exceed mean year-ago analyst price targets by 12.34% and 0.97%, respectively.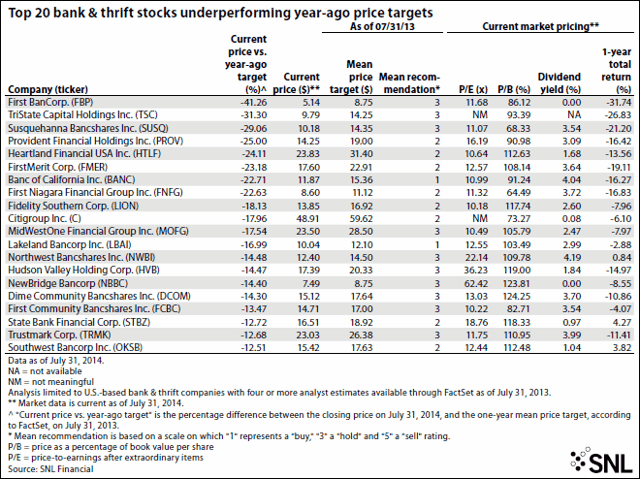 In contrast, Citigroup Inc. and JPMorgan Chase & Co. fell short of mean year-ago analyst price targets by 17.96% and 7.34%, respectively.
Citi was the largest bank by assets in SNL's list of top 20 underperforming stocks. The bank reported second-quarter net income of $181 million, down from $4.18 billion a year ago after a $3.8 billion pretax charge related to a multibillion-dollar settlement the company reached with regulators.
First BanCorp.'s stock price was approximately 41.26% below analysts' year-ago mean price targets, marking the largest underperformance of any company in the analysis. The San Juan, Puerto Rico-based bank reported net income of $21.2 million for the quarter ended June 30, an improvement over the $122.6 million net loss reported a year earlier. In a statement, CEO Aurelio Alemán-Bermudez cited a challenging environment with slow economic progress as a main factor in the quarter's results.
Guggenheim Securities LLC analyst Taylor Brodarick upgraded First BanCorp. to "buy" from "neutral" on Aug. 6, stating that the company is undervalued in light of its capital position and stable core earnings.
Shares of First BanCorp.'s Puerto Rico peers Doral Financial Corp. and Popular Inc. have also struggled over the last year, posting negative returns of 78.80% and 3.04%, respectively, from the end of July 2013 through July 2014.

Disclosure: The author has no positions in any stocks mentioned, and no plans to initiate any positions within the next 72 hours.