Two quotes from GE-Q3 2009 General Electric Earnings Conference Call, Event Date/Time: Oct. 16, 2009 12:30pm GMT


Keith Sherin-General Electric-Vice Chairman
"I would like to start with a summary of the third quarter. On the left side is the summary for continuing operation. Revenues of $37.8 billion were down 20%. That is as we expected. Industrial sales at $25.1 billion ere down 12%. You saw in the press release organic growth was, on industrial, was down 9%. Financial Services revenue at $12.7 billion, down 20%. I ill explain more on that when I get to the Finance Services page. We earned $2.5 billion in net income, which was down 45% and for earnings per share, we earned $.022. That does include the cost of our preferred dividend...
"I will start with a few pages on Capital Finance. Mike Neal and the team continue to execute well in a very challenging environment. For Q3, the revenues of $12.2 billion were down 20%. That is driven by our assets being down $70 billion year-over-year. It also driven by the impact from deconsolidating Penske, which was about six points of revenue decline in the quarter. And we also had lower revenues because we have lower gains, principally in Real Estate and also form lower interest rates with our floating-rate book. Capital Finance earned $263 million. That was down 87% driven by higher credit costs. I will cover that in more detail. Lower gains and the impact of again shrinking the business."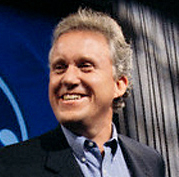 Jeff Immelt-General Electric-Chairman & CEO
"So I want to reiterate one thing Keith said is that we are shrinking GE Capital faster than we had planned. We think that is on strategy as we do that, the GE Capital revenues decline accordingly. And so I think these are things we are doing proactively that are on the strategy where we view this as a positive execution point."
- GE continues to cut back on projects, employees, divisions, selling off assets.
- While press release and presentation are optimistic, is "shrinking" optimistic?
- While government looks to increase employment, GE is not
(perhaps as well as other companies are shrinking, too)
- Imagination at work?
GE Slogan Winners
http://www.leasingnews.org/archives/February%202009/02-04-09.htm#contest
Disclosure: no positions