SNL Financial Report
By Nathan Stovall and Salman Aleem Khan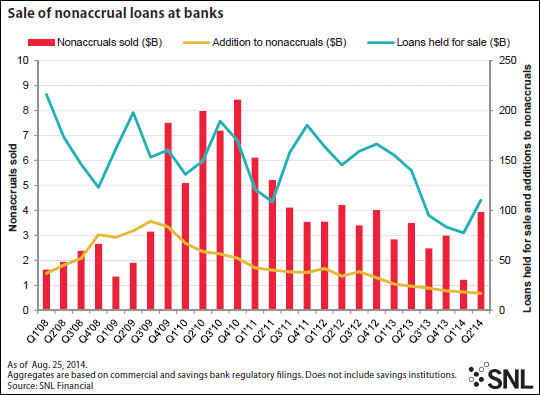 The pace of problem loan sales at banks rebounded in the second quarter, reaching the highest level in the last 18 months.
After a slow start to 2014, banks' sales of nonaccrual loans rose considerably in the second quarter. Problem loan sales at banks more than tripled in the period, jumping 222.2% from the first quarter and 12.6% from a year earlier. Inflows of nonaccrual loans dropped as well, declining 6.9% from the linked quarter and more than 29.3% from a year ago, according to SNL data.
Banks' problem loan sales bounced back even as real estate prices held virtually flat in the second quarter, with U.S. home prices climbing just 0.8% from the linked quarter, according to the Federal Housing Finance Agency. Still, the jump in volume could have come from pent-up demand, with bankers noting that problem loan sales activity was exceptionally slow in the first quarter due to the severe winter.
Even at this late stage in the credit cycle, the potential supply of problem loans that could be sold on the market remains considerable. For instance, Compass Point analysts estimate that the supply of nonperforming one- to four-family mortgage loans stood at $305 billion at the end of the second quarter, based on holdings of commercial banks, the Department of Housing and Urban Development and the government-sponsored enterprises. The analysts said pricing on recent sales has reportedly increased, even with home prices holding fairly steady. The higher pricing could lead to increased sales activity, they said.
"Given increases in pricing, we would not be surprised to see more supply come to market (and recent activity and press reports indicate this is happening)," Compass Point analysts wrote in an Aug. 26 report.
Indeed, banks significantly increased their plans to sell problem loans in the second quarter, reversing a trend witnessed over the last few quarters. Banks reported $110.48 billion in loans classified as held for sale in the second quarter, up 42.5% from $77.51 billion in the linked quarter, SNL data shows.
Some banks took opportunities to purge their balance sheets in the second quarter and continued to take hits despite the increase in prices.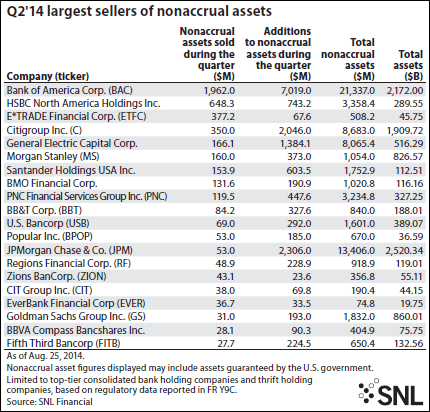 "On the nonperforming side, I still think for the folks that still have meaningful nonperformers on their balance sheet, I think the bid/ask spread is still pretty wide," said Kenneth Segal, a managing director in the bank and loan advisory group at Situs. "Despite relative recovery in values, there isn't still enough value there to support motivating the folks holding these assets to sell them."
Segal, whose firm provides portfolio valuation services and has also recently worked with banks on data population and aggregation services to help with stress testing, told SNL that the spread between investors' bids and banks' carrying values has narrowed some but still remains wide enough to result in losses when banks sell problem loans.
"With the nonperformers, particularly for the smaller banks, the bid/ask spread is more narrow than it used to be, but I still think it is sufficiently wide to prevent a lot of people from truly cleaning up their balance sheet without a major capital infusion. It's still relatively challenging for a smaller bank to attract capital," Segal said.
One smaller bank that has recapitalized, Sun Bancorp Inc., sold loans at the end of the second quarter as part of a major restructuring initiative. Sun Bancorp noted in an investor presentation in late July that the sales would help lower workout expenses going forward. The company completed a cash sale of $71.4 million of individual commercial loans, resulting in a loss of roughly $11.8 million. Sun Bancorp also moved $24.7 million of nonaccrual and other "low-quality" consumer and related credit to held-for-sale, resulting in an estimated loss of $4 million.
Astoria Financial Corp. also recently engaged in sales of problem loans and managed to ink a transaction without incurring significant costs because it had already written down and taken reserves against the loans. In late July, Astoria entered an agreement to sell certain nonperforming residential mortgage loans for consideration of about $186 million, or at roughly 95 cents on the dollar.
Other banks could look to clean up their balance sheets and sell foreclosed real estate in the second half of 2014. Old Second Bancorp Inc. COO James Eccher said on the company's second-quarter earnings call in late July that it has not ruled out a bulk sale, and sales activity in general could pick up after a slow start to the year.
"We're seeing continued interest in the portfolio. First quarter, I think, it was slower than we'd like, it's probably more the weather than anything. But we do have several properties that we're in current negotiations with," Eccher said on the call, according to the transcript. "We see prices firming up a little bit. We still have about a third of the portfolio in construction-related assets which, as you know, is a little more challenging to move. But we are seeing better interest in some of those properties as well."
Some banks are still very hesitant to pursue nonaccrual sales, at least in bulk form. Capital City Bank Group Inc., for example, has long preferred selling foreclosed properties through a retail strategy versus a wholesale strategy. Capital City CFO J. Kimbrough Davis touted that strategy at an investor conference in late July, noting that the company had sold other real estate at 101% of book value over the last 26 quarters. He said holding costs on the properties were currently running at 7%, compared to the average discount of 30% to 40% that the company would receive when pursuing a sale.
The hesitation to take such large hits has kept many banks from selling problem loans and foreclosed real estate in recent years. The banking industry is also now seeing problem loan formation slow. SNL data shows that additions to nonaccruals fell again in the second quarter of 2014, dropping 6.9% sequentially to $17.11 billion. This marked the third quarter in a row that nonaccrual additions had fallen below the $20 billion level. That level previously had not been seen since the second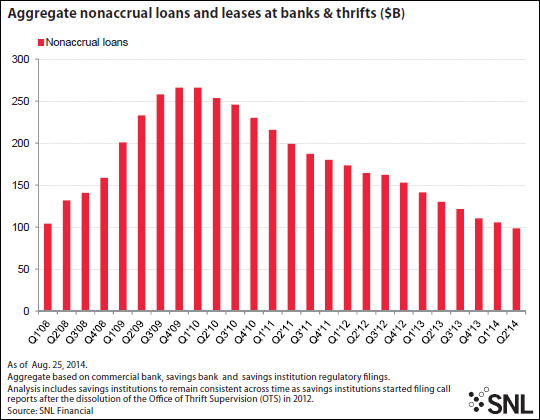 The amount of nonaccrual loans in the banking industry has fallen 63% since peaking in the first quarter of 2010, but much of that decline occurred in 2010 and the early part of 2011, when distressed asset sales activity was much higher.
SNL data shows that sales activity reached its highest level in the fourth quarter of 2010. Nonaccrual sales totaled $28.71 billion for the whole of 2010. Sales activity fell substantially in 2011, particularly in the latter half of the year when investor sentiment toward banks soured and capital raising slowed. Sales of nonaccrual loans fell to $19.00 billion in 2011, with about 40% of the overall sales activity coming during the last six months of the year, according to SNL data.
After a lackluster ending to 2011, nonaccrual sales remained slow in 2012, falling to $15.19 billion - down 20% from the previous year.
Nonaccrual sales activity in 2013 proved choppy, but ultimately finished the year at subdued levels. Sales activity was below the $3 billion level in the first quarter, in the third quarter and again in the fourth quarter, totaling $2.99 billion in the last period of the year. Overall nonaccrual sales activity in 2013 fell to $11.81 billion, down about 22% from the previous year.
Nonaccrual sales activity plunged even further in the first quarter of 2014, dropping 59% to $1.22 billion. However, after falling to levels not seen since before the credit crisis, nonaccrual sales activity jumped to $3.93 billion in the second quarter. With market conditions holding, there seems some hope that the rebound in sales activity could continue through the remainder of 2014.

Disclosure: The author has no positions in any stocks mentioned, and no plans to initiate any positions within the next 72 hours.