SNL Financial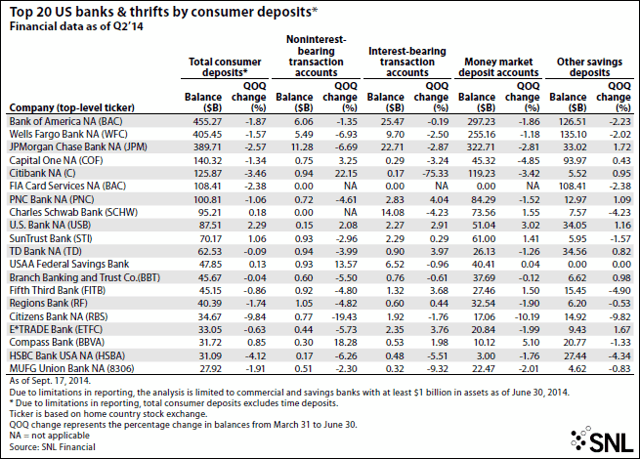 As the prospect of rising rates looms, banks are increasingly focused on building "sticky" consumer deposits.
Consumer deposits are prized among banks, since most bankers and regulators view them as a reliable funding source that may remain steady even as the eventual turn in the interest rate cycle changes the cost of deposits and possibly leads to deposit outflows. Experts say institutions must prepare to recapture funds that will be redistributed into higher-yielding accounts - which could be a challenge for some and a surprise for others.
Consumer deposits make up 46.30% of deposits at banks with assets above $1 billion, according to an SNL analysis of regulatory data for the second quarter. The majority of that amount, 61.68%, was held in money market deposit accounts. This is the second quarter that banks have reported consumer deposit figures in regulatory filings, and the figures can differ from GAAP measures.
From a liquidity standpoint, consumer deposits are among the stickiest, most valuable deposits a bank can gather and are the least likely to run off in a crisis, said Sherief Meleis, managing director at bank analytics and advisory firm Novantas Inc. Institutions often grow retail consumers through the modest primary checking account, often called a demand deposit account or noninterest- or interest-checking account.
"All good things flow out of that primary checking," Meleis said. "It gives you the right to cross-sell, so banks are very focused on getting that primary checking account."
When rates rise, funds are liable to leave deposit accounts in search of higher yields; the risk for banks is that they would be transferred outside the institution into money market funds or other investment products. Banks should prepare for both deposit runoff and a mix-shift in the distribution of funds, in order to minimize the former and capture and contain the latter. Meleis expressed concern about how banks plan to adjust if rates jump several hundred basis points.
"Banks need to be ready for the giant sucking sound that happens when rates start rising and money starts coming out of savings and money market accounts and going to money market mutual funds and CDs," Meleis said. "They need to be ready to capture all of that in a rising rate environment. It's something banks are thinking a lot about - how do we make sure we keep the money that's going to shift out of liquid products into term?"
A Novantas analysis suggests that deposit costs would increase 48 basis points if rates rose 100 basis points, and 96 basis points if rates rose 200 basis points, based on the rising rate environment in 2004. Meleis also noted that rates in the past have climbed quickly, as much as 50 basis points in a quarter.
"There are a lot of people right now in bank pricing who have never been through a rising rate environment and they're going to be learning on the fly," he said, later adding: "It's critical that banks are ready, and because it's been flat for so long, we think many banks are not ready."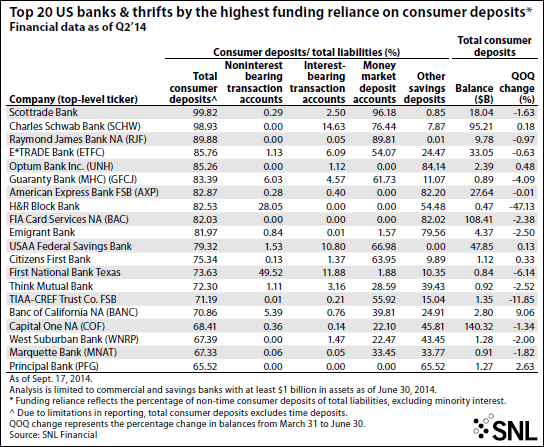 Full SNL Financial Report:
https://www.snl.com/InteractiveX/Article.aspx?cdid=A-29224099-11820
Disclosure: The author has no positions in any stocks mentioned, and no plans to initiate any positions within the next 72 hours.