By Robin Majumdar
SNL Financial Feature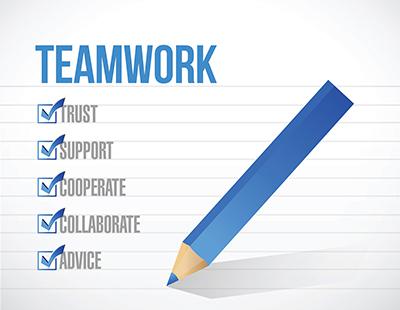 SNL's top-ranked community banks with less than $500 million in assets faced some struggles during the first half of 2014, as profitability declined and loan growth deteriorated for the majority of institutions on SNL's list.
Of the top 100 banks in SNL's 2013 ranking, 47 saw their adjusted Texas ratios improve, and 45 saw deterioration during the first six months of 2014. This was in contrast to SNL's list of top-performing community banks with between $500 million and $5 billion in total assets, where 69 institutions showed an improvement and 30 showed a decline during the same timeframe. One company among the top 100 with less than $500 million in assets, CapStone Bank, was acquired by NewBridge Bancorp in April.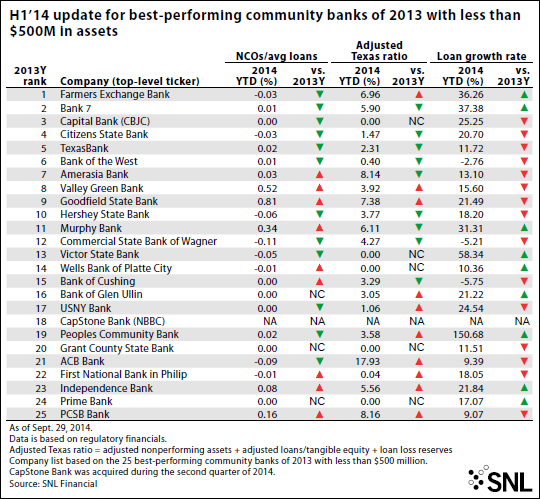 Peoples Bank Midwest had the highest adjusted Texas ratio among the top community banks below $500 million in assets, at 23.18% at June 30. This marked an improvement from year-end 2013, when the bank's adjusted Texas ratio was 27.41%.
The bank also had the highest ratio of nonperforming assets to total assets among SNL's top-ranked banks, at 4.53% at the end of the second quarter. This was significantly lower than the 10.16% Peoples Bank Midwest reported in the second quarter of 2012. NOA Bank had the second-highest ratio of NPAs to total assets, at 1.98% at June 30.
For many of the top-ranked banks, asset quality has continued to strengthen since 2013. The ratio of net charge-offs to average loans improved during the first half of 2014 for 51 of the banks in SNL's ranking.
Meanwhile, many banks on the list contended with the same margin pressures that much of the banking industry is facing. Net interest margins declined for 75 of the community banks ranked in the top 100 during the first half of 2014.
Loan growth, too, proved challenging for some. Only 36 bank banks on SNL's top 100 saw loan growth improve during the first six months of the year. Greenville, Mo.-based Peoples Community Bank saw the highest loan growth at 150.68% through the first half of 2014, but that spike was largely due to a merger. Peoples Community Bank and Peoples Community State Bank had common ownership and merged. This structural change was reflected in Peoples Community Bank's financials, with loan growth climbing to $211.79 million for the second quarter of 2014 from $120.79 million at the end of 2013.
San Juan Capistrano, Calif.-based Capital Bank came in third place in SNL's 2013 ranking of community banks under $500 million, and was the best-performing bank that was publicly traded.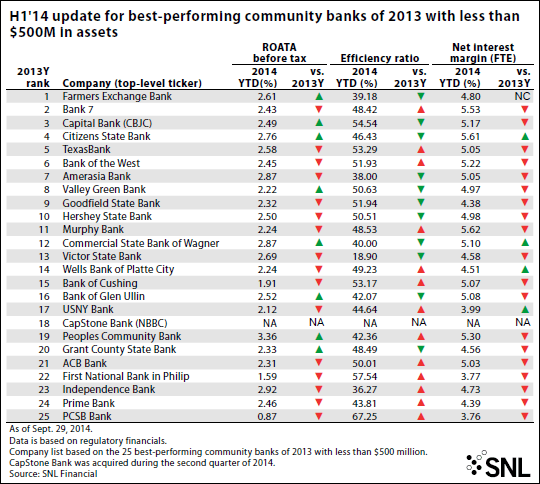 Note: For this ranking, SNL looked at commercial banks with less than $500 million in assets, 60 or fewer offices, and loan portfolios greater than one-third of total assets. Additionally, the banks' loan portfolios had to consist of less than 50% credit card loans, and no more than half of the banks' revenue could be from nontraditional banking activities. Companies with a parent with more than $500 million in assets were also excluded, except for those whose parents grew to more than $500 million in 2013 but have not yet filed on a consolidated basis. Moreover, banks had to be well-capitalized according to regulatory standards. Companies meeting these criteria received scores based on their rank in each of six metrics: pretax return on average tangible assets, net charge-offs as a percent of average loans, efficiency ratio, adjusted Texas ratio, net interest margin and loan growth.

Disclosure: The author has no positions in any stocks mentioned, and no plans to initiate any positions within the next 72 hours.