Marlin Leasing ("MRLN"), Mount Laurel, New Jersey issued its press release regarding its fourth quarter and full year-end 2011 after the closing of the stock exchange. The stock has been rising anticipating a record profit.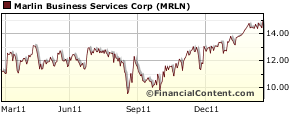 The actual SEC filing has not been recorded as of yet, but the press release indicates new income of $2.06 million for the fourth quarter and $6.1 million for the full year 2011. It really is only a $507,000 profit
over last year, and mostly from the fourth quarter.
There was an increase in net income (in thousands) from $5,668 in 2010 to $6,175 and the fourth quarter definitely contributed to it going from $1,446 in 2010 to $2,060 in 2011. Evergreen clause eases were not noted in the press release or residual income. In the past, the
extra payments, primarily from copier leases, was the company's net
profit from the Evergreen clause requiring the lessee to give the company 90 day notice regarding the residual, and if not, the lease is extended automatically.
The press release notes in liabilities that deposits are now (all in the thousands) $198,579 compared to previous year of $492,919, but at the same time, long term borrowing is down from $178,650 the previous year to $92,004 2011 year-end. It may relate to Marlin Bank and the SEC filing most likely will explain it further. Stockholder equity (in thousands) in 2010 was $160,003 and increased at year end 2011 to $164,101.
The SEC will give a lot more information, but for those interested from the press release, here are other highlights: