By Daniel M. Burkard and Divya Lulla and Zuhaib Gull
(With bank stories from Leasing News)
Regulators closed a total of 18 banks and thrifts in 2014, compared to 24 in 2013 and 51 in 2012.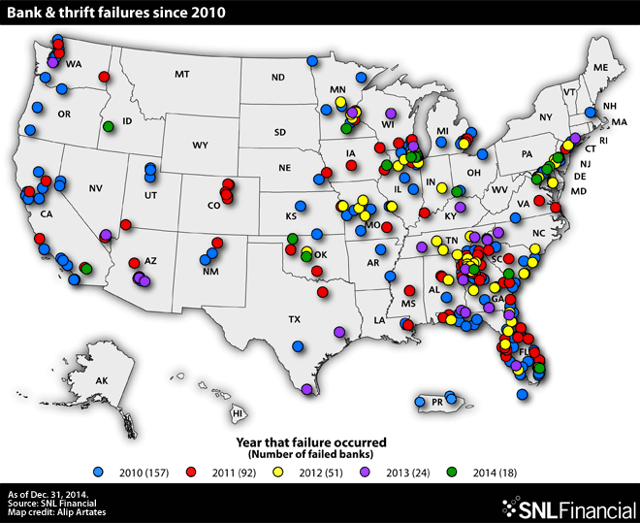 The FDIC relied less on loss-share agreements to complete its failed-bank transactions over the last few years. None of the government-assisted transactions in 2014 included a loss-share agreement, while three of the failures in 2013 included these agreements. In 2012, 20 failures included loss-share agreements.
Failures in 2014 cost the FDIC's deposit insurance fund less than previous years. In 2014, the median cost to the fund at the time of announcement was 14% of the failed banks' assets. This is down from 22% for 2013 and 21% in 2012.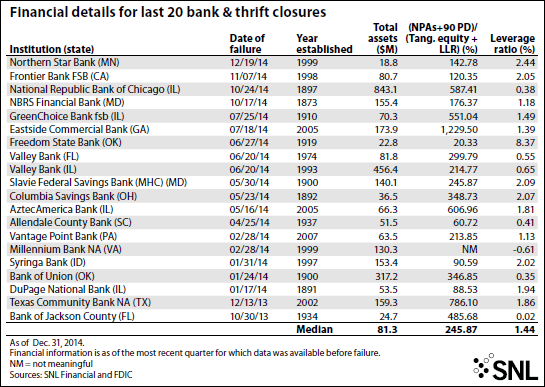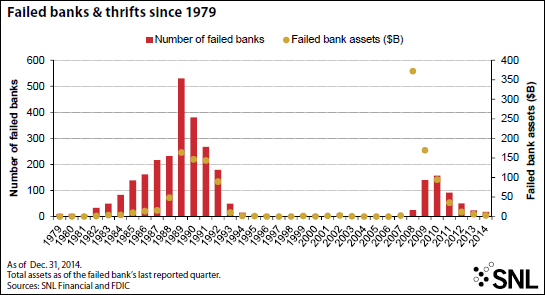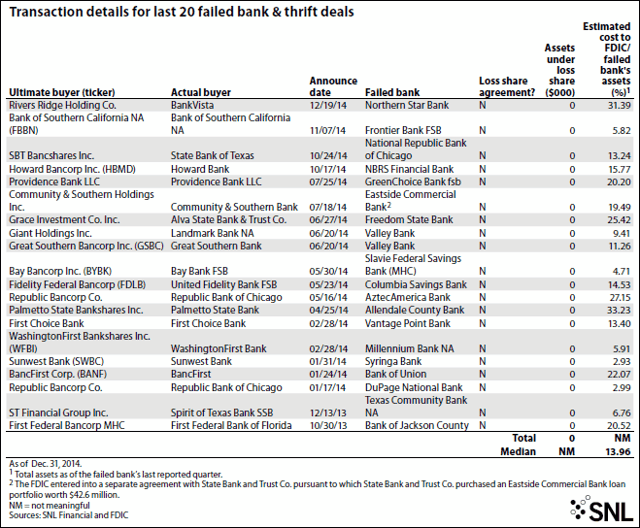 Mankato, Minn.-based Northern Star Bank ($18.8 million) It is another one of the Zombie banks the FDIC has been keeping open, and their trouble started before the recession, over ten years ago.
Northern Star Bank has been under regulatory scrutiny for years due to a large amount of troubled loans, operating losses, and inadequate capital. The internet shows criticism of Northern Star Bank President Tom Stienessen, particularly the banks issuance of subprime mortgages. It is stated, Mr. Stienessen replied the bank did not participate in sub-prime loans, yet the high non-current loans for a small bank were substantial, especially starting in 2007.
Non-Current Loans
2004 $89,000
2005 $420,000
2006 $92,000
2007 $959,000
2008 $2.5
2009 $2.5
2010 $763,000
2011 $928,000
2012 $38,000
2013 $109,000
9/30 $337,000
Northern Star Bank Report by Leasing News
http://leasingnews.org/archives/Dec2014/12_22.htm#bank_beat
Palm Desert, Calif.-based Frontier Bank FSB ($80.7 million)
Regulators closed a small lender in California on Friday, marking the 17th U.S. bank failure this year after 24 closures in 2013.
U.S. bank failures have been declining since they peaked in 2010 in the wake of the financial crisis and the Great Recession.
Only three banks went under in 2007. That jumped to 25 in 2008, after the financial meltdown, and ballooned to 140 in 2009.
In 2010, regulators seized 157 banks, the most in any year since the savings and loan crisis two decades ago. The FDIC has said 2010 likely was the high-water mark for bank failures from the recession. They declined to 92 in 2011 and fell to 51 in 2012.
In a strong economy, about four or five banks close annually.
Frontier Bank Report by Leasing News
http://leasingnews.org/archives/Nov2014/11_12.htm#frontier
Chicago-based GreenChoice Bank fsb ($70.3 million)
GreenChoice Bank was the third Illinois institution to fail this year after regulators shuttered Moline-based Valley Bank on June 20. Established in 1910, GreenChoice Bank operated three branches, all in Illinois. The savings bank failed to post a profit in any quarter since the end of 2008 and had a Texas ratio of 551.04% on June 30. South Holland, Ill.-based Providence assumed the bank's deposits, which stood at $68.7 million at the end of the second quarter. Providence Bank also purchased $67.7 million of GreenChoice Bank's assets. The FDIC retained the remaining assets for later disposition.
Leasing News on Chicago-based GreenChoice Ban: (http://leasingnews.org/archives/Jul2014/7_28.htm#bank_beatk fsb)
Conyers, Ga.-based Eastside Commercial Bank ($173.9 million)
Eastside Commercial Bank was the first Georgia bank to fail since regulators shuttered Valdosta, Ga.-based Sunrise Bank on May 10, 2013. Established in 2005, Eastside Commercial Bank operated two branches, both in Georgia. The institution posted a profit in only two quarters since the start of 2010. Atlanta-based Community & Southern Bank assumed all of Eastside's deposits, which stood at $166.9 million at June 30. The Community & Southern Holdings Inc. unit also entered into an agreementwith the FDIC to buy $104.7 million of Eastside's assets. In a separate deal, the FDIC agreed to sell $42.6 million of the failed bank's loans to Macon, Ga.-based State Bank and Trust Co., a subsidiary of State Bank Financial Corp. The regulator has retained the remaining assets for later disposition.
Leasing News on Conyers, Ga. based Eastside Commercial Bank (http://leasingnews.org/archives/Jul2014/7_21.htm#bank_beat)
Freedom State Bank ($22.8 million)
Freedom State Bank's closure marked the second failure in Oklahoma this year after Bank of Union was shuttered Jan. 24. Established in 1919, Freedom State Bank operated a single branch in Oklahoma before it was shut down. The FDIC had issued a prompt corrective action directive to the bank May 2.
Leasing News article on Freedom State Bank Closing:
(http://leasingnews.org/archives/Jul2014/7_01.htm#bank_beat)
Moline, Ill.-based Valley Bank ($456.4 million
Valley Bank, one of the River Valley Bancorp subsidiaries to fail June 20, operated 13 branches in Illinois before its closure. The bank's nonperforming loans ratio stood just shy of 24% at March 31, and the institution posted $51.3 million in total losses from 2010 through March 31. Valley Bank was also operating under a cease and desist order from Jan. 15.
Leasing News article on Valley Bank Closing:
(http://leasingnews.org/archives/Jun2014/6_23.htm#bank_beating)
Fort Lauderdale, Fla.-based Valley Bank ($81.8 million)
Established in 1974, Valley Bank operated four branches in Florida before its closure June 20. This was the first Florida failure since Graceville, Fla.-based Bank of Jackson County closed Oct. 30, 2013. Valley Bank was operating under a cease and desist order dated Dec. 18, 2013, and had lost $17.9 million from 2009 through March 31. The Seminole Tribe of Florida had expressed an interest in acquiring Valley Bank but withdrewits application June 4.
Leasing News article on Valley Bank Closing:
(http://leasingnews.org/archives/Jun2014/6_23.htm#bank_beating)
Bel Air, Md.-based Slavie Federal Savings Bank (MHC) ($140.1 million)
Founded as a community bank in 1900, Slavie Federal Savings Bank (MHC) marks the ninth bank failure in Maryland since 1998. This was the first failure in the state since regulators closed HarVest Bank of Maryland on April 27, 2012. Prior to its closure, the OCC issued a cease and desist order to Slavie on Jan. 7. The institution had struggled to improve its capital position as its Tier 1 risk-based ratio fell to 3.83% in the first quarter from 11.92% two years prior. Furthermore, the bank failed to earn a profit in the last 11 quarters, incurring an aggregate net loss of $16.4 million over that period.
Leasing News article on Slavie Federal Savings Bank Closing:
(http://leasingnews.org/archives/Jun2014/6_02.htm#bank_beat)
Cincinnati-based Columbia Savings Bank ($36.5 million)
Established in 1892, Columbia Savings Bank operated out of a single branch in Cincinnati. The failure marks the first in Ohio after regulators closed Milford-based Bramble Savings Bank in 2010. The FDIC issued a prompt corrective action directive to Columbia Savings Bank on March 13, ordering it to either increase its capital levels or accept an offer to be acquired by another bank. Prior to its failure, the institution had incurred a net loss in 22 of its last 24 quarters. The aggregate loss for those quarters totaled $5.36 million.
Leasing News article on Columbia Savings Bank Closing:
(http://leasingnews.org/archives/May2014/5_27.htm#bank_beat)
Berwyn, Ill.-based AztecAmerica Bank ($66.3 million)
The bank was established in 2005, focusing on the Hispanic community in Chicago, according to Crain's Chicago Business. In an SNL analysis, AztecAmerica was ranked fifth in the list of banks and thrifts with the highest adjusted Texas in the first quarter. The bank had incurred net losses for 22 of the last 25 quarters for an aggregate loss of $13.8 million.
AztecAmerica Bank Report by Leasing News:
(http://leasingnews.org/archives/May2014/5_19.htm#bank_beat)
Fairfax, S.C.-based Allendale County Bank ($51.5 million)
The bank was established in 1937 and operated five branches in South Carolina. This represents the first bank failure in South Carolina since Carolina Federal Savings Bank in June 2012. The FDIC had issued a cease and desist order to Allendale County Bank in July 2013. At the end of 2013, about 56% of the company's loan portfolio consisted of consumer loans. Due to a substantial rise in its loan loss provision, the bank incurred a net loss of $3.1 million in the quarter ended Dec. 31, 2013.
Allendale County Bank report by Leasing News
(http://leasingnews.org/archives/Apr2014/4_28.htm#bank_beat)
Sterling, Va.-based Millennium Bank NA ($130.3 million)
Established in 1999, the bank had two branches in northern Virginia. It was the first failure in Virginia since Bank of the Commonwealth in September 2011. The bank had incurred net losses for 23 consecutive quarters for an aggregate loss of $52.1 million. Millennium topped the list of banks having the highest adjusted Texas ratio for the quarter ended Sept. 30, 2013, according to an analysis conducted by SNL.
Millennium Bank report by Leasing News:
(http://leasingnews.org/archives/Mar2014/3_03.htm#bank_beat)
Horsham, Pa.-based Vantage Point Bank ($63.5 million)
The bank was formed in 2007 and operated one branch in the Philadelphia-Camden-Wilmington, PA-NJ-DE-MD MSA. This marks the first failure in Pennsylvania since Nova Bank in October 2012. The FDIC had issued a consent order to Vantage Point on Dec. 9, 2013. The bank had also recently experienced turnover in senior management.
Vantage Bank report by Leasing News:
(http://leasingnews.org/archives/Mar2014/3_03.htm#bank_beat)
Boise, Idaho-based Syringa Bank ($153.4 million)
Established in 1997, the bank had six branches in Idaho, five of which were in the Boise City-Nampa MSA. This was the first bank failure in Idaho since April 2009. Syringa Bank's parent, Syringa Bancorp, had received TARP funds in January 2009. Syringa Bank had incurred net losses for 19 consecutive quarters for an aggregate loss of $40.0 million. Total loans and leases were $119.8 million at year-end 2013, down from $260.2 million five years earlier.
Syringa Bank Report by Leasing News:
(http://leasingnews.org/archives/Feb2014/2_03.htm#abnk_beat)
El Reno, Okla.-based Bank of Union ($317.2 million)
Established in 1900, Bank of Union had two branches in central Oklahoma. This was the first bank failure in Oklahoma since First Capital Bank in June 2012. The FDIC issued Bank of Union a consent order in June 2013. More than half of the bank's loan portfolio was nonperforming as of Sept. 30, 2013.
Bank of Union report by Leasing News:
(http://leasingnews.org/archives/Jan2014/1_27.htm#bank_beat)
West Chicago, Ill.-based DuPage National Bank ($53.5 million)
The bank was established in 1891 and operated three branches in the Chicago MSA. DuPage National was the first bank failure in Illinois since Covenant Bank in February 2013. The bank had incurred net losses for 25 consecutive quarters for an aggregate loss of $17.7 million. As of Sept. 30, 2013, 17.41% of its gross loans were past due or nonaccrual.
DuPage Bank Report by Leasing News:
(http://leasingnews.org/archives/Jan2014/1_27.htm#bank_beat)

FDIC List of Bank Failures:
http://www.fdic.gov/bank/individual/failed/banklist.html
Leasing News Bank Beat:
http://www.leasingnews.org/Conscious-Top%20Stories/Bank_Beat.htm