SNL Financial Feature
By Maria Tor and Mohsin Azam and Zuhaib Gull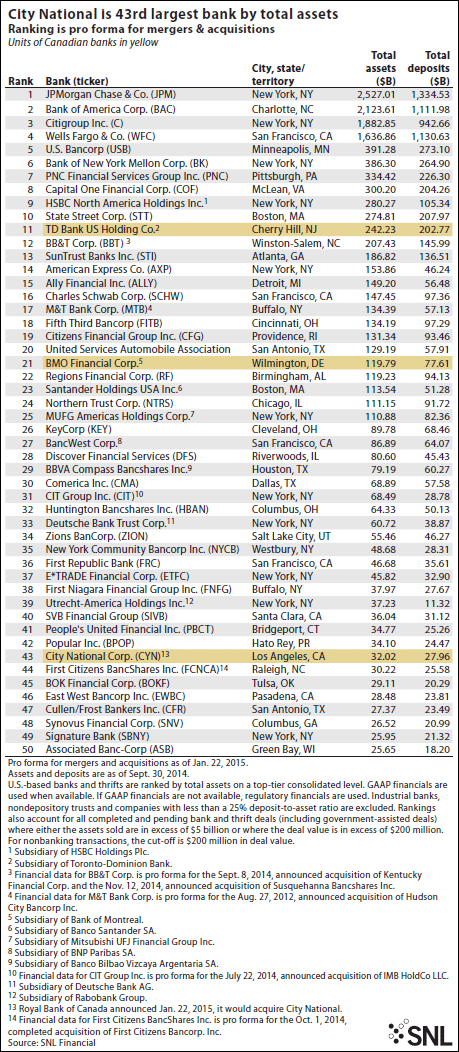 Through City National, Royal Bank of Canada would return to the top 50 ranking of U.S. bank and thrifts. City National ranks 43rd in the list based off assets reported for Sept. 30, 2014. In 2011, Royal Bank of Canada through RBC Bank (NYSE:USA) was ranked the 39th-largest bank in the U.S.
Royal Bank of Canada's $5.30 billion agreement to acquire Los Angeles-based City National Corp. ranks as the most expensive large U.S. bank deal announced since the financial crisis of 2007 and 2008, based on price-to-tangible book ratio.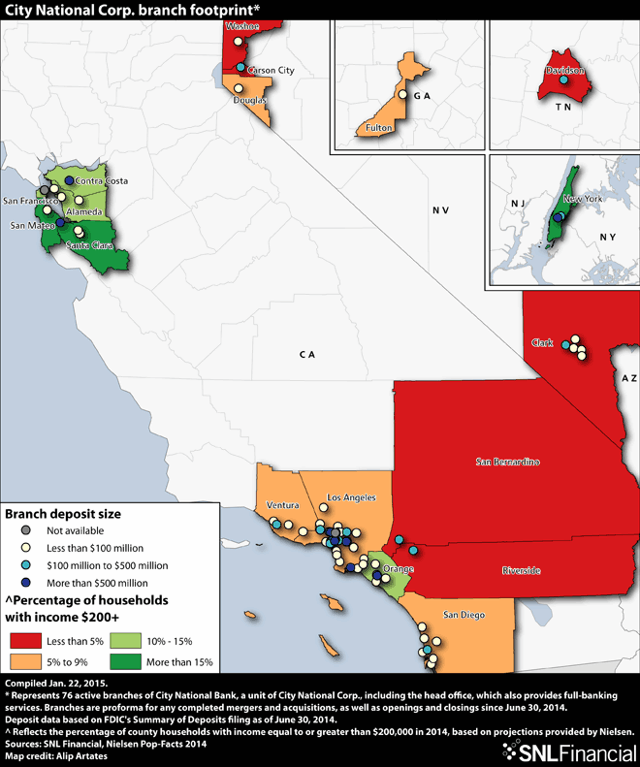 SNL Financial values the acquisition price at 262.13% of tangible book value per share. Among U.S. bank deals with a deal value greater than $1 billion, City National's sale to RBC ranks as the most expensive at announcement since another Canadian bank, Toronto-Dominion Bank, acquired Cherry Hill, N.J.-based Commerce Bancorp Inc. for 306.6% of tangible book value per share as announced in 2007. In this analysis, all deal metrics are based on the values when the transaction was announced.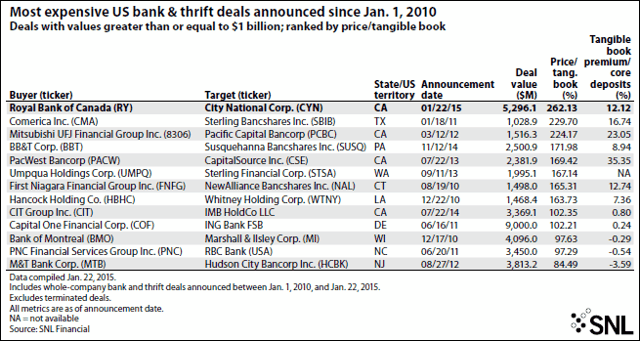 Prior to the Toronto-Dominion Bank acquisition, the next most recent deal to be priced higher than 300% of tangible book value was Royal Bank of Canada's own acquisition of Birmingham, Ala.-based Alabama National BanCorp. In a deal announced in September 2007, right before the first wave of bank failures began, Royal Bank paid a hefty $1.67 billion, or 302.3% of tangible book value per share, for the Southeastern lender, merging it with its RBC Centura bank unit. The deal closed in 2008, and just three years later in 2011, Royal Bank of Canada sold its retail U.S. banking operations for just 97.3% of tangible book value, or $3.45 billion, and took a goodwill write-down of C$1.3 billion on the venture. Pittsburgh-based PNC Financial Services Group Inc. acquired the operations, then known as RBC Bank (USA).

At the time of the sale of RBC Bank (USA), then-CEO Gordon Nixon said the bank would refocus its U.S. strategy on wealth management and capital markets. David McKay took over as CEO in August 2014 after Nixon announced in December 2013 he would be retiring.
City National's acquisition not only points to RBC's return to the U.S. markets but also highlights the capture of a sizeable wealth management business across the border. The company reported $60.80 billion in clients' assets as of Dec. 31, 2014, representing growth of a little north of 10% for the last five years. It also has $28.11 billion in deposits spread across 76 branches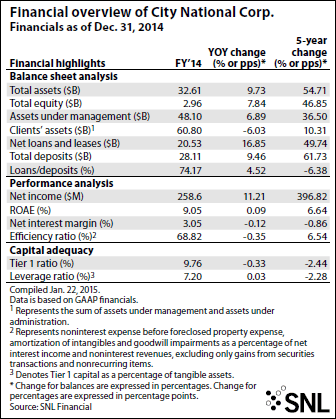 The deal is one of the largest U.S. bank transactions in recent years. The only largest deal seen since 2010 was Capital One Financial Corp.'s $9.00 billion acquisition of ING Bank FSB from Amsterdam-based ING Group NV. That deal was, however, priced at just 102.21% of tangible book value.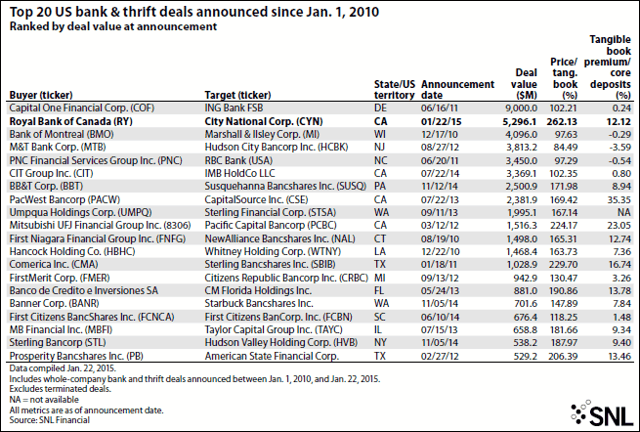 Disclosure: The author has no positions in any stocks mentioned, and no plans to initiate any positions within the next 72 hours.