SNL Financial Feature
by Kellsy Panno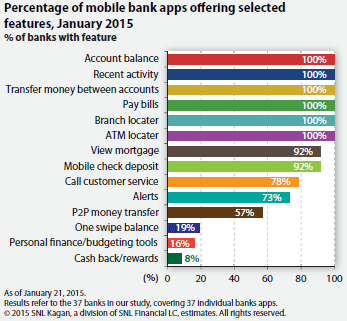 The features that set the high-ranking banks apart typically pertained to personal finance, the ability to quickly look at balances, or cash back/rewards programs.
Our data shows that banks have converged on six prominent mobile app features, which were present in 100% of the bank apps we studied: viewing account balance, viewing recent activity, transferring money between accounts, paying bills, and locating a branch or ATM.
Other features offered within a majority of bank apps include: mortgage account info (92%), mobile check deposit (92%), customer service contact (78%), and mobile alerts (73%). Mobile alerts are personalized notifications users set up to inform them of account activity such as a low balances, direct deposits or bill payments that are due.
Mobile check deposit has proven to be a popular feature among users. According to Bruce Thompson, CFO of Bank of America Corp., 12% of the bank's deposit transactions occurred via a mobile device during the fourth quarter of 2014, demonstrating the degree to which consumers have embraced mobile bank app features.
Less common bank app features include person-to-person money transfers (57%), non-authenticated or one-swipe account balances (19%), personal finance or budgeting tools (16%), and cash back or rewards programs (8%).
Personal finance and budget tools are scarce among the current crop of mobile apps with just 16% of the top 37 including the feature. But this feature may become more widely integrated into bank apps moving forward, as popular third-party budgeting apps such as Level and Mint demonstrate consumer interest in tracking personal finance on a mobile device.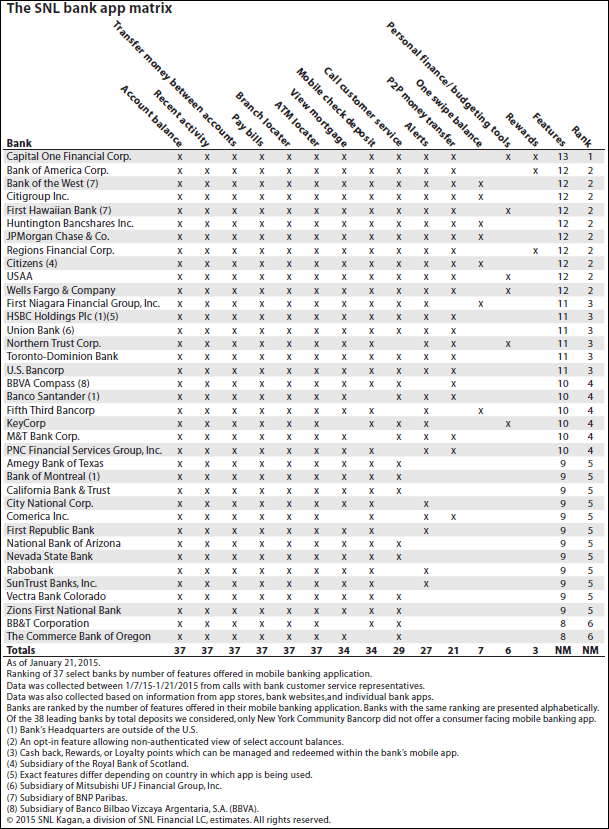 Mobile banking apps have become common among leading financial institutions, but the apps themselves are not all the same. To compare the breadth of service offered by the largest banks' apps, SNL Kagan looked at the features available on each banking app and found that Capital One Financial Corp. offers the highest number of features, with 13, narrowly outranking 10 banks that tied for runner-up with 12 features apiece.
Our bank app matrix covers the 30 largest banks by deposits operating in the U.S. as of Jan. 7, 2015. For holding companies on the list that do business in the U.S. through multiple subsidiary banks, we looked at the subsidiary bank apps. These banks include: BNP Paribas, which owns Bank of the West and First Hawaiian Bank; and Zions Bancorp., which operates eight banking subsidiaries throughout the U.S.
We excluded from our study banks that do not have a mobile banking app (New York Community Bancorp Inc. and Zions Bancorp unit Commerce Bank of Washington NA), and included USAA due to its large network, which reached 10 million members in 2013. These adjustments brought the number of banks in our study to 37.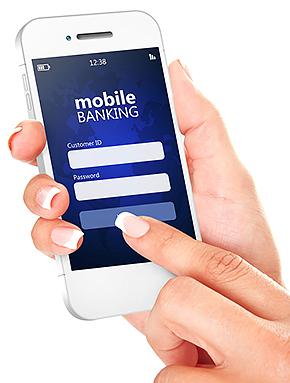 On Jan. 12, Capital One acquired Level Money, a budgeting and money management application with a user base of 700,000 at the time of the deal. And budgeting app Mint had 1.5 million users at the time of its sale to Intuit back in November 2009.
Cash back and rewards programs have proven to be a hit with consumers, inducing many to adopt apps such as Shopkick or the Starbucks mobile app. This feature, while popular among Smartphone shoppers, is rare among mobile banking apps, but could prove to be popular with users if it were more widely available.
Currently, the cash back and rewards feature was the least offered feature among our group. Only three of the banks in our study offer a cash back/rewards feature: Capital One, Bank of America and Regions Financial Corp. Capital One's app allows users to redeem cash back points earned with credit card purchases in the form of gift cards, account credit or a check. Bank of America Corp. similarly allows app users to view, manage and redeem "BankAmeriDeals," which are cash back deals that users earn through shopping at particular retail locations using their Bank of America credit or debit cards.
Banks are still in the discovery process of learning what type of functions and information their users value in a mobile bank app, but features tend to spread quickly across apps when they prove popular. For instance, mobile check deposit was a novelty when it first appeared in 2010, but is now available from 92% of the banks in our sample.

Disclosure: The author has no positions in any stocks mentioned, and no plans to initiate any positions within the next 72 hours.