Special SNL Financial Report
By Zuhaib Gull

Asset growth; Citigroup Inc.'s ongoing restructuring; and the return of an old competitor, Royal Bank of Canada, from the north made a splash in SNL's fourth-quarter 2014 pro forma top 50 U.S. bank and thrift rankings.
The "Big Four" - JPMorgan Chase & Co., Bank of America Corp., Citigroup and Wells Fargo & Co. - maintained their positions quarter over quarter, but Wells Fargo closed some of its gap with Citigroup. Wells Fargo's total assets grew by 3.07%, or $50.30 billion, while Citigroup's assets fell 2.66%, or $50.04 billion.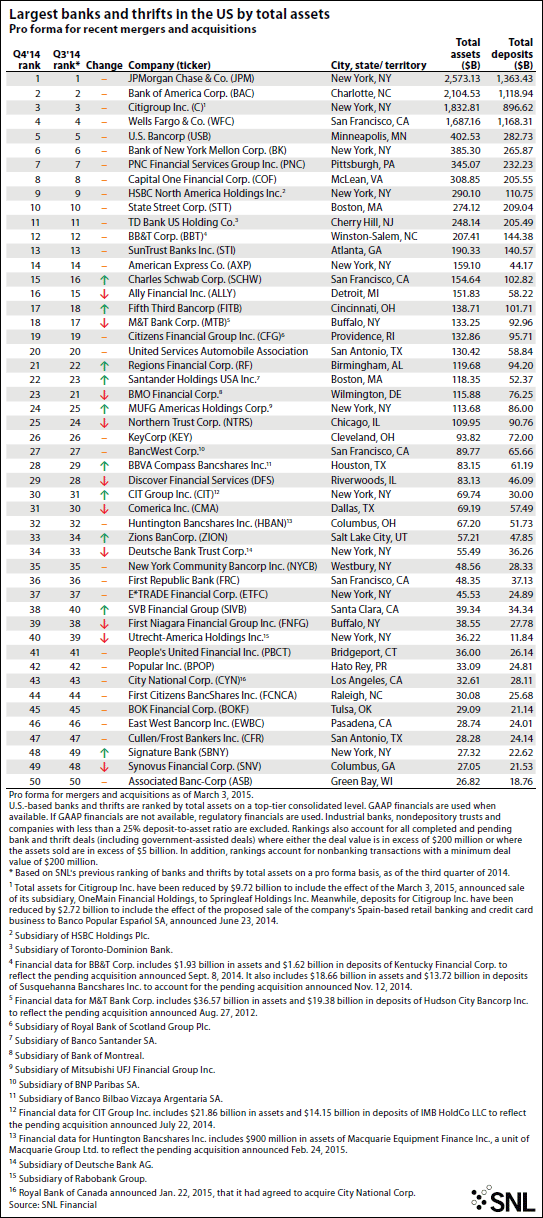 Further down the list, SVB Financial Group moved up two spots to No. 38, buoyed by 9.17% quarter-over-quarter growth in assets. Gross loans, inclusive of held for sale loans, at the company jumped 16.46% to $14.38 billion in the fourth quarter, thanks in large part to higher-than-usual utilization of existing capital call facilities by private equity clients.
Signature Bank also enjoyed significant asset growth, 5.27% quarter over quarter, which helped it leapfrog Synovus Financial Corp. and take the No. 48 spot. The bank boosted its gross loans, inclusive of held for sale loans, by 9.24% to $18.41 billion as of Dec. 31, 2014, helped by an upswing in commercial real estate, multifamily loans and specialty finance.
Pro forma adjustments
In compiling rankings, SNL calculated pro forma assets for companies with pending M&A deals or deals that have closed since Dec. 31, 2014. To be used in calculating adjusted assets, the deal must be worth at least $200 million or involve assets in excess of $5 billion. Multiple companies in the top 50 ranking have pending deals that qualified for adjustments.
Citigroup continued its divestment drive in the fourth quarter of 2014 and in early 2015. Over the last six years, the company has reduced the size of Citi Holdings, home to the bank's "non-core assets," by more than $500 billion. According to a transcript of the company's March 2 presentation at the Raymond James Institutional Investors Conference, CFO John Gerspach said a further $30 billion in non-core assets was moved from Citicorp to Citi Holdings and would be mostly exited by the end of 2015.
On March 3, Citi announced that it was selling OneMain Financial Holdings to Springleaf Holdings Inc. for $4.25 billion in cash. This sale will remove almost $10 billion in assets from Citigroup's balance sheet.
Furthermore, Citi's deposits were adjusted down by slightly less than $3 billion due to the pending sale of its retail banking and credit card business in Spain to Banco Popular Español SA, which was announced June 2014.
On Jan. 22, Royal Bank of Canada announced that it would acquire No. 43 City National Corp. in a deal that is considered the most expensive U.S. bank transaction by price-to-tangible book ratio since the financial crisis. The deal puts Royal Bank of Canada back among the top 50 for the first time since 2011, before the company sold RBC Bank (NYSE:USA) to PNC Financial Services Group Inc.
Huntington Bancshares Inc.'s pending acquisition of Macquarie Equipment Finance Inc., a unit of Macquarie Group Ltd., announced Feb. 24, boosted the buyer's assets to $67.20 billion, from $66.30 billion reported for Dec. 31, 2014. Huntington maintained the No. 32 spot in the fourth quarter.
BB&T Corp.'s $367.4 million deal for Crestview Hills, Ky.-based Bank of Kentucky Financial Corp. and $2.50 billion deal for Susquehanna Bancshares Inc. could push its assets up by $20.59 billion to $207.41 billion, based on pro forma adjustments by SNL. Bank of Kentucky Financial's 32 branches, mainly in the Greater Cincinnati area, would introduce BB&T Corp. to a new market. Meanwhile, the acquisition of Susquehanna Bancshares would add 252 branches split between Pennsylvania, Maryland, New Jersey and West Virginia. The company maintained its No. 12 spot from the third quarter.
SNL adjusted the assets of M&T Bank Corp. to depict the long-delayed acquisition of Hudson City Bancorp Inc., which was originally announced in August 2012 and is still pending. The deal would see M&T add Hudson City's $36.57 billion in assets as of Dec. 31, 2014, pushing the company's pro forma assets to $133.25 billion. M&T Bank Corp. fell to the No. 18 spot from No. 17 in the third quarter.
Meanwhile, CIT Group Inc.'s pending acquisition of IMB HoldCo LLC, announced July 22, pushed the buyer's pro forma assets up to $69.74 billion from the $47.88 billion reported for Dec. 31, 2014. The company moved up to the No. 30 spot from No. 31 in the prior quarter.
Notable exceptions
Some noteworthy deals were not considered in this analysis as they either did not meet the aforementioned criteria or did not disclose sufficient financial information to make pro forma adjustments. Citigroup announced in late December that it would sell the retail banking operations of Tokyo-based Citibank Japan Ltd. to Sumitomo Mitsui Banking Corp. in a transaction that involves the transfer of more than $20 billion in deposits. Also, in early September, Citi announced that it would sell 41 Texas branches to BB&T. Both deals did not meet our criteria for pro forma adjustments.
Late in the afternoon Feb. 27, the FDIC announced that it had entered into a purchase and assumption agreement with Banco Popular de Puerto Rico, a subsidiary of Popular Inc., to acquire the banking operations and all deposits of the failed Doral Bank. Banco Popular de Puerto Rico will operate eight of the failed bank's 26 branches and assumed $1.0 billion in deposits and $848 billion in Puerto Rico-based performing residential and commercial loans. The company entered into three separate agreements with two other banks and its fellow Popular subsidiary, Banco Popular North America, who served as alliance co-bidders in the failed-bank transaction.
FirstBank Puerto Rico, a unit of First BanCorp., will operate Doral's other 10 branches in Puerto Rico and assumed $600 million in deposits and a $300 million mortgage portfolio. Home BancShares Inc.'s unit, Centennial Bank, will operate Doral's five branches in the Florida Panhandle and assumed $466 million in deposits, $42.2 million in loans before discounts and a "significant cash settlement to balance the transaction," according to a press release from the parent company. Lastly, Banco Popular North America will operate all three of Doral's New York City locations and assumed $1.3 billion in deposits and acquired $931 million in performing commercial loans primarily in the New York City metro area.
Popular Inc.'s assets and deposits were not adjusted since the deal did not meet the minimum criteria for adjustment. Doral, First BanCorp. and Home BancShares Inc. were not large enough to be ranked in the top 50 list.
Methodology
SNL ranks the largest banks and thrifts operating in the U.S. with a deposits-to-assets ratio of at least 25% for each relevant quarter. Some financial institutions that are regulated as bank holding companies, such as Goldman Sachs Group Inc. and Morgan Stanley, did not meet this criteria and thus were excluded from the analysis.
In addition, industrial banks, such as UBS Bank USA, were not considered in this analysis.

Disclosure: The author has no positions in any stocks mentioned, and no plans to initiate any positions within the next 72 hours.