SNL Financial Feature
by Maria Tor
The banks bringing in the highest amounts of ATM fees in the first quarter were Wells Fargo Bank NA, with $90.0 million; Bank of America NA, with in $87.0 million; and JPMorgan Chase Bank NA, with $56.0 million.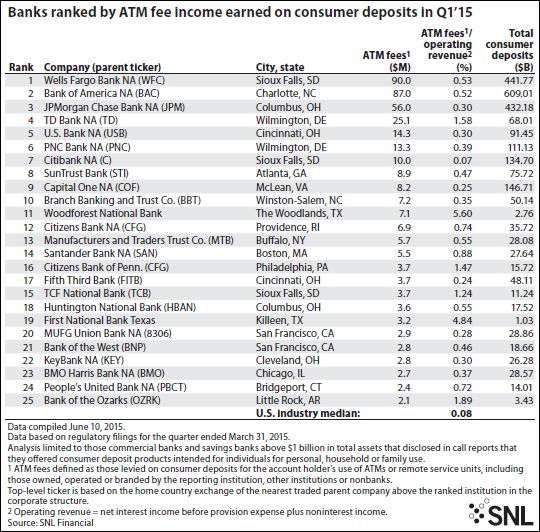 The two banks most reliant on ATM fees as a portion of operating revenue are two Texas banks: Temple-based Extraco Banks NA and The Woodlands-based Woodforest National Bank.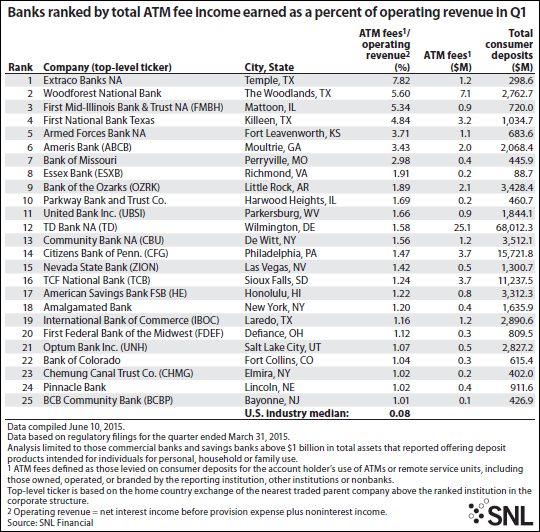 The public gained more insight into banks' reliance on ATM fees this year, as institutions began reporting the total amount of fees levied on customers for their use of ATMs.
The new data shows that banks get far less income from ATM fees than they do from overdraft fees. In the first quarter, SNL calculated that banks with more than $1 billion in assets that reported offering consumer deposits raked in $2.51 billion in overdraft fees on consumer deposits, while they reported just $973.6 million in monthly maintenance fees on consumer deposits and $437.7 million in ATM fees on consumer deposits. On a median basis, the banks' ATM fees make up just 0.08% of operating revenue, with operating revenue defined as net interest income before provision expense plus noninterest income.
The new ATM fee line item is one of three new types of consumer deposit service charges reported by banks in first-quarter call reports filed with banking regulators. Phase one of the new rules was implemented a year ago, when banks above $1 billion in assets began reporting whether they offered consumer deposit products, which are defined as deposits intended for individuals for personal, household, or family use. Commercial banks and savings banks above $1 billion who answered "Yes" to whether they offered consumer deposits also had to disclose the dollar amount outstanding of transaction and non-transaction consumer deposits at the end of each reporting period. Banks exclude CDs from the breakouts.
In the second phase, which began with call reports filed for the period ending March 31, 2015, banks had to report their income from three specific types of service charges levied on deposits classified as consumer: overdraft-related service charges, periodic maintenance charges (often labeled "monthly maintenance charges," according to the call report instructions) and ATM fees. Service charges that don't fit in any of these categories are reported as "other" and lumped in with service charges on non-consumer deposits.