SNL Financial Special Report
by Kevin Dobbs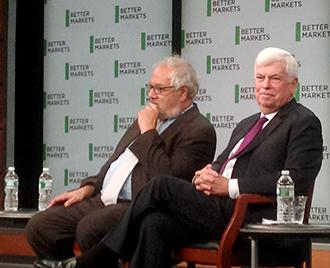 Barney Frank and Chris Dodd, co-sponsors of the Dodd-Frank Act
Compliance costs have surged for many banks in the wake of the 2010 Dodd-Frank Act, and relations with regulators have deteriorated in many cases, an SNL Financial survey of bankers and other industry professionals found.
At its inception, lawmakers billed Dodd-Frank as a way to curb excessive risk-taking on Wall Street. But as the law hits its fifth anniversary July 21, smaller community banks in particular say the law has instead become a burden on Main Street lenders, with mounds of new regulatory requirements driving up costs and making it increasingly difficult to focus precious resources on bread-and-butter lending and deposit gathering.
In SNL's online survey of 616 readers - conducted between July 2 and July 17 - 35% of respondents said compliance costs have increased 30% or more over the past five years. Another 27% said such costs have climbed 20% to 30%.
An employee at a $500 million bank wrote in response to the survey that, seven years ago, the bank had one full-time staffer handling compliance work. Today, it has a department with six full-time employees "who work tirelessly to ensure compliance with all rules and guidelines," the respondent said, later adding that, "Smaller banks simply do not have the resources to ensure compliance," and that Dodd-Frank "is killing community banks."
One executive at a bank with less than $1 billion in assets who responded to the survey recently got back into traditional banking after a decade long hiatus from 2002 to 2012. "Clearly the cost in dollars, resources and time of regulatory compliance has been the greatest change in banking in that time," the executive wrote in response to the survey. "I have taken more courses, endured more paperwork and spent more meeting time related to new regulations and greater scrutiny than I even imagined."
Respondents were allowed to share their opinions anonymously so that they could address regulatory issues candidly. Some 43% of the responses to the survey came from bank executives; another 40% were from bank employees. About 6% came from regulators, with the remainder coming from others in the industry, including analysts and consultants.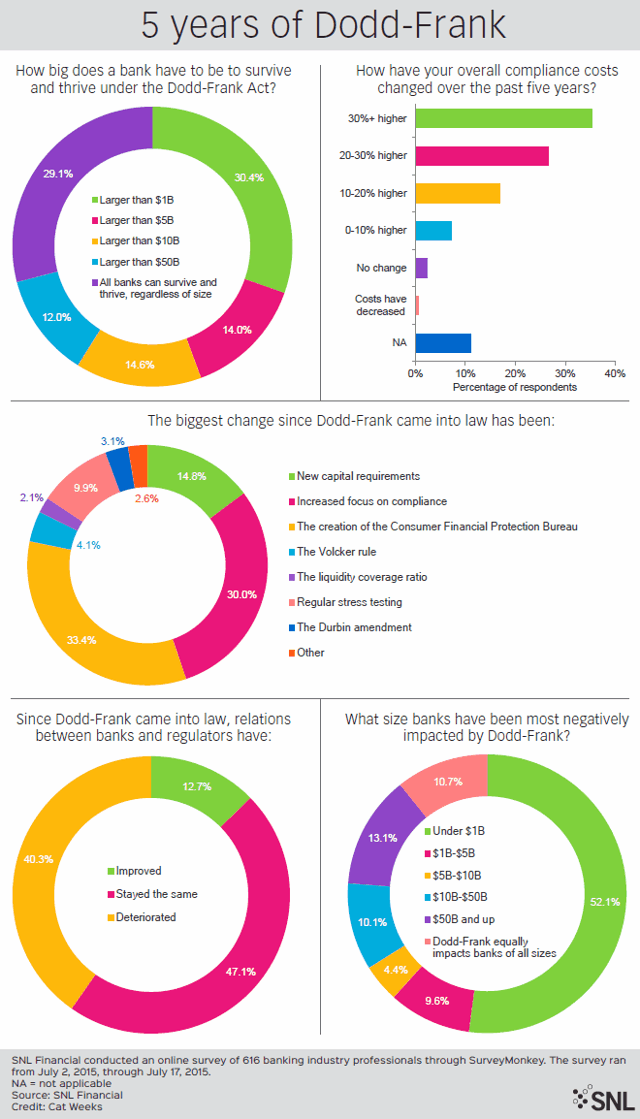 Among responses from bankers, 39% said they worked at a bank with fewer than $1 billion in assets; another 20% came from banks with between $1 billion and $5 billion. Roughly 6% came from banks between $5 billion and $10 billion, 7% from banks $10 billion to $50 billion, and nearly 14% from banks with $50 billion or more. The remainder came from respondents who were not working at banks or who did not indicate their asset size. Responses came from every region of the country.
Against the backdrop of elevated compliance challenges, some 40% of survey respondents said banks' relations with regulators have deteriorated since the Dodd-Frank Act became law, while only 13% said they had improved and 47% said they had remained steady.
"On the part of the field examining staff the attitude has become belligerent, accusatory and negative. And the administration level is worse," one executive at a bank with less than $1 billion in assets said in response to the survey. "There is no understanding or cooperation whatsoever."
Said a regulator who took the survey: "Bankers are now more agitated with regulators and much more combative than what I remember in my 15 years as a regulator."
Many of those surveyed said that, while relations had worsened following the financial crisis and the ensuing Dodd-Frank Act, interactions have in recent years started to level off. "Relations with regulators, after initially deteriorating substantially, are beginning to normalize again," said an employee at a bank with between $5 billion and $10 billion in assets.
The survey found that 33% think the creation of the Consumer Financial Protection Bureau - an addition of a new regulator to the compliance framework - was the biggest change since Dodd-Frank became law. Another 30% said increased focus on compliance, generally, marked the most notable change.
In response to the survey, one executive at a bank with less than $1 billion in assets called Dodd-Frank "bloated." This banker said the law "amounts to nothing less than a government takeover of consumer lending while passing exorbitant costs along to the banks which in turn pass the costs along to clients. Nothing has been protected, and much has been destroyed. It is purely an example of egregious government overreach."
Bankers were not alone in their criticism of the law. One regulator said Dodd-Frank did not end too big to fail and did not punish those who caused the financial crisis. "Case in point, many of those prominent executives are back/or are getting back into the game again building for the next mortgage boom," the respondent wrote. Another regulator noted that giving banks feedback on Dodd-Frank Act stress tests "has been difficult as there are no 'hard and fast' rules completely established."
A majority of those surveyed - 52% - believe that banks under $1 billion in assets were most negatively impacted by the Dodd-Frank Act.
Respondents noted that while size is generally important, as it is easier to spread out compliance costs over larger asset bases, some banks in notably strong markets or companies with uniquely successful niches can generate robust results. But a majority thinks the smallest banks will continue to struggle with regulatory hardship.
"Most banks can survive, but not necessarily thrive," an executive at a bank with fewer than $1 billion in assets wrote in response to the survey. "The cost of compliance for small community banks under $500 million is horrendous!"
Another executive at a sub-$1 billion bank wrote that banks may need to be larger than $10 billion in assets. "As if economies of scale were not already in favor of the mega-banks, Dodd-Frank essentially sealed that paradigm, despite the fact that the problems that Dodd-Frank was attempting to address were caused primarily by the mega-banks," this executive concluded.

Disclosure: I/we have no positions in any stocks mentioned, and no plans to initiate any positions within the next 72 hours.