SNL Finance Special Report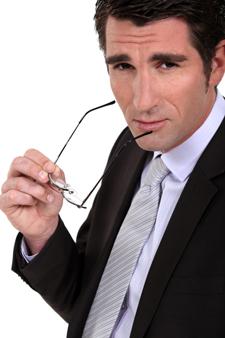 The number of new severe enforcement actions handed out by federal banking regulators year-to-date in 2015 remains well behind 2014's total. As of Aug. 11, 38 severe enforcement actions have been filed against banks and thrifts so far this year, with just 14 issued in the second quarter, five in July and one in August. In contrast, 53 enforcement actions were issued in the second half of 2014, including 30 in the fourth quarter alone.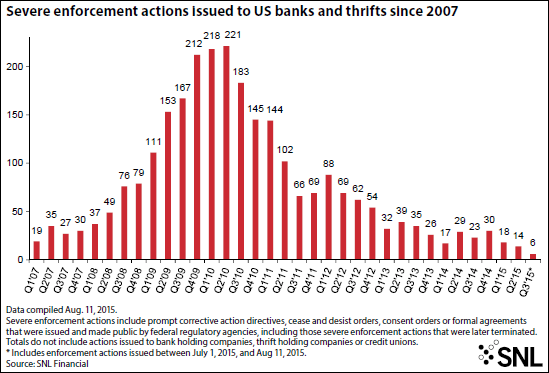 As of Aug. 11, 367 banks and thrifts were operating under a severe enforcement action, down from 468 at the end of 2014 and 662 at the end of 2013. This decrease comes as the industry continues to see improvements in credit quality and overall capital levels, as well as an uptick in M&A activity.
Federal regulators have handed out 20 severe enforcement actions to banks and thrifts since SNL's previous analysis, including three prompt corrective action directives, or PCADs.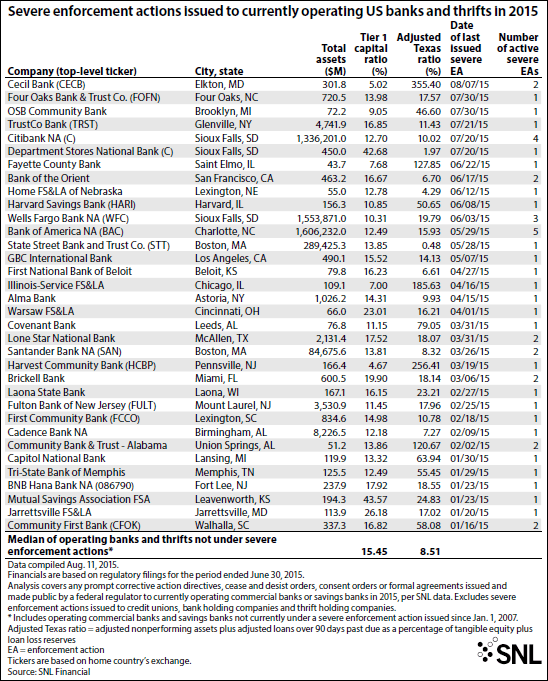 Severe Enforcement actions issues by US Banks and Thrifts, Edgebrook Bank received a PCAD on April 6 before failing May 8, and Elkhart State Bank received its PCAD on June 1, a few weeks before its sale to Nacogdoches, Texas-based Commercial Bank of Texas NA closed on June 25
Elkton, Md.-based Cecil Bank received a PCAD on Aug. 7, and according to the directive, the undercapitalized company has 90 days to become adequately capitalized by either increasing its equity or by being acquired by another depository institution or other methods.
According to proxy materials from June 5, the board of the bank's parent company, Cecil Bancorp Inc., is seeking shareholder approval to increase the number of authorized common shares to 1 billion and to authorize the issuance of 500 million nonvoting common shares. Cecil Bank has not posted a quarterly profit since the second quarter of 2011 and as of June 30, the bank had a Tier 1 capital ratio of 5.02% and an adjusted Texas ratio of 335.40%.
On June 22, the Federal Reserve terminated Saint Elmo, Ill.-based Fayette County Bank's October 2014 PCAD and entered into a written agreement with the bank on the same day. The new written agreement requires Fayette County Bank to submit plans to maintain sufficient capital, enhance interest rate risk management policies, establish a program for loan grading and put in place a revised Bank Secrecy Act/anti-money laundering compliance program.
Another Illinois company, Chicago-based mutual Illinois-Service Federal Savings and Loan Association, received a cease and desist order from the OCC on April 16 that requires the thrift to maintain Tier 1 capital equal to at least 8% of adjusted total assets and a Tier 1 risk-based capital ratio of at least 11%.
The country's largest banks have not been immune to severe enforcement actions this year either. So far in 2015, five severe enforcement actions have been issued to banks with more than $50 billion in assets.
Most recently, in July, the OCC issued a cease and desist order, as well as a $35 million penalty against Citigroup Inc.'s Citibank NA and Department Stores National Bank related to deceptive marketing practices of credit card add-on products in violation of the Federal Trade Commission Act. Separately, the Consumer Financial Protection Bureau also assessed a $35 million penalty.
Wells Fargo Bank NA received a cease and desist order on June 3 related to billing and marketing practices of identity protection and debt cancellation products, bringing its active enforcement action count to three. The bank also agreed to pay a civil money penalty of $4 million and complete full reimbursement to all eligible customers.
As of early August, the country's four largest banks were all operating under multiple severe enforcement actions, led by JPMorgan Chase Bank NA with seven and Bank of America NA with five.
Georgia was home to 40 banks and thrifts under a severe enforcement action as of Aug. 11 - the most of any state - followed by Illinois and Florida at 32 and 28, respectively. Rhode Island continues to be the most affected proportionally, with three of its nine banks under severe enforcement actions.
As of Aug. 11, seven states plus Puerto Rico and Washington, D.C., were free of severe enforcement actions.

Disclosure: I/we have no positions in any stocks mentioned, and no plans to initiate any positions within the next 72 hours.