NASDAQ Shows +1.77% Close on Friday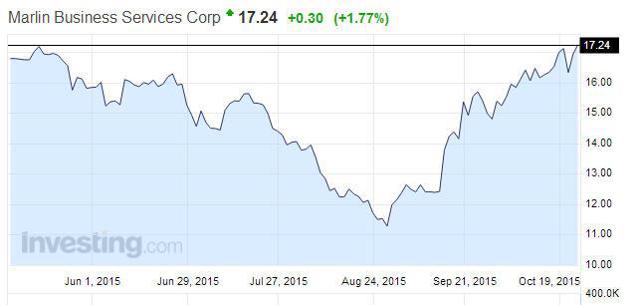 Marlin Business Service stock dropped to 16.36 on the news of Daniel Dyer resigning as CEO and Director, leaving as of October 25. He is staying on one year as a consultant but not spending more than 35 hours a month. It didn't seem to bother stockholders; however, as by Friday the stock rose to 17.24 on a volume of 40,200 (3 month volume average 51,921).
The stock hit a low of 11.17 for the 52 week period on August 24, 2015, but basically has been climbing ever since.
Zacks, among other stocky analyst companies, report the company a "strong" buy.
Disclosure: I/we have no positions in any stocks mentioned, and no plans to initiate any positions within the next 72 hours.