Although the number of banks on the Problem Bank List has declined for three quarters in a row, the number of problem banks remains high, " reports problembanklist.com. " At March 31, 2011, the FDIC classified 888 banks as "problem banks." As of the latest reported numbers for December 31, 2011, the number of problem banks had declined by only 75 banks to a total of 813.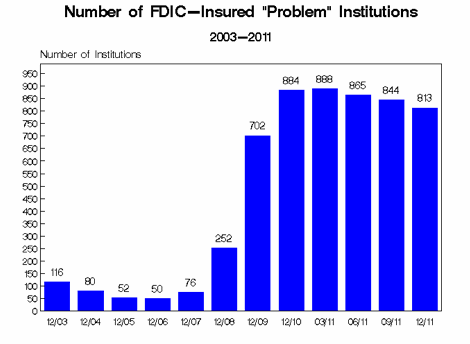 "Although regulators tell us the financial crisis has been contained, there are still a discomforting number of troubled banks," problembanklist.com concludes. " A total of 11% of all FDIC insured institutions are currently classified as problem banks. Another troubling aspect for depositors is the fact that the FDIC Deposit Insurance Fund (DIF) at December 31, 2011 had a balance of only $9.2 billion which "protects" a massive $6.98 trillion of customer deposits. Although the FDIC has taken measures to bolster the DIF fund, the reserve ratio remains at a historically low level of only 0.13%. The FDIC currently has only around $1,318 to protect every $1 million dollars in deposits."
Full Report:
http://problembanklist.com/fdic-issues-enforcement-actions-number-of-problem-banks-remains-elevated-0505/
Disclosure: I have no positions in any stocks mentioned, and no plans to initiate any positions within the next 72 hours.