by Philip Ryan,
bankinnovation.net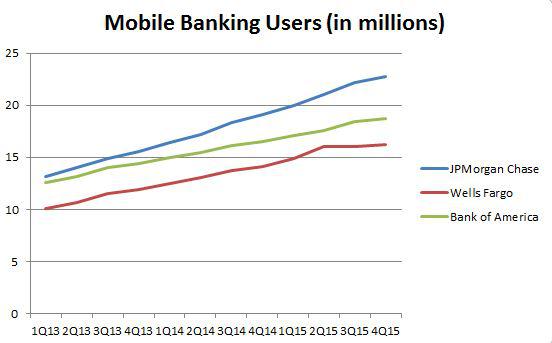 Weekly visits via the mobile channel exceeded branch visits for the first time in 2015, according to a recent report from Javelin Strategy & Research. But it appears converting existing customers to mobile may be growing more difficult for banking's largest players.
The number of mobile banking users continues to climb at the nation's largest banks, but the rate has declined from a year ago, a Bank Innovation analysis finds.
JPMorgan Chase has claimed the largest number of users for more than two years now, and that lead continues to grow over Bank of America and Wells Fargo & Co.
Chase reported 22.8 million active mobile customers in its quarterly earnings last week, an increase of 2.7% on the quarter and 19.5% on the year. A year ago, the bank saw considerably faster growth - a 4% increase quarter over quarter and 22.3% year-over-year.
Bank of America announced 18.8 million mobile active users, which represents 2% growth on the quarter, and 13.8% on the year. The bank also reported that 15% of consumer deposits now come through the mobile channel, up 25% over last year's figure of 12%. A year ago, Bank of America saw 2.5% quarterly growth in active mobile users, and 14.6% growth on the year.
Wells Fargo's mobile growth had a slow quarter, increasing 1.3% QOQ to 16.2 million active mobile customers. That's 14.9% YOY growth. As evidenced in the graph below, Wells Fargo was growing rapidly a year ago, and appeared on pace to reach BofA's numbers, before growth leveled off in Q2.