The four branches of Trust Company Bank, Memphis, Tennessee, were closed with The Bank of Fayette County, Piperton, Tennessee, to assume all of the deposits. The bank was established January 1, 1902.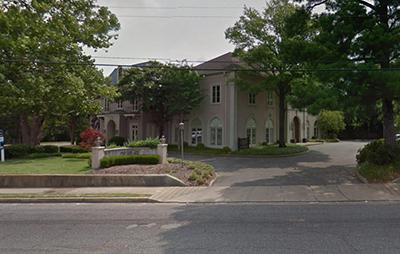 Memphis Bank Hq.
As of December 31, 2015, there were 50 full time employees. In 2010, they had 14 full time employees, then 2012, 30 full time employees; in 2006, 4 full time employees; in 2008, 8 full time employees. Then they started the opening of branches. It opened an office 3/9/2009 in Brighton, 9/28/2008 in Jackson, in Mason, 9/4/2012.
In 2013, The FDIC issued a consent order. Non-performing assets at the bank total $1.7 million; Trust Company has a Texas ratio of 110.5. In order to raise capital, the board decided to try to sell branches.
Thomas Jackson "Jock" Weaver III and Frank A. McKinnie Weaver, brothers (owned) nearly 95 percent of Trust Company Bank stock, according to commercialappeal.com.
"Jock Weaver was president of restaurant chain Hard Rock International and chairman of TBA Entertainment Corp., which manages publics' events and careers for musicians.
"Frank Weaver was a senior vice president at FTN Financial, the investment arm of Memphis-based First Tennessee Bank. He also was on the board of directors of New York-based TBA Global."
"The Weaver brothers and John Wilder III, a grandson of the late Tennessee Lt. Gov. John Wilder, launched Trust Company Bank with the 2005 purchase of the Bank of Mason from Franklin, Tenn.-based Civitas BankGroup Inc. It last turned a profit, $26,000 in net income, in 2004. It lost $1.49 million this year through Nov. 30, a proxy statement said. Experts have blamed bad real estate loans for the bank's poor performance."
http://www.commercialappeal.com/business/trust-company-bank-to-sell-branches-to-stave-off-regulators-ep-307113835-323727041.html
This bank did not have a lot of charge offs, as can be seen in the numbers, nor were the non-current loans high, either. They did have a lot of employees. Since going back to 2006, before the recession, the bank never had an annual profit. Where did the money go? Salaries?
(in thousands, unless otherwise noted)
Net Equity
2006
$1,817
2007
$3,923
2008
$15,754
2009
$8,330
2010
$4,821
2011
$4,680
2012
$2,019
2013
$2,213
2014
$1,080
2015
$291,000
 
 
Profit
 
2006
-$45,000
2007
-$105,000
2008
-$111,000
2009
-$368,000
2010
-$380,000
2011
-$670,000
2012
-$2,660
2013
-$1,805
2014
-$599,000
2015
-$1,197
 
 
Non-Current Loans
2006
$30,000
2007
$3,000
2008
$141,000
2009
$41,000
2010
$271,000
2011
$748,000
2012
$395,000
2013
$558,000
2014
$532,000
2015
$1,077
As of December 31, 2015, Trust Company Bank had approximately $20.7 million in total assets and $20.3 million in total deposits. In addition to assuming all of the deposits of Trust Company Bank, The Bank of Fayette County agreed to purchase approximately $3.9 million of the failed bank's assets. The FDIC will retain the remaining assets for later disposition.
The FDIC estimates that the cost to the Deposit Insurance Fund (DIF) will be $7.2 million.
Press Release
www.fdic.gov/news/news/press/2016/pr1603...
List of Bank Failures:
http://www.fdic.gov/bank/individual/failed/banklist.html
Leasing News Bank Beat:
http://www.leasingnews.org/Conscious-Top%20Stories/Bank_Beat.htm
Disclosure: I/we have no positions in any stocks mentioned, and no plans to initiate any positions within the next 72 hours.