Federal Reserve Bank of Cleveland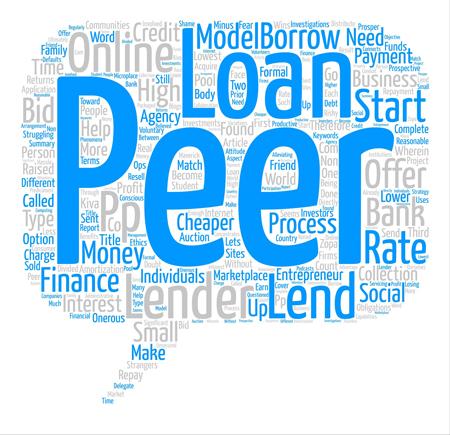 Credit scores of P2P borrowers fall substantially after taking out a loan when compared to peers who did not take out a P2P loan.
Loan delinquency rates are more than 50% higher for P2P borrowers two years after the loan origination when compared to peers who did not take out a P2P loan.
P2P borrowers exhibit a 47% increase in credit card balances after obtaining P2P credit when compared to similar non-P2P borrowers.
"While P2P lending hasn't changed much from the borrowers' perspective since 2006, the composition and operational characteristics of investors have changed considerably. Initially, the P2P market was conceived of as individual investors lending to individual borrowers (hence the name, "peer-to-peer"). Yet even from the industry's earliest days, P2P borrowers attracted institutional investors, including hedge funds, banks, insurance companies, and asset managers. Institutions are now the single largest type of P2P investor, and the institutional demand is almost solely responsible for the dramatic, at times triple-digit, growth of P2P loan originations (figure 2).2"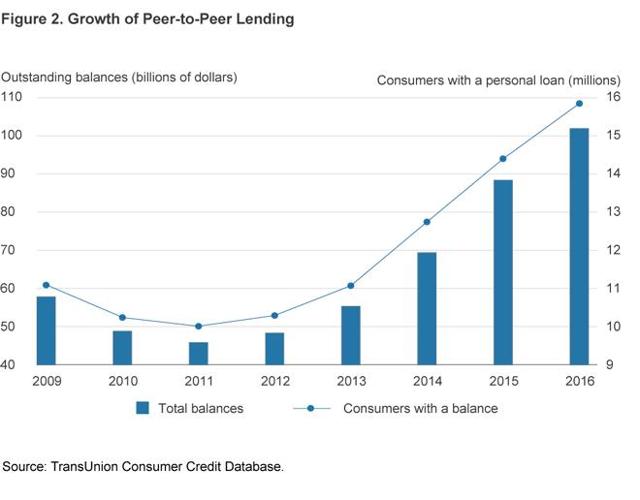 "Our results suggest that the credit scores of P2P borrowers fall substantially and delinquency rates rise after taking on a P2P loan (figure 4) compared to non-P2P borrowers. We also discovered that numerous measures of derogatory events (number of past due accounts—both revolving and installment—and number of bankruptcies) significantly increased for borrowers who took out P2P loans. These results indicate that P2P loans have the capacity to worsen borrowers' prospects for future access to financing."
"While P2P lenders do not yet claim a significant share of the retail financial market, the double- and triple-digit growth rates of P2P origination volumes and the rapidly expanding P2P customer base indicate that online lenders have the capacity to represent a formidable market force in the near future. The evidence we document, combined with the fast growth of the P2P market, suggests that the P2P industry has the potential to destabilize consumer balance sheets. Consumers in the at-risk category—those with lower incomes, less education, and higher existing debt—may be the most vulnerable. The overall performance of P2P loans strikingly resembles that of the subprime mortgage market before the 2007 subprime mortgage crisis(figure 1)"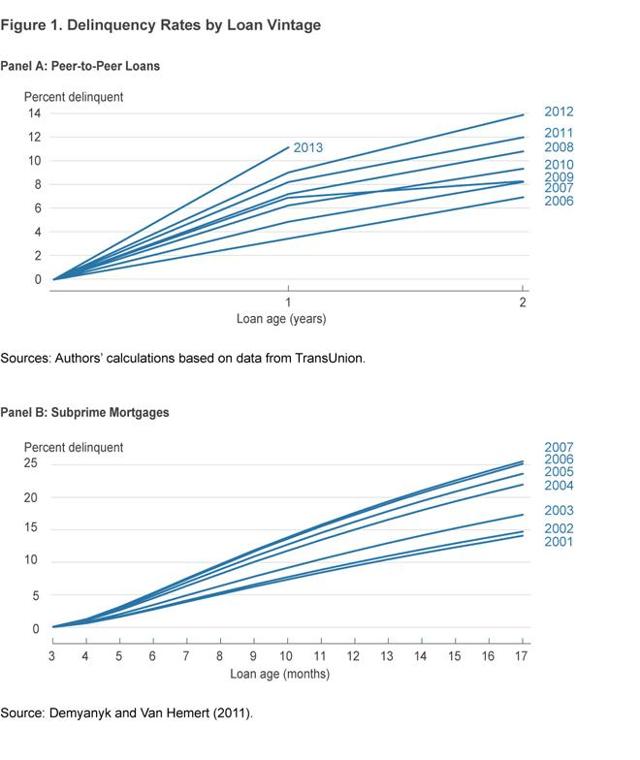 Full Report (6 pages)
http://leasingnews.org/PDF/PeerPeer.pdf