By Lindsey White and David Hayes
SNL Financial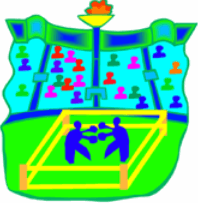 A fight for loan growth, ongoing margin pressure and a continued hunt for expense savings: These are some of the main themes industry observers expect to play out as big regional banks report first-quarter 2012 earnings.
William Schwartz, senior vice president of the U.S. Financial Institutions Group at DBRS, said regional banks are "duking it out" for loan growth.
"Everybody is looking for loan growth, but there's not a lot of it to go around," he said. "I think what we see will be very modest - the [banks] are really fighting for it."
Schwartz said some companies, like U.S. Bancorp and Fifth Third Bancorp, are skilled at asset generation and have managed to generate loan growth despite economic headwinds.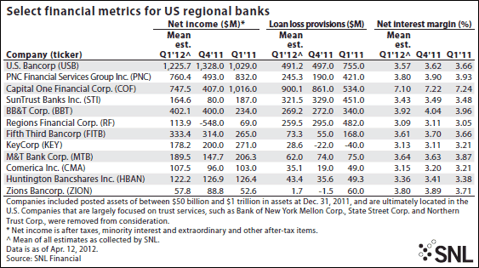 But observers say the overall lack of top line revenue will result in continuing margin compression for the regional players.
"There's just not enough demand for C&I right now to really generate some net loan growth, which is what the whole industry needs to generate some better top line results," D.A. Davidson & Co. analyst Gary Tenner said. He predicted that the group will cope by continuing to focus on controlling expenses and credit costs.
Schwartz agreed. "Everybody has an expense program in place and is trying to squeeze everything they can out of their franchise from the expense side, so we'll see the results of that," he said.
Schwartz said auto lending has been one bright spot for some regional banks like Huntington Bancshares Inc., Fifth Third, U.S. Bancorp and Capital One Financial Corp.
"In the new economy your car is critically important to your employment - that's the basic equation," Schwartz said. "Now that it has become a desired sector, the space has become a little more competitive also."
Stock prices suggest that investors are perhaps a bit wary when it comes to the big regional names. The median performance of the dozen large regional bank stocks that SNL examined has been consistently below that of the SNL U.S. Bank & Thrift Index in the year-to-date.
The worst performer of the 12 stocks was KeyCorp, which consistently underperformed the SNL U.S. Bank & Thrift Index in 2012. As of April 11, KeyCorp had returned 8.2%.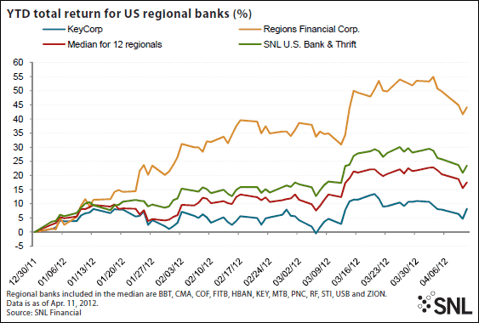 Meanwhile, Regions Financial Corp.'s stock price fared the best of the group, returning more than 44% in the year-to-date.
The Birmingham, Ala.-based bank has had a busy year so far. The company passed the Federal Reserve's Comprehensive Capital Analysis and Review, completed a $900 million capital raise, closed its deal to offload Morgan Keegan & Co. Inc. to Raymond James Financial Inc. and, in early April, repaid TARP.
Schwartz said this TARP repayment gave investors hope for Regions. "Nobody should get ahead of themselves. It's a good story and they're clearly recovering, but they've been a little behind others obviously in terms of asset quality," he said. "They came to the party late and they're leaving the party late."
Despite the headwinds facing regional banks, several in the group - Regions, Fifth Third, SunTrust Banks Inc., BB&T Corp. and Zions Bancorp. - are expected to post higher earnings per share compared to the prior-quarter and year-ago period, according to FactSet consensus EPS estimates.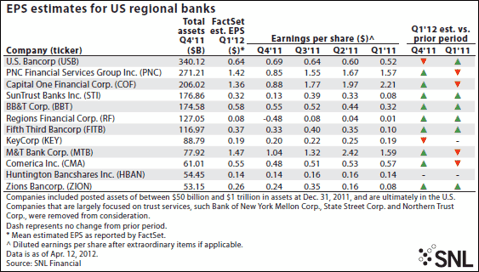 Disclosure: I have no positions in any stocks mentioned, and no plans to initiate any positions within the next 72 hours.