SNL's 2011 regional bank ranking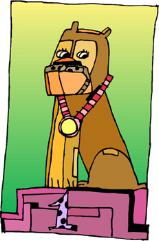 Two regional banks from Arkansas are on top of SNL Financial regional bank rating. The top dog was Bank of the Ozarks, Little Rock, who finished first. First Security Bancorp, Searcy, came in second.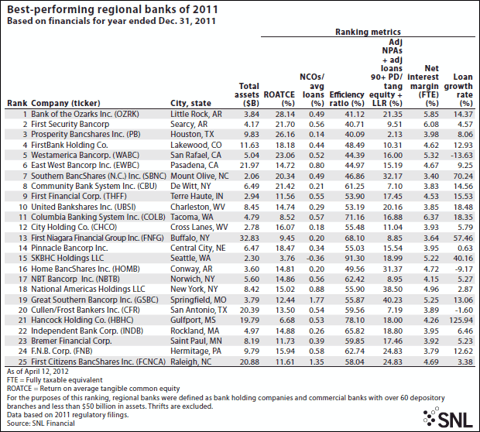 Bank of the Ozarks CEO George Gleason II said 2011 represented the 11th consecutive year of record net income for the company. The bank posted a 28.1% return on average tangible common equity, the highest of the top 25 in terms of profitability. Gleason has been Chairman and CEO since 1979. He was named American Banker magazine's Community Banker of the Year, 2010.
Bank of Ozarks purchased three failed banks in 2010: Chestatee State Bank, Dawsonville, Georgia, December 17, 2010, Woodlands Bank, Bluffton, South Carolina July 16, 2010, United National Bank, Cartersville, Georgia March 26, 2010. Bank of Ozarks recognized a $65.7 million gain on bargain purchase in 2011.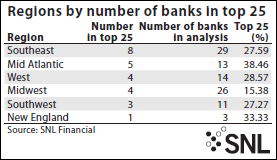 According to SNL Financial, "The strength and appeal of the Texas market, combined with strong management, put Houston-based Prosperity Bancshares Inc. in the No. 3 spot in the rankings. It was the most efficient company in its class with an efficiency ratio of 40.1%. Prosperity also made headlines Feb. 26 when it announced the acquisition of American State Financial Corp. The target company placed 10th in SNL's ranking of top community banks with total assets between $500 million and $5 billion. This deal, valued at $529.2 million at announcement, is the second-largest bank deal in the U.S. announced thus far in 2012."
SNL ranked the best-performing regional banks using six core financial performance metrics that focus on profitability, asset quality and growth for the 12-month period ended Dec. 31, 2011. The metrics used were: return on average tangible common equity, net charge-offs as a percentage of average loans, adjusted Texas ratio, efficiency ratio, net interest margin and loan growth. SNL measured each company's standard deviation from the mean of each metric. The standard deviations, which were equally weighted, were then added together to calculate a performance score for each company.
For the purposes of this ranking, SNL defines regional banks as banks below $50 billion in assets with a branch network consisting of greater than 60 offices. Additionally, to be included in the analysis, banks had to be well-capitalized according to regulatory standards. Based on these criteria, 96 companies were included in the ranking. Thrifts were excluded from the analysis.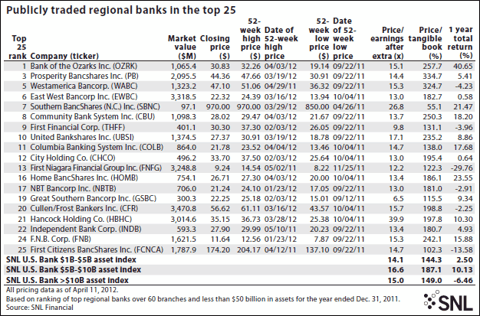 Disclosure: I have no positions in any stocks mentioned, and no plans to initiate any positions within the next 72 hours.